Having survived the 7 days of The Yacht Week, I have no doubt that this was the most fun I've had partying. Imagine over 200 people from all over the world sailing in the day and raging hard at night. It felt like another world altogether! If you're in your twenties and are looking for something other than just another regular music festival, I highly recommend putting The Yacht Week Croatia on your bucket list!
Here's a quick overview: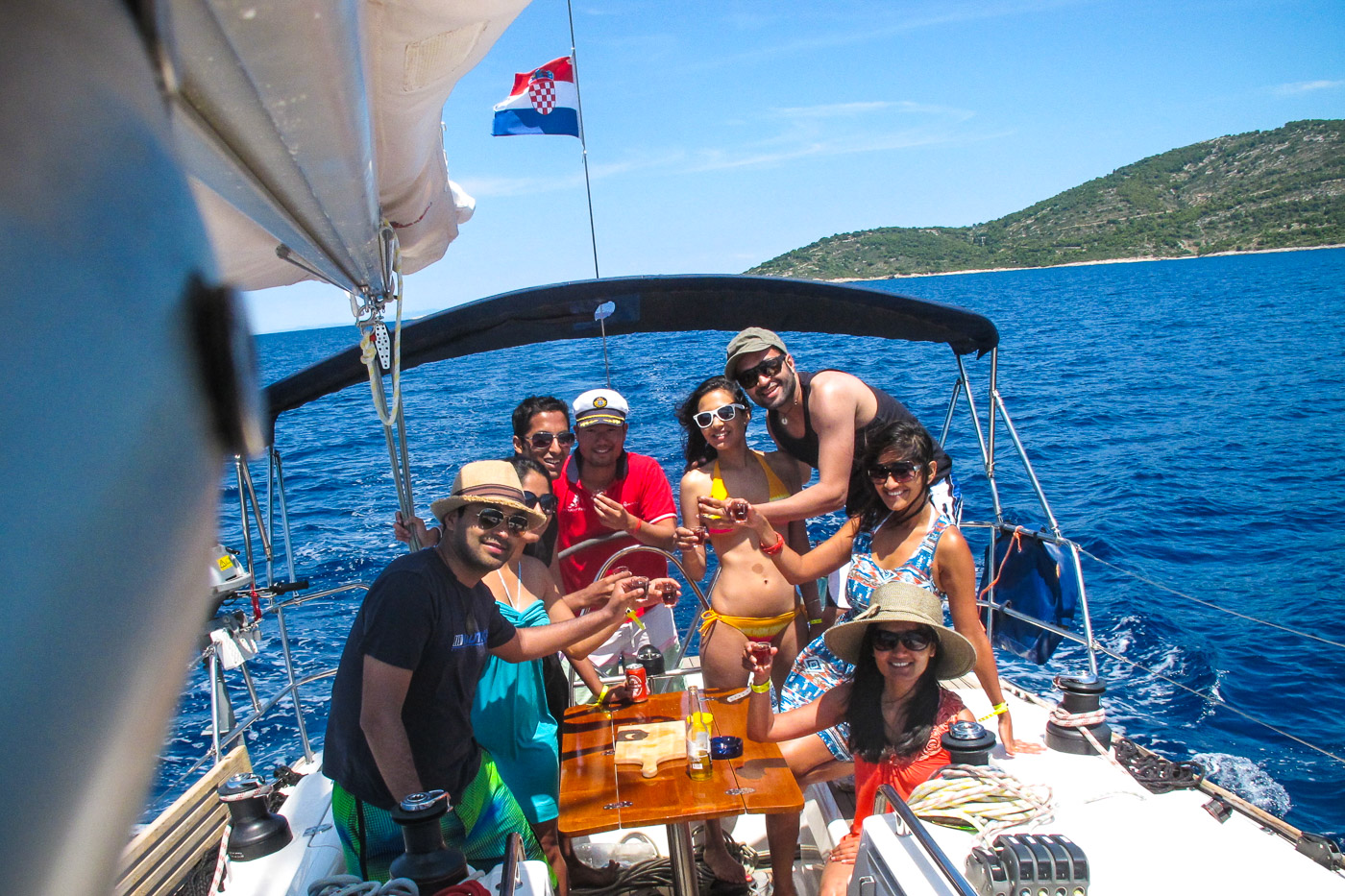 HOW DOES IT WORK
 Choose A Destination
Back when I went for The Yacht Week, which was a few years ago, there were limited options to choose from but now there are a lot more options: Croatia (2 route options), Greece, Montenegro, Italy and the British Virgin Islands in the Caribbean. We chose to go to Croatia because it was also their most popular route and it was a country I wanted to explore.
Choose A Week
The Yacht Week events are usually scheduled during the European summer months of June to September, with BVI being the only option in December scheduled around New Year's Eve. The schedule for each country varies and each year a new schedule is released along with new routes. Each event is a week-long and generally starts and ends on a Saturday.
Gather Your Friends
As of writing this blog, there are two ways to book a Yacht. Depending on the crew size, you and your friends can either book an entire yacht, or just two people can book a cabin as a pair and share a yacht with others. We didn't have the second option and luckily between my friends and me, we were a large enough crew to book an entire yacht, which worked out perfectly for us. Booking an entire yacht gives you the flexibility to choose your own yacht depending on the budget and crew size. If you go with the latter option, you don't have a say in who you're with or which yacht you're on. They do have a crew finder on their website, which allows you to either join existing crews or connect with people to fill up any open spots you may have on your boat.
 Choose A Yacht
This can be a bit tricky for a first timer. I remember how confusing it was to envision the actual size of the yacht as compared to the photos and sizes mentioned on the website. Keeping your budget and crew size in mind, you could use their Facebook forum to ask previous 'yacht weekers' for their recommendations
Read more here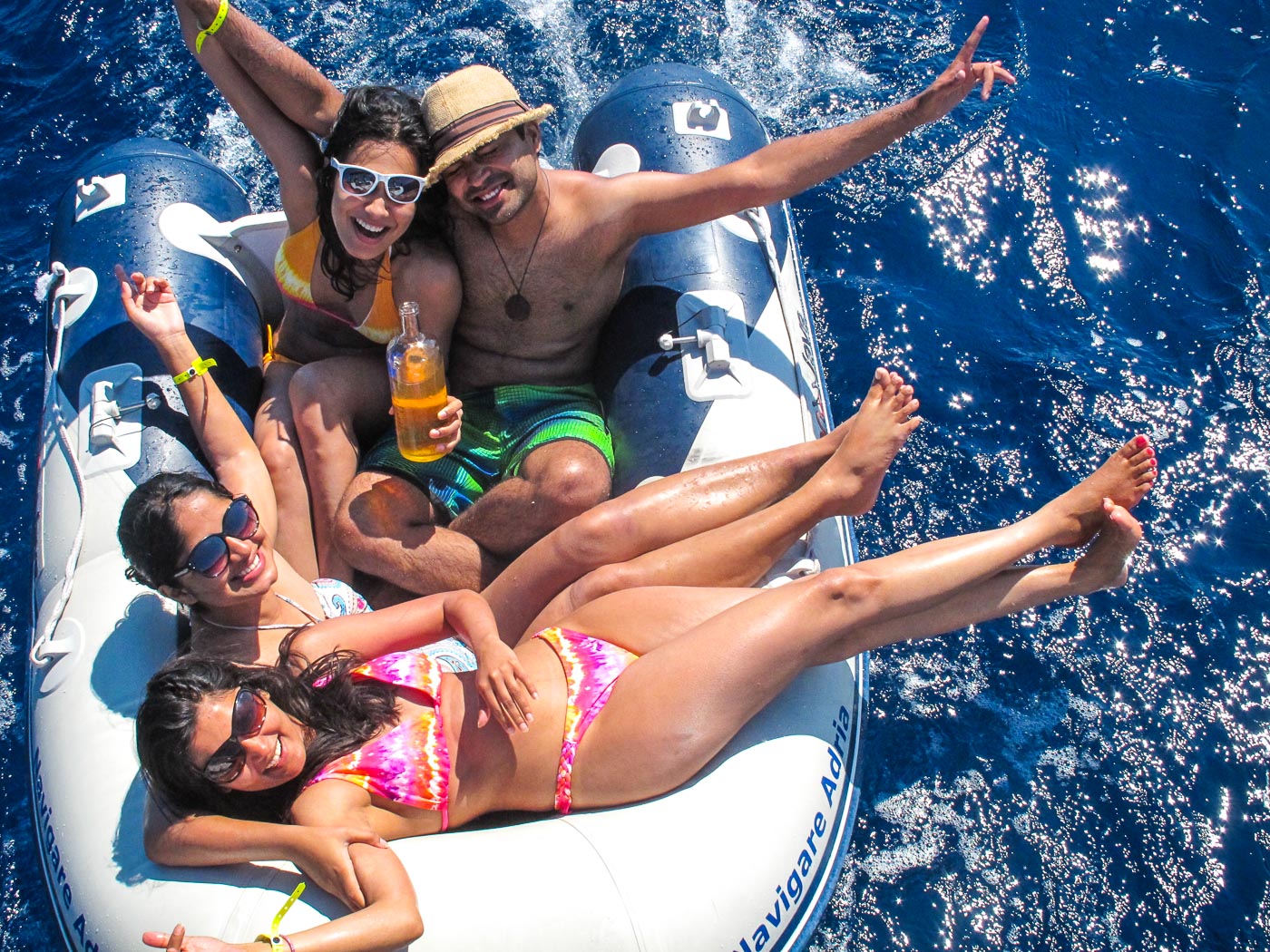 HOW MUCH DOES THE YACHT WEEK COST
 The cost depends on various factors such as the yacht you choose, the route you choose, the size of your crew and the services you want. For our trip, we paid approximately USD 1,000/person for 7 of us. This only included the boat rental and the cost for a skipper. Currently, they also have an option to have a hostess on board who can help to plan and to prepare your meals, which is nice.
Not included in the above mentioned costs are: the flights to your destination, food and drinks (for the crew + skipper + hostess), port fees, yacht fuel, water, shore power, skipper and hostess tips, yacht security deposit, water taxis, insurance cover, entry to parties on the islands etc.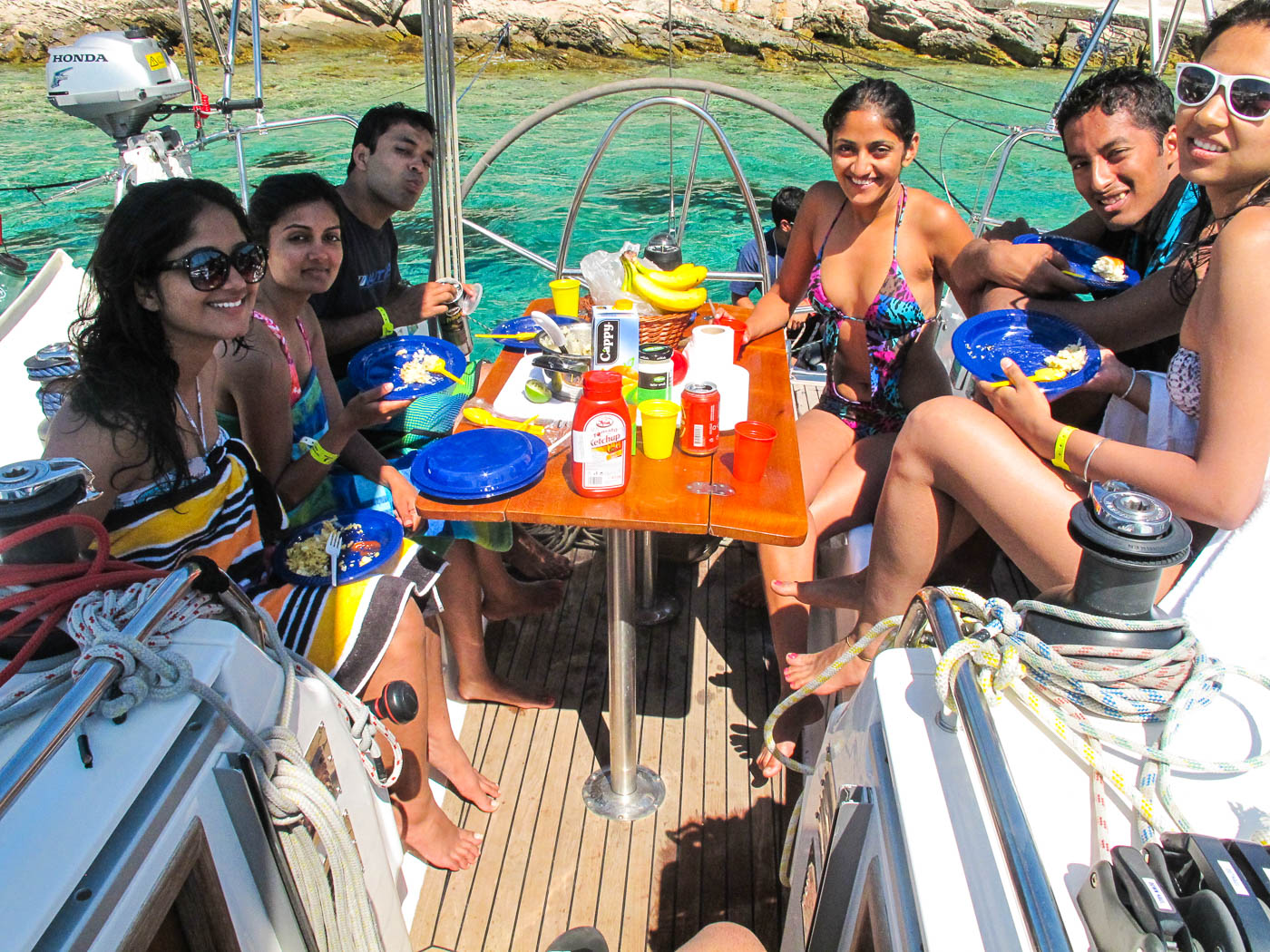 A TYPICAL DAY ON THE YACHT WEEK
08:00 Wake up and get some coffee before the hangover kicks in. Jump into the ocean for a swim and morning shower.
10:0o Breakfast with the crew and catch up on all the gossip from the previous night's party.
11.00 Set sail for the destination of the day. Get the party started onboard!
12:00 Lunch break. Anchor in a natural lagoon and jump in for some fun in the sun.
13:00 Continue to sail/motor your way to your final destination.
15:00 Park in your spot on the island, freshen up (shower at the back of your boat or sneak into a hotel washroom).
16:00 Head out on the island for the evening, explore/join the organized party if any.
19:00 Grab some dinner and line your stomach for the night's party.
21:00 Head to the next party and dance the night away with old friends and new.
Now repeat this routine for seven whole days, and that is what The Yacht Week Croatia is all about!
WHO GOES TO THE YACHT WEEK
Millennials from around the world go to The Yacht Week. The average age is about 27 with everyone at least above 20 years of age. The Croatia Route is the ultimate party route and it's probably best to go while you're still young, wild and single! If you're looking for a romantic time with your beloved, The Yacht Week is NOT for you, especially the Croatia route. We did, however, have two couples as part of our crew but we all had a blast, only because they were cool and carefree and hung out as a group rather than just do 'couple-ly' things.  This is the ideal fun trip for a girlfriends' getaway or a bachelor/bachelorette party.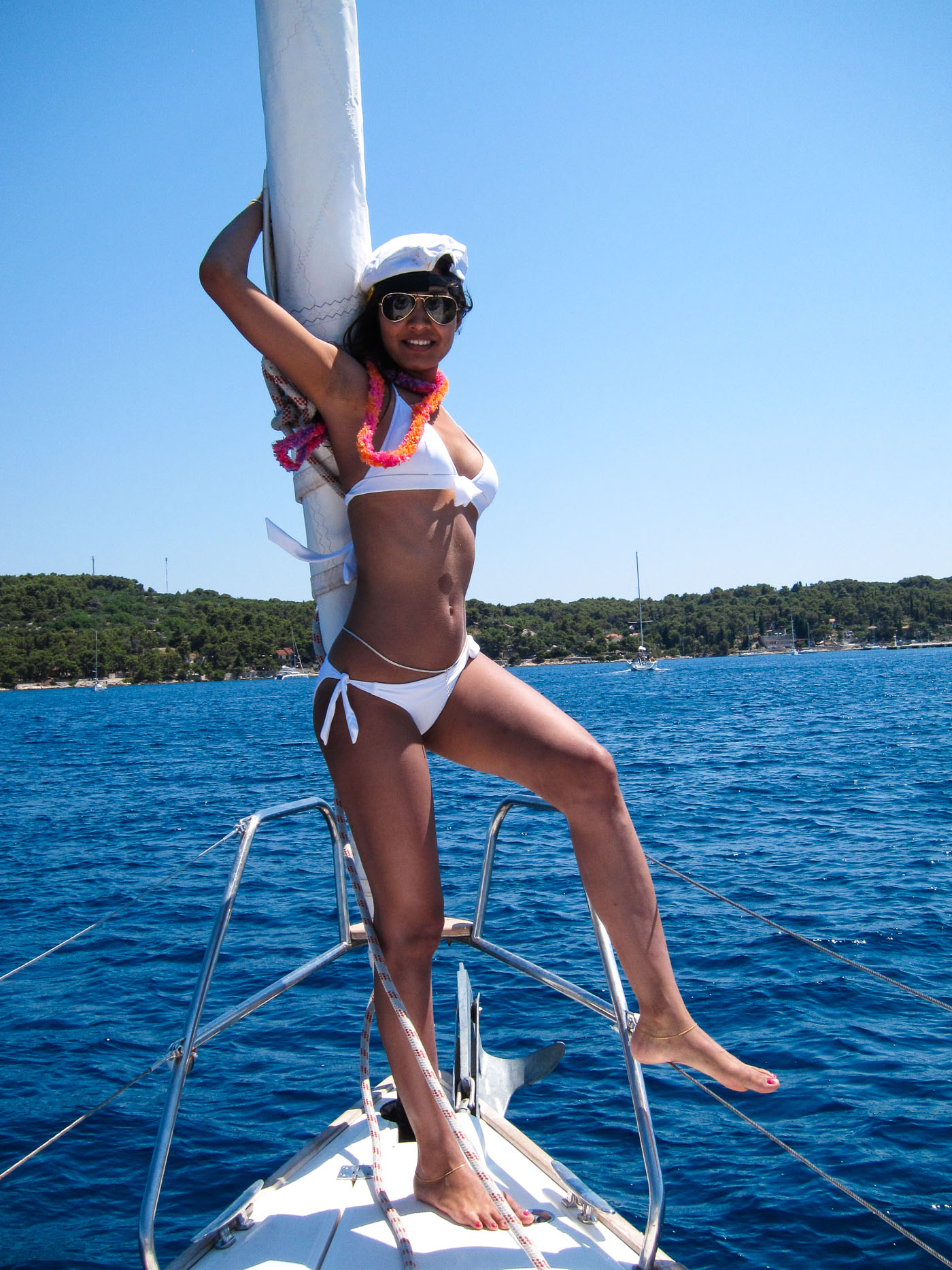 TRAVEL TIPS
This was my first time ever on a yacht and I didn't know what to expect. After the trip, I made a few notes for myself to enhance my experience on the next sailing adventure and I hope this helps you too:
Do not embark on this adventure without travel insurance. Never take a chance when you're going to be at sea for a whole week and when a lot of booze is involved.

Carry your own personal medical kit without fail.

Do not hesitate to inform the event organisers about any discomforts you might face, even if it involves your skipper or hostess or anything else for that matter. Safety first!

Carry loads of fun costumes and props to enhance your experience. Plan with your crew in advance and go prepared. Consider it as important as carrying bikinis, booze, and sunblock. You don't want to be left out, after all.

The tan lines will fade, but the memories will last a lifetime. Don't be afraid of the sun, just carry loads of sunblock.

Make a kitty amongst the crew members and have one person be in charge of it. There are several payments to be made and you don't want it to dampen the mood on the boat.

There will be parties happening all day, every day! Pace yourself or else you'll burn out too quickly. Remember it's a marathon, not a sprint.

There will be no Wi-Fi on the yacht! You will have the best time of your life.

Have multiple music playlists handy so that you're not listening to the same 10 songs on repeat for the whole trip. Carry an aux cable along.

Carry your country's flag to hoist on your yacht. There will be people from all over the world and it is a great conversation starter.

Carry your most comfortable pair of closed shoes. Flip-flops and heels are a complete no-no on boats and slippery surfaces.

Carry a dry bag for all your gadgets that are not waterproof.
Have you been to The Yacht Week before or on any sailing adventure? Share your experience in the comments below.
Read Next