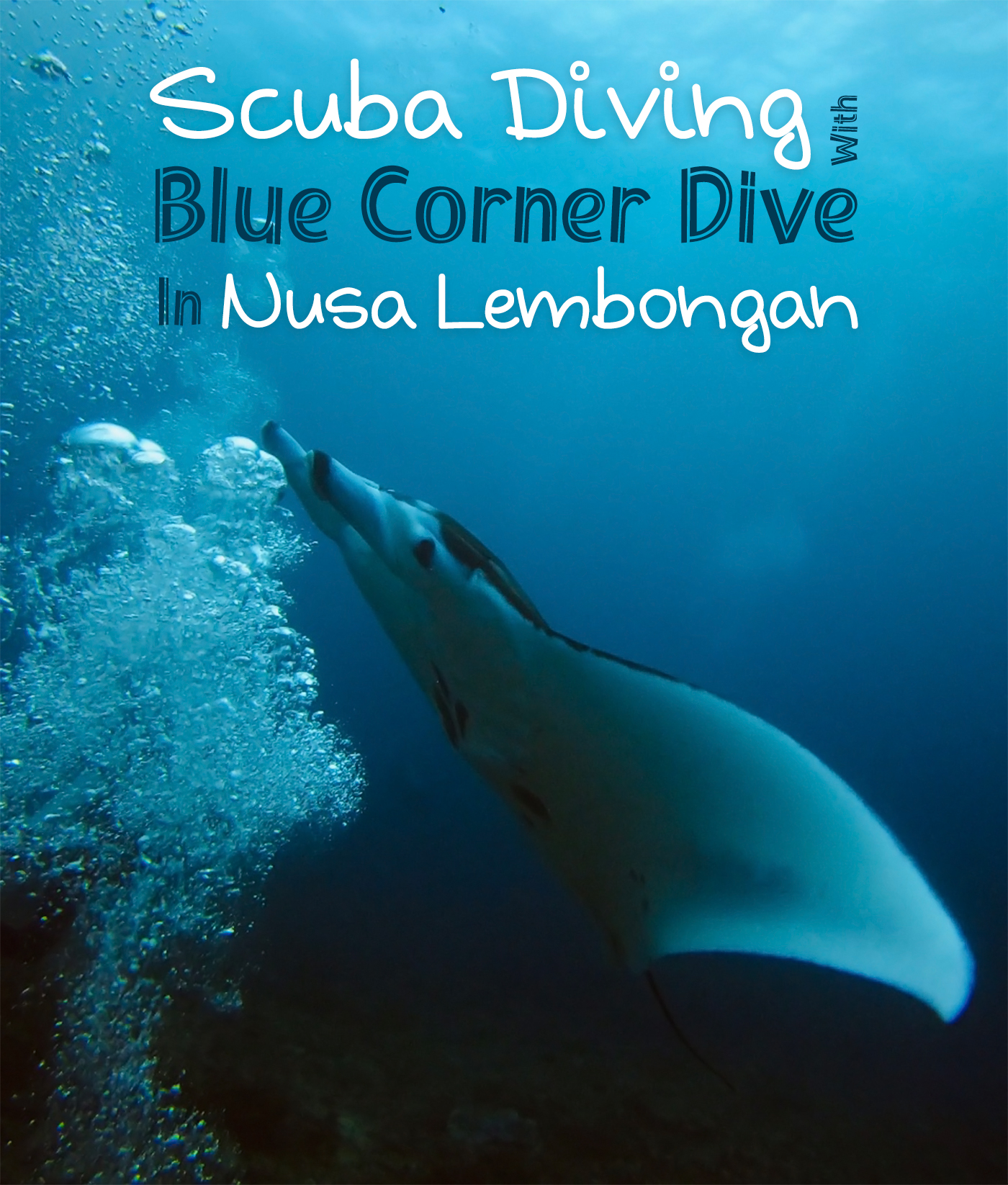 It's simply impossible for someone to visit Bali and not venture out into its surrounding waters. Whether it be surfing, scuba diving, snorkeling or just being a lazy bum on the beach, Bali's coastline has something to offer for everyone.  Of course, I wanted to do it all! Each region of Bali is renowned for different activities and since Scuba diving was on top of my list I decided to hop over to the pristine island of Nusa Lembongan to scuba dive with Blue Corner Dive and explore the wildlife beneath.
GETTING TO NUSA LEMBONGAN
The island of Nusa Lembongan is located just 20 km off the southeast coast of mainland Bali. The most convenient and quickest way to get to Nusa Lembongan is to get a fast boat from Sanur Beach in Bali. A ticket usually includes pickup at your hotel in Bali and drop off at your hotel in Nusa Lembongan and vice versa.  A one-way ticket should cost you not more than IDR 300,000/- (USD 21) and an open return not more than IDR 600,000/- (USD 42). You also have the option to only buy the speed boat ticket and figure your ground transportation on your own. In this case a one-way ticket cost IDR 175,000 (USD 12) and open return cost IDR 300,000 (USD 21). You can make bookings directly at the local travel kiosks around Bali or through your hotel reception desk. Be wary of tickets being sold online. There are speed boats departing almost every two hours from either side but during peak season, I recommended booking your ticket in advance, especially if you have a connecting flight to catch. Blue Corner Dive can arrange for tickets upon request.

BEST TIME TO GO SCUBA DIVING IN NUSA LEMBONGAN
Many divers visit the island in pursuit of spotting a Mola Mola, the famous Ocean Sunfish! The highest chance of spotting them is between July – October (high season) and the best dive sites are Crystal Bay and Blue Corner. In case you don't find them, you'll still have a great time swimming with Manta Rays at Manta Point. This was the highlight of my trip. I enjoyed the experience here so much I went back to the same dive site the next day and would possibly go again if I had more time.
I went scuba diving in Nusa Lembongan with Blue Corner Dive at the end of July and simply had the time of my life. Even though I didn't see a Mola Mola, I did see a Webbagong Shark, a very rare species that I wasn't expecting to see at all. Of course, I also swam with a whole lot of manta rays among the other big and small inhabitants of the reef.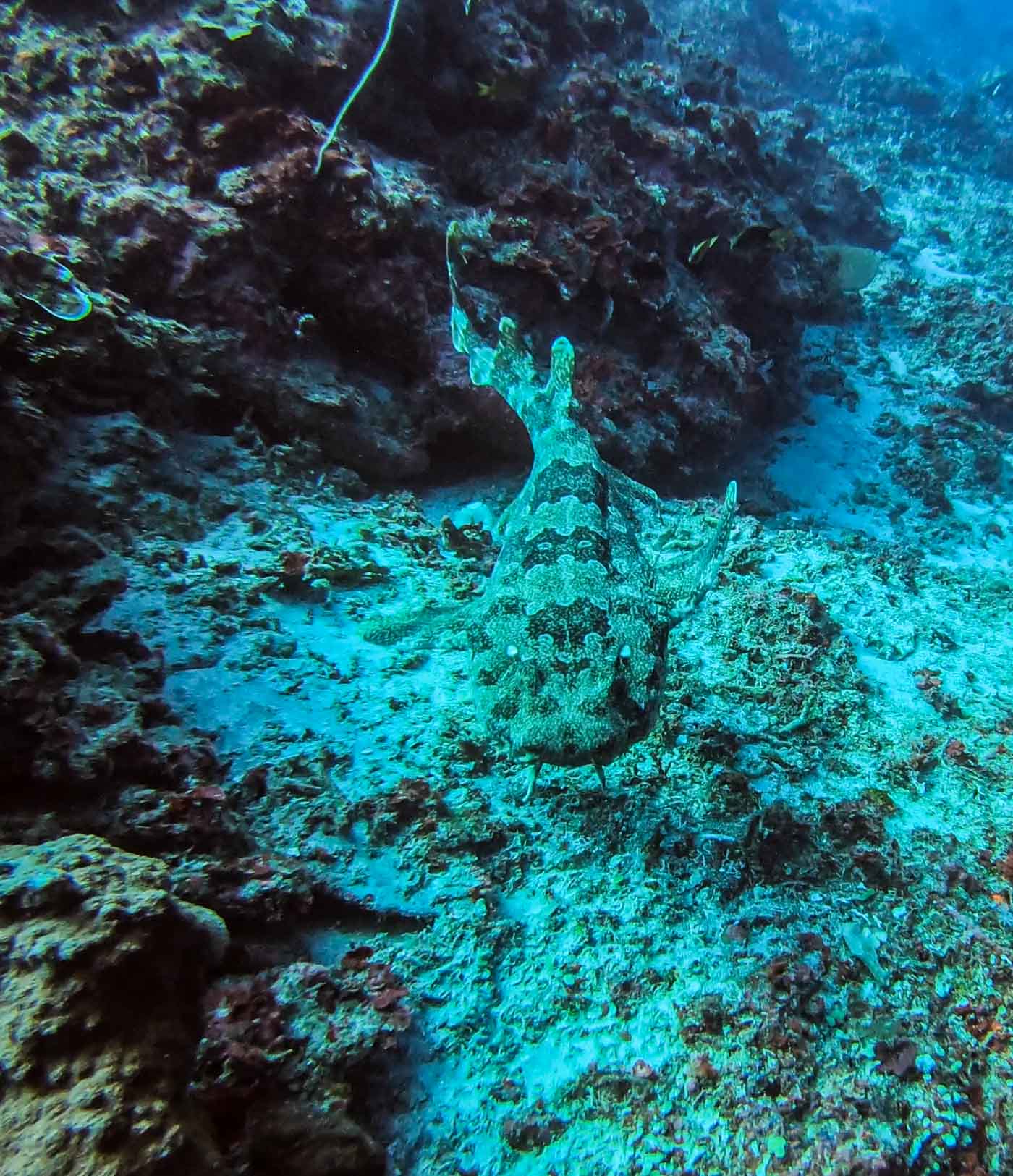 WHY CHOOSE BLUE CORNER DIVE
After a bad diving experience in Sipadan, I'm extra cautious about who I dive with. Although I have over 50 dives to my record, I still fear the ocean as much as I love it and SAFETY is my number one priority. While researching for the best dive center in Nusa Lembongan, Blue Corner Dive checked-off every box for me and also came personally recommended by a friend.
Here is why I recommend them:
Experienced Dive Instructors
I loved that Blue Corner Dive has so many local dive instructors who are very well trained especially while communicating in English, which is not their first language. Most places I've visited mainly had expat instructors, but seeing Blue Corner Dive giving back to the local community without compromising on the experience won me over.
Small-Group Size
Having a small group is of the utmost importance in making me feel secure in the ocean. At Blue Corner, there are not more than four divers per instructor which is absolutely perfect.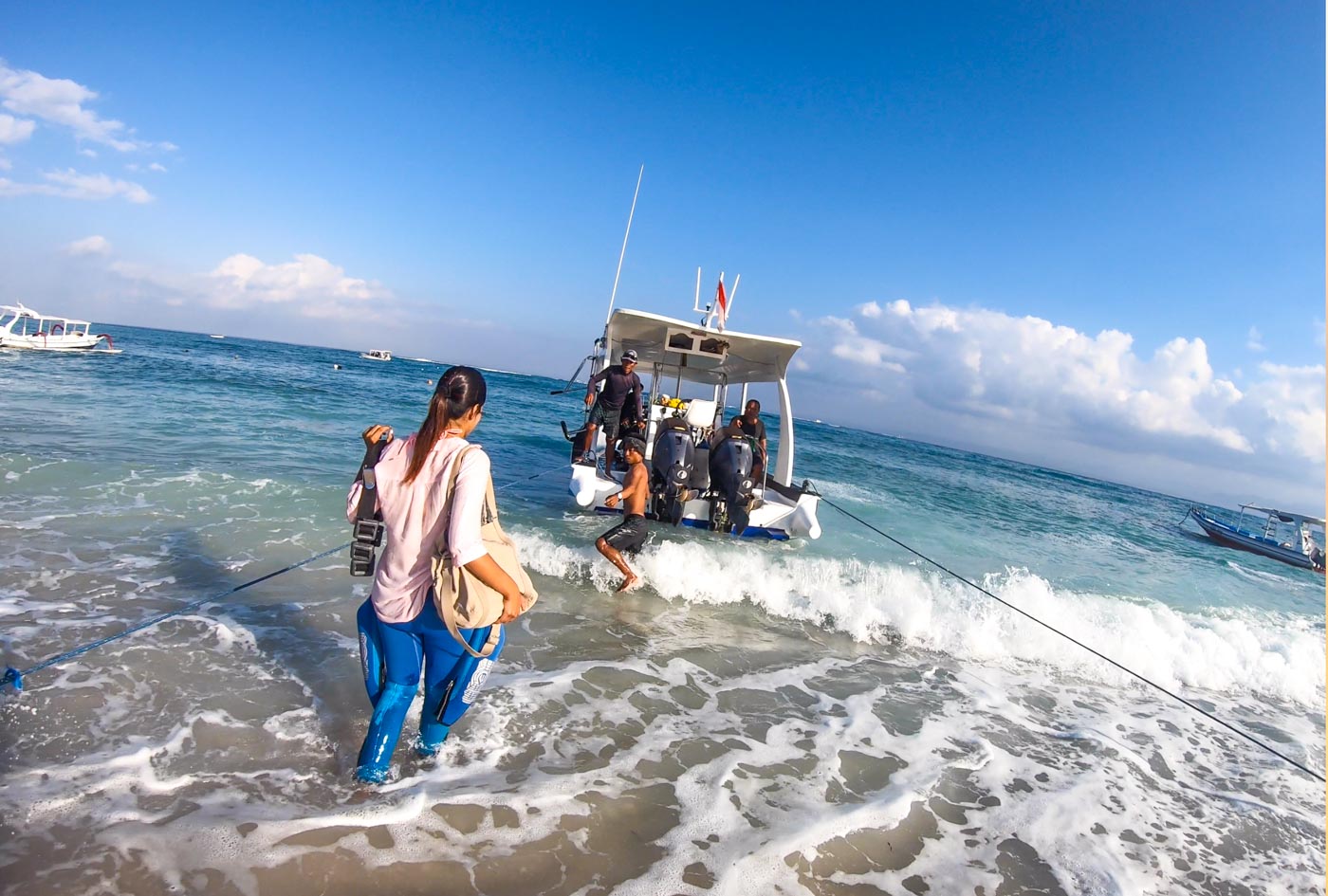 Good Condition of Equipment
I had absolutely no complaints about the equipment. Everything was well maintained and in good condition.
Great Dive Shop Location
Perfectly located on the island, Blue Corner Dive is a sea-facing dive shop on the beach which also has a buzzing cafe and a pool (for confined dives) making it a great spot if you are looking to get Scuba certified. It's a cozy and relaxing spot to hang around even after the dives with the new friends that you make on the dive boat.
WHERE TO STAY IN NUSA LEMBONGAN
While scuba diving with Blue Corner Dive in Nusa Lembongan, it will be easiest if you stay with them or somewhere close by. They have air-conditioned dorm rooms and few private bungalows to offer at a reasonable price. Since their private rooms weren't available, I stayed at Nata Homestay, which is just a 3-minute walk from the dive shop. Here the rooms were spacious, clean and very comfortable and it also has a swimming pool. I would definitely recommend it to if you don't mind something basic and minimal.
TRAVEL TIPS
To get a feel of the island, at least stay for 3 nights and do a minimum of 4 dives.

Do not wear jeans/long pants or shoes while traveling to the island as they will be drenched while getting on and off the boat. Dress like you're going to the beach!

Avoid carrying a suitcase, but if you must make sure its waterproof! Mine got wet while offloading on the island and I learned the hard way! 🙁

There are very few ATM's on the island and sometimes they're out of cash. Withdraw enough in Bali itself.

If you need to exchange currency, do it in Bali. You will get a better rate there as compared to Nusa Lembongan.

Blue Corner Dive also has a set up in Nusa Penida and you could dive with them from there as well.

The island has a very chilled and relaxed vibe and is not as touristy as Bali. You'll definitely want to stay back for more than what you planned for. I thoroughly enjoyed my time scuba diving with Blue Corner Dive in Nusa Lembongan and can't wait to go back for more.
Read Next