If you ask me, I think these tri-colored volcanic lakes should be listed as one of the seven natural wonders of the world. With the periodical and unpredictable changing of colors, the magic and magnanimity of the Kelimutu Volcanic Lakes only reinforce the power of mother nature.
ABOUT THE KELIMUTU VOLCANIC LAKES
According to local folklore, this region is called the "mountain of spirits" as the lakes change color depending on the mood of the spirits. They believe the lakes are a resting place for departed souls, and Mae, the God of the Afterlife, will send those who died to these different lakes, depending on their merits attained in this life. Although nothing is scientifically proven, it is believed that the volcanic gas emitted in this region creates a chemical reaction with the lakes natural minerals and causes the colors to change.
I have to say, I like the local villagers' version of the story more. If you search for images of the Kelimutu Volcanic Lakes, you will be astonished at the number of different colors of the lakes noticed by visitors over time. For me, it seemed like sheer magic and I wanted to witness it first hand. I noticed that even the opacity of the water was so different compared to anything else I had seen. It looked more as if barrels of paint had overflown than actual water.
You really have to see it to believe it.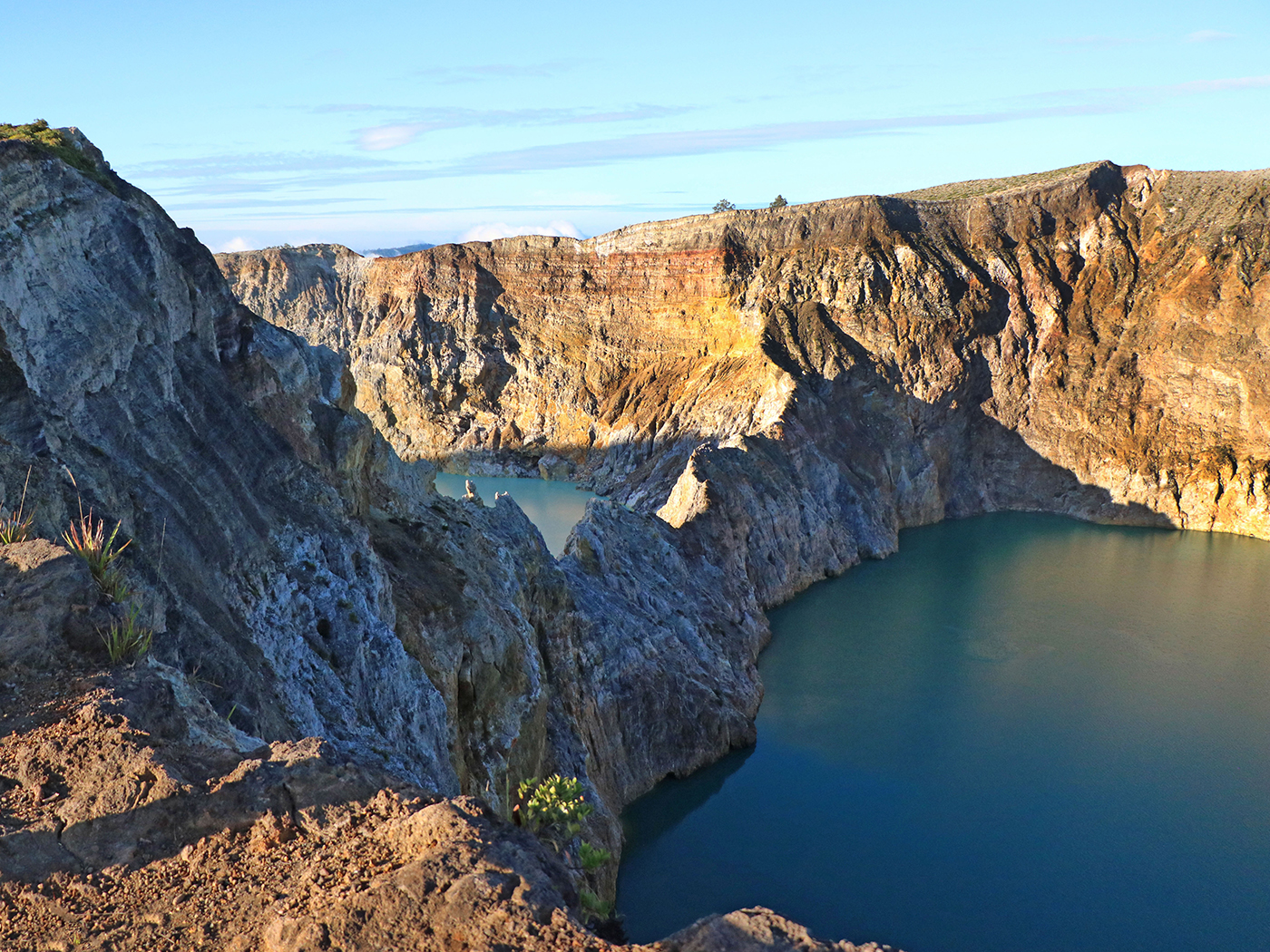 Here is everything you need to know about planning your trip to the Kelimutu National Park.
GETTING TO KELIMUTU VOLCANIC LAKES
The Kelimutu National Park in Indonesia is located on the eastern side of Flores, close to a village called Moni. There are 2 ways you can get to Kelimutu: When flying in from Bali on the east, you can fly to either Ende or Maumere in Flores. But if you are in Labuan Bajo, which is on the western side of Flores, its best to fly into Ende.
I booked all my internal flights in Indonesia on Traveloka.
If you choose to fly into Ende, it will take about 2.5 to 3 hours by road to reach Moni, the village at the base of the Kelimutu National Park. It is easy to find private or shared taxis from Ende up to Moni for IDR 300,000 or rent a bike from Ende for even less. From Moni, you can either continue by car, which takes around 45 minutes or hike up, which takes about 2.5 hours to the park entrance.
If you choose to fly into Maumere, it will take about 4-5 hours by road to get to Moni and cost approximately IDR 800,000 (60 USD) for a private taxi. If lucky, you will find other travelers who may be willing to share the cost too. Maumere is one of the bigger town centers in Flores and I chose to spend a night at the Coconut Garden Resort. The drive from Maumere to Moni is very scenic and takes you through lush green mountains and the seaside. You can stop at Koka Beach for a quick lunch and swim there too. I'm glad I chose this route and fully enjoyed my time in Maumere as well.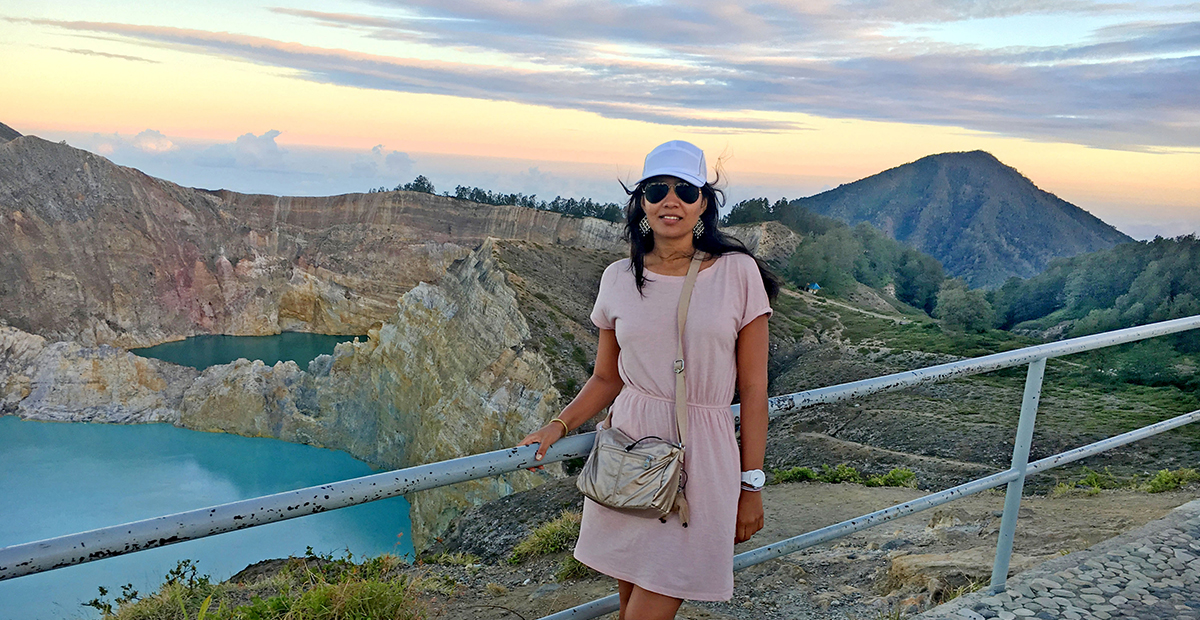 BEST TIME TO VISIT THE KELIMUTU VOLCANIC LAKES
May to Septemeber is the dry season in Indonesia. I usually try to visit a place at the beginning or at the end of the season, for that's when the crowds are lesser and the deals are better too. I went to the Kelimutu volcanic lakes at the end of May and had a great time. Although it was the summer, it did get really chilly up in the mountains.
WHERE TO STAY
To capture the best views, I recommend getting to the summit lakes at sunrise or sunset. Keeping this in mind, it is wise to break up the journey and spend a night in Moni, a tiny village that offers only the most basic options to stay. All accommodation here may not show up online, so don't worry, there are enough guest houses and homestays available for as little as 100,000- 200,000 IDR (7- 15 USD) a night. I stayed at the Anton Eri Lodge, run by a kind village local, who also doubles up as a taxi driver, who drove me around as well.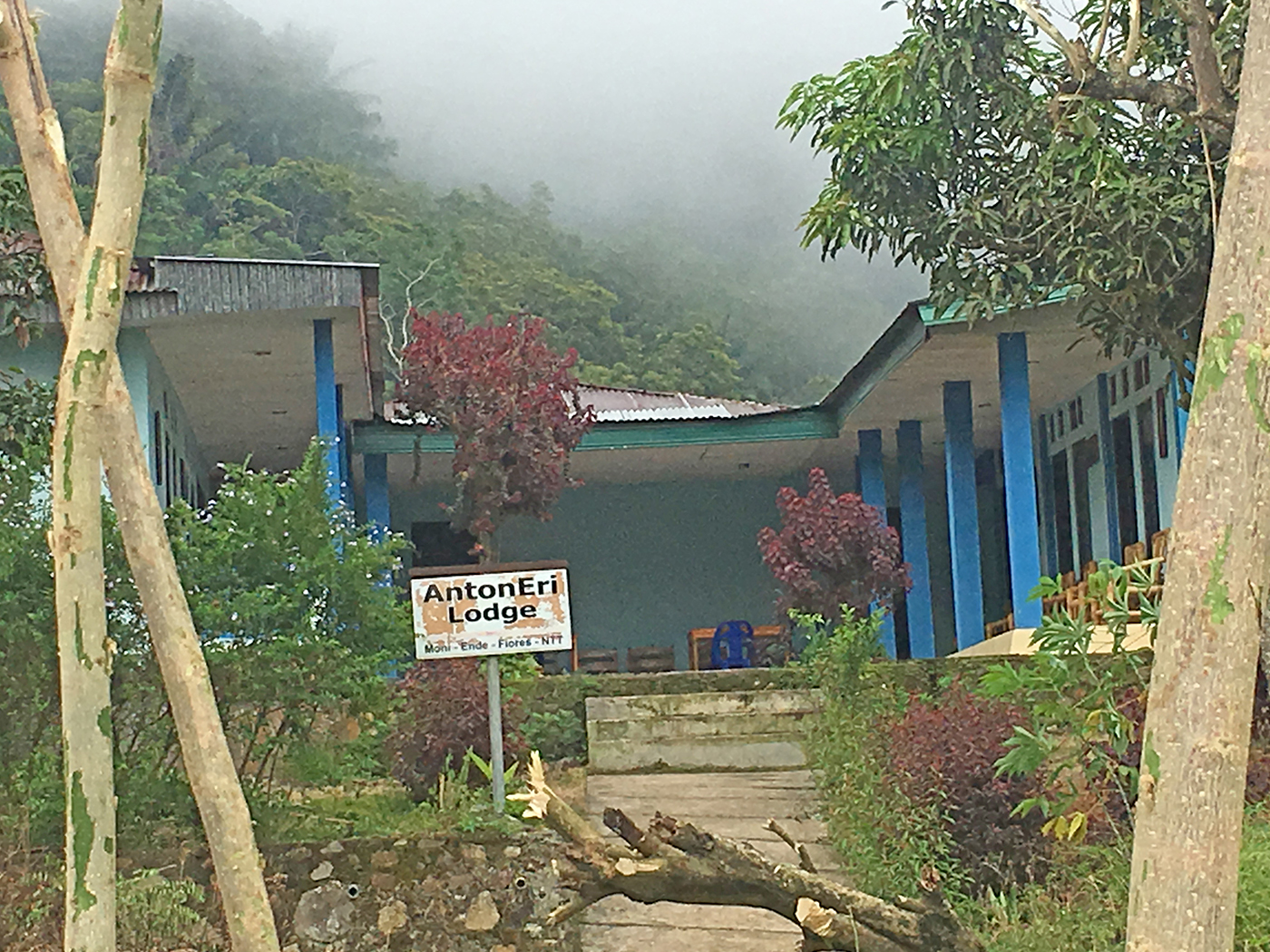 TRAVEL TIPS
Whether you make it up to the park entrance by car or by foot, you will have to hike up the last 1.5 km, which is a very leisurely inclined walk and should take about 15-20 min. Make sure you have your walking shoes on.

The park fees for foreigners is IDR 150,000 (12 USD) on weekdays and IDR 225,000 (17 USD) on Sundays.

It will be very cold and windy at dawn and dusk, so make sure to dress adequately.

Carry a torch as it will be quite dark when you go for the sunrise or sunset views.

There are no ATMs in this part of the island. Make sure you carry enough cash, US dollars are the most preferred currency of exchange.

There is no 3G/4G or Wi-Fi available in Moni. Yes, you will survive!
Traveling around is very easy and I highly recommend you do not book any 'tour packages' in advance. Most of them are rip-offs and some of the companies listed online don't even exist in reality.

If you are a vegetarian like me, food in this part Flores can be a bit of a struggle. Be prepared for rice and boiled vegetable. Do carry some munchies along.
Have you seen any other natural wonder that comes close to the Kelimutu volcanic lakes?
Read Next