This was an absolutely impromptu trip for me and I convinced another friend to join me as well. I literally had only 48 hours to do any research, plan the route, make the bookings and wrap up all my pending work before I left. Clearly, that was not enough time. After a half-hearted attempt at research, I realized I didn't want to book anything on a whim and I decided to do what I know best, trust the universe and wing it! I only hired a chauffeur-driven tourist vehicle to be with us for the 8 days from Shimla to Manali. With no fixed itinerary, we had all the freedom to stop and stay at any place we liked, and leave any place we didn't. 
If you follow this Spiti Valley itinerary, I'm quite certain you will not need a travel agent to plan your trip and in the process at least save Rs. 10,000 per person.
We hired a highly recommended local driver from Kaza, who was very safe, very entertaining and very informative all through the trip. Those are all key factors to keep in mind since he will be 'writing your destiny' for the duration of your trip. You can email me if you want his information. He charged us a lump sum amount of Rs. 26,000 (400 USD) for his Toyota Innova (large mini-van), which was the most reasonable quote we got, saving us the travel agency commission. The car rental is the biggest expense on this road trip.
The following is a detailed Spiti Valley Itinerary we ended up doing over 10 days: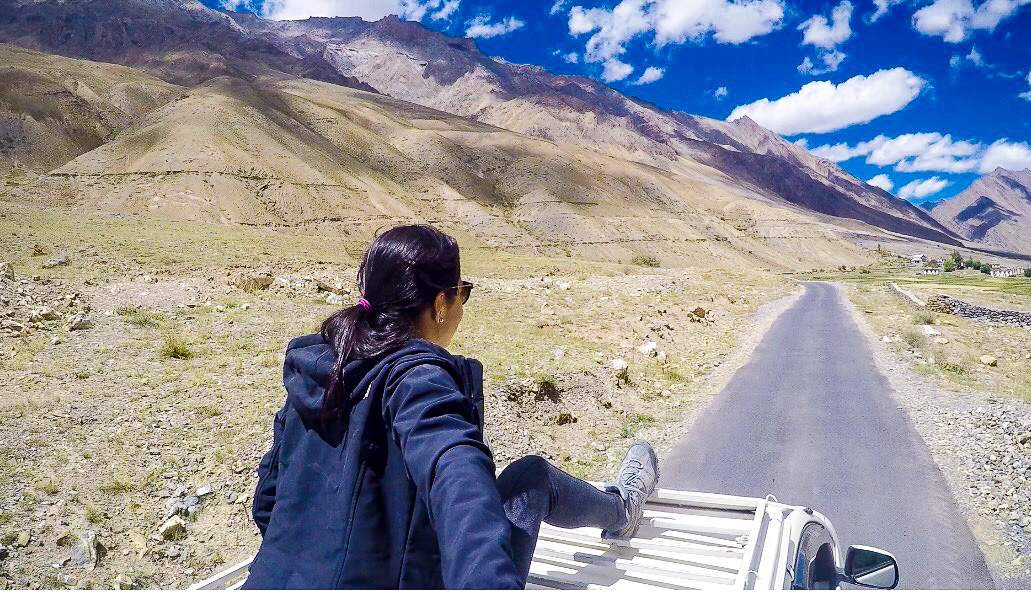 DAY BY DAY SPITI VALLEY ITINERARY
DAY 1: Chandigarh-Shimla
DAY 2: Shimla-Narkanda-Sangla-Chitkil (Kinnaur District)
DAY 3: Chitkul-Recong Peo-Nako (Kinnaur District)
DAY 4: Nako- Gue-Tabo-Mane (Spiti & Lahual District)
DAY 5: Mane-Dhankar-Kaza (Spiti & Lahual District)
DAY 6: Kaza-Hikkim-Komic-Langza-Key Monastery-Kibber-Kaza (Spiti & Lahual District)
DAY 7: Kaza-Lossar-Kunjum Pass-Chandrataal (Spiti & Lahual District)
DAY 8: Chandrataal-Chota Dhara-Chatdru-Gramphu-Rotang-Manali (Kullu District)
Day 9: Manali- Chandigarh
Day 10: Chandigarh-Mumbai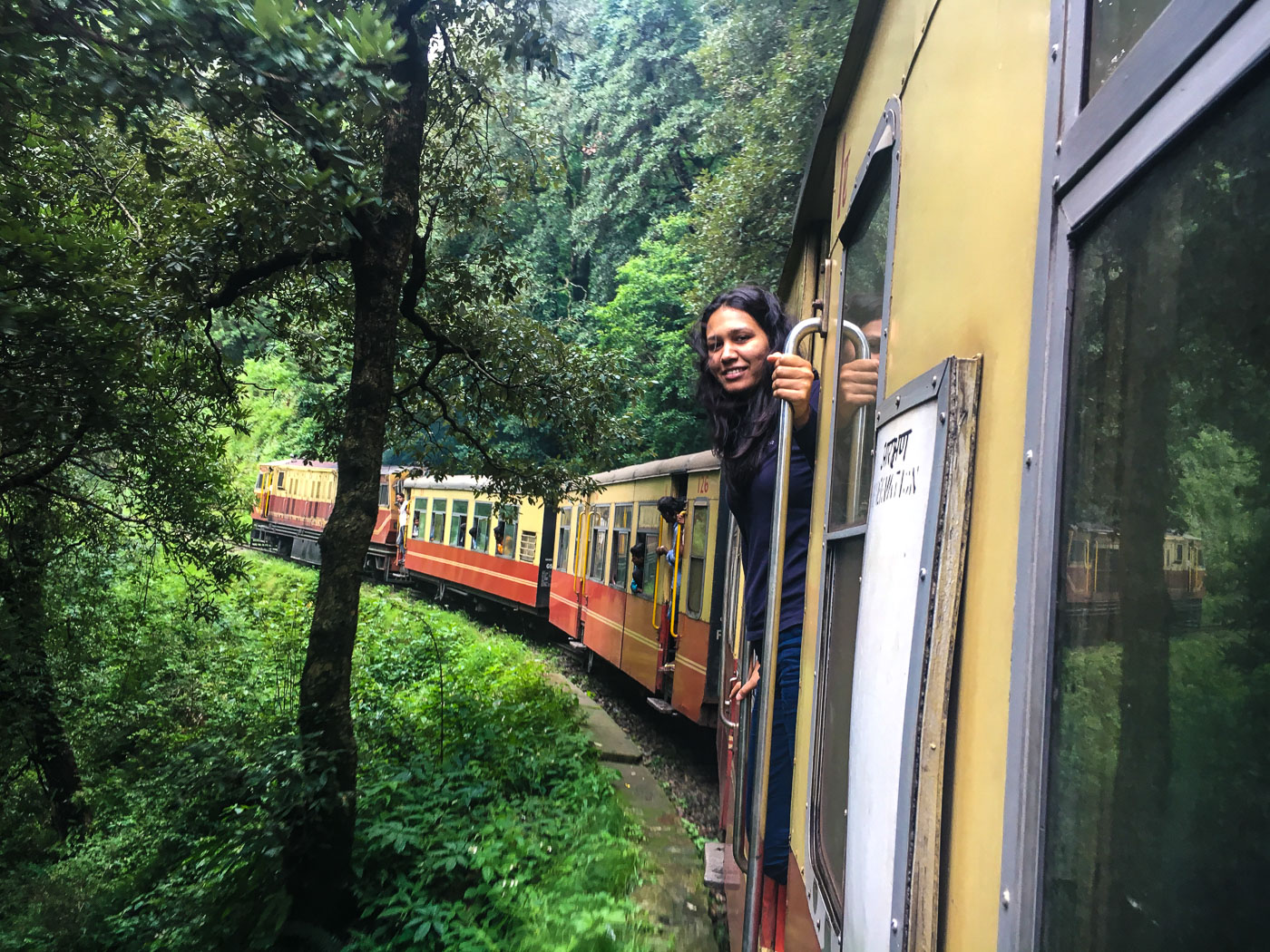 DAY 1
Once in Chandigarh, take the early morning 'toy train' from Kalka to Shimla, which approximately takes 6 hours. It is a good idea to book this train in advance, either online or through a travel agent. It brought back so many memories from a time when low-cost airlines didn't exist and train journeys were as much fun as the destination itself.
If the train is not an option, there are several Volvo buses, private cabs and shared cabs available throughout the day from Chandigarh bus terminal to Shimla. We spent the first night in Shimla at 'Hotel Basant,' which we booked on Make My Trip for a mere Rs. 600 (10 USD). For that price, I was really surprised by its central location, cleanliness of the room, views of the valley and excellent service.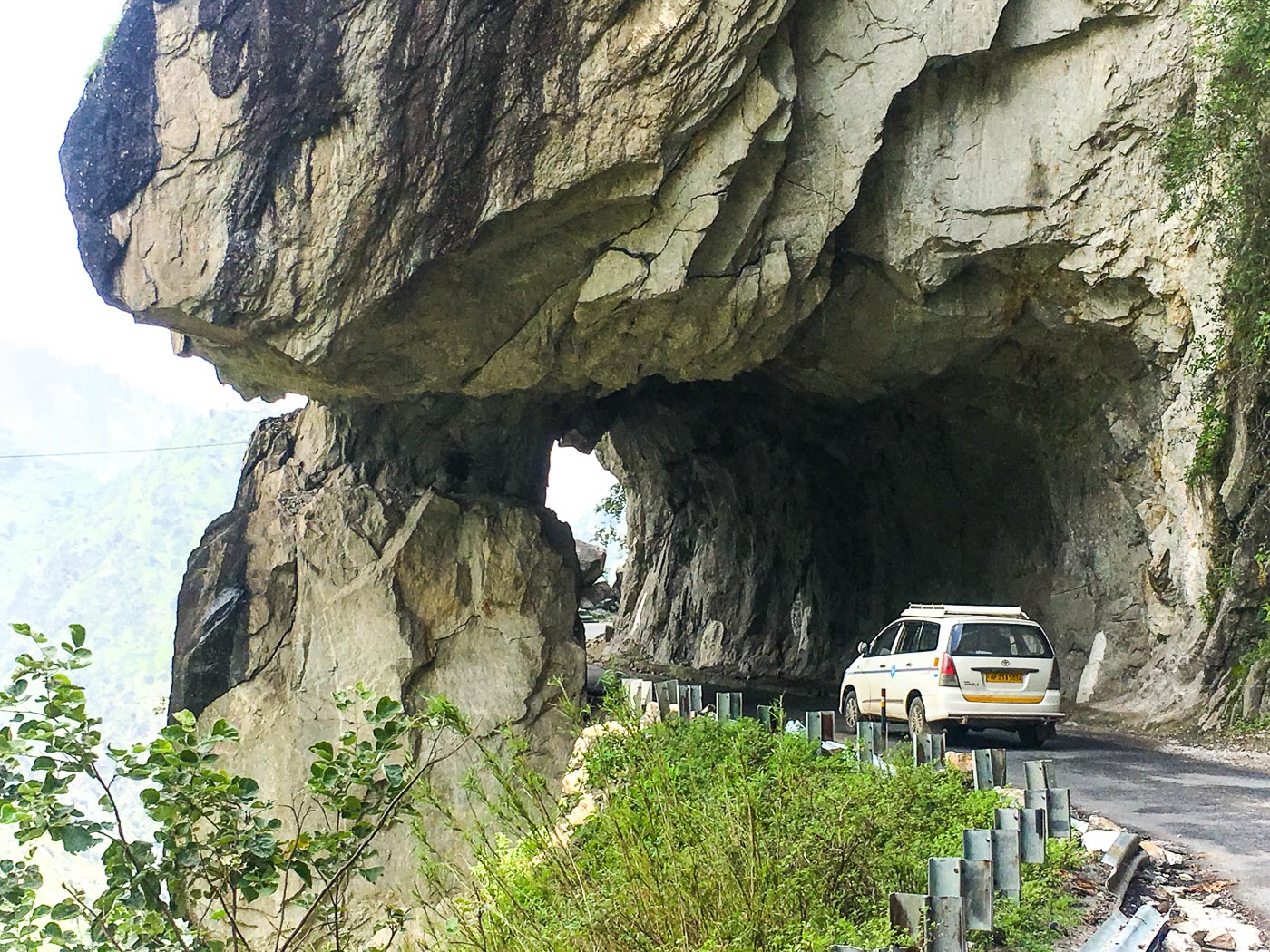 DAY 2
Start your road trip at 7.30 am to cover a distance of 250 kms to Chitkul in the Kinnaur district. Drive around the lush green mountains of the Shimla district via Narkanda-Rampur-Karcham Dam with a stop for lunch in Sangla. Arrive in Chitkul, the last village on the Indo-Tibet trade route, at around 5 pm just in time to watch the sunset by the Bhaspa river.
For Rs. 600 (10 USD), we spent the night in a wooden log room overlooking the river and mountains. Dinner for two cost Rs. 160 (3 USD). The accommodation needed no prior reservation and offered comfortable beds, warm duvets, and hot water. What it didn't have was a name, but at that cost, it didn't matter!
DAY 3
Leave early again to get to 'Reckong Peo' by 10 am. At this checkpoint, foreigners are required to get a 'foreign tourist permit'. If you take the Shimla route, the permit office is in Reckong Peo, however, if you take the Manali route, there is another permit office in Manali as well. You will need to show your foreign passport and Indian visa along with two photocopies of the same and two passport size photographs. The process usually takes an hour or two depending on the mood of the officer in charge and costs Rs. 800 (12 USD).
In the meanwhile, walk around town, get breakfast and reconnect to 3G one last time, as there is no cellular network again until you've reached Manali.
Continue your journey to 'Nako', the next stop on this road trip (105 kms from Reckong Peo) and arrive by mid-afternoon.
We decided to splurge on an 'eco-friendly glamping site' to spend the rest of our day in Nako. We had access to hot water showers, comfy beds, and yummy meals as part of the Rs.5000 (75 USD) cost for two. You can directly book tents on their website, which I suggest doing in advance if you're sure of your plans. We got really lucky and got the last available tent when we arrived. There are budget guesthouses also available in the village for Rs. 800-1000 (12-20 USD) a night as well. You can spend the evening with the village locals and watch the sunset over the lake.
DAY 4
Sleep in, if you'd like! The distance to be covered is lesser today and you can leave by 9.00 am and still get to 'Mane' with day-light to spare.
As soon as we got to the main road outside Nako there was a traffic jam caused by a landslide. Luckily, the Indian army was hard at work and cleared up the road in four hours and we were able to continue our journey.
We first stopped at 'Gue' village to visit the monastery and see the 550-year-old 'mummy' and then continued to 'Tabo'. Founded in 996 CE, the Tabo monastery is one of the oldest in the Himalayas and is a very beautiful one too. You can hike (15 min) to the human caves where people lived before the village was built.
We then proceeded to 'Mane' village the final destination for the day. Although I was bummed by the delay that morning, this was one of my best days of this road trip because I got to spend the night at 'Lobzang's Homestay'. The amazing Lady Lobzang and her humble husband welcomed us into their lives as if we were family. They showed us around the whole village, cooked the most delicious Spitian dinner, and among other things introduced us to homemade 'Arak' (local liquor), sea buckthorn juice/tea and apricot jam. For a mere Rs. 600 (10 USD) a night, this was better than any five-star hotel for me. This couple had so little but still so much to give! If you are looking for 100% authentic homestay experience, do not miss this one! Feel free to email me for her contact details.
DAY 5
By day 5 your eyes will automatically open at 6 am. Lobzang will take you for a long morning walk along the river and then feed you the yummiest Spitian breakfast.
By 9 am, continue the journey to 'Dhankar Monastery', which is only a 20-minute drive from Mane. The vibe in the Dhankar village was also very soothing and peaceful in spite of tourists thronging there. You could consider spending a night here as well and hike (2 hours) to the Dhankar Lake on top of the village. Since I was still nursing a broken ankle, we decided to skip it.
Next, head to Kaza, the administrative capital of the Spiti Valley. When we reached Kaza, we found out that the road from Shimla to Mane was completely closed off for at least two weeks as the patch of road surrounding the landslide had collapsed. We were so lucky!!
We got there around 1 pm, grabbed lunch in the Kaza market and immediately hired a bike for the rest of the day. Rent for the day is anywhere between Rs.1000-Rs.1400 (15-22 USD) depending on the season and Rs. 700 (10 USD) for half a day. We aimlessly rode for 5 hours and came back before dusk. It was quite a break from being cooped up in a car for 5 days.
Spend the next two nights in Kaza. It was the only place I regret not booking in advance. Ideally, I would have loved to stay at Hotel Dezor but they were sold out for those two nights and therefore we stayed at Hotel Khansar for Rs. 1000 (15 USD) a night. We did eat a couple of meals at Hotel Dezor and really enjoyed them both. Kaza was relatively pricier, and an average meal was Rs. 300-400 (3-5 USD) rupees per person, which compared to any place I know was still quite cheap.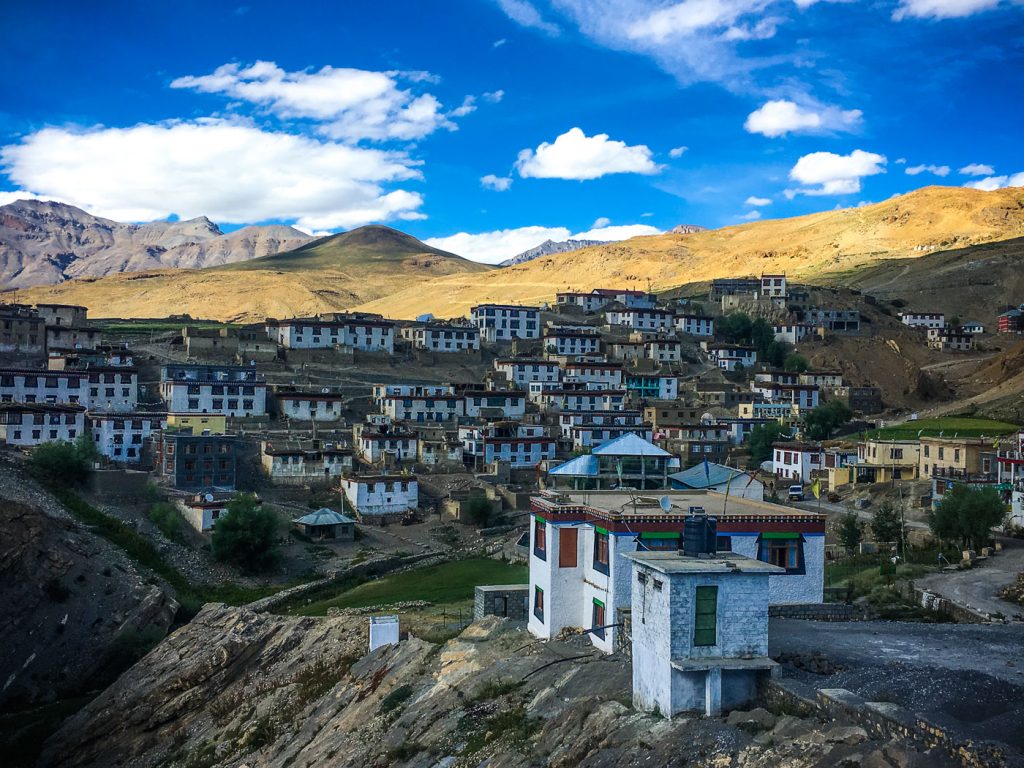 DAY 6
Today you will cover a lot. Leave by 9 am after breakfast and go to Hikkim, the village with the highest post office in the world, then to Komic, the highest village in the world connected with a motorable road perched at 4587 meters, next to Langza the fossil village, Key Monastery, Kibber and then back to Kaza. It sounds like too much crammed into a day but the distances are short and we were quite comfortable all day. Just being in the Spiti Valley puts everything else at ease.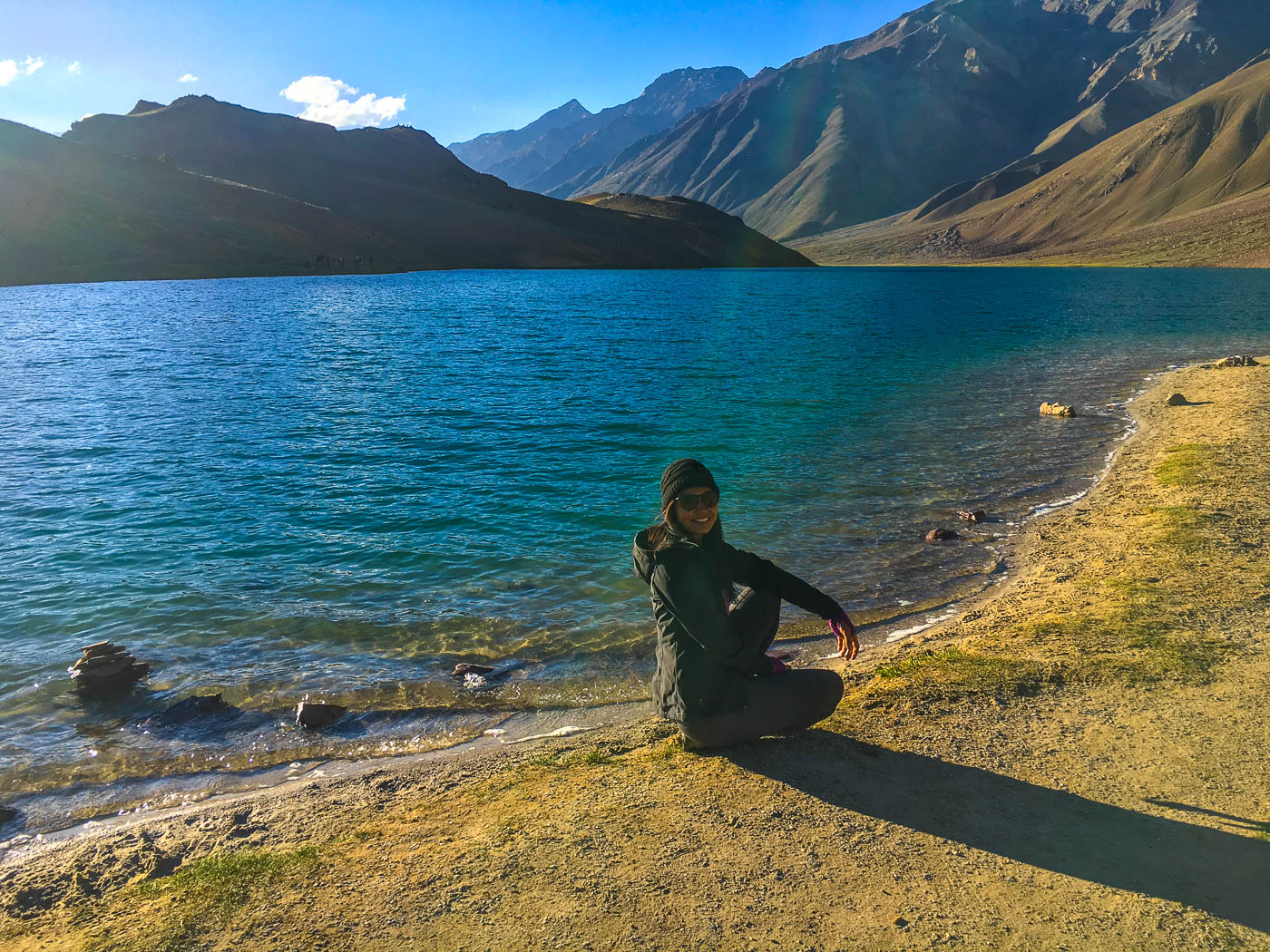 DAY 7
Leave Kaza early and head to Chandrataal Lake. After all that I had read and seen about it on the internet, I was really looking forward to camping there. It is a long drive through Lossar and then Kunzum Pass where the roads get a lot worse, making the ride bumpier.
Freshen up at the campsite and head up to the Chandrataal (Moon Lake) at 4300 meters. I couldn't believe what my eyes were seeing. Photos and words definitely don't do justice to this beautiful place. We booked 'You See Camp' while we were in the Kaza market. We paid Rs.1500 (24 USD) per person for a Swiss tent with attached bathroom and dinner included. The temperatures dropped down to -3C that night and it was really windy. You will definitely need extra layers of warm clothes for this night.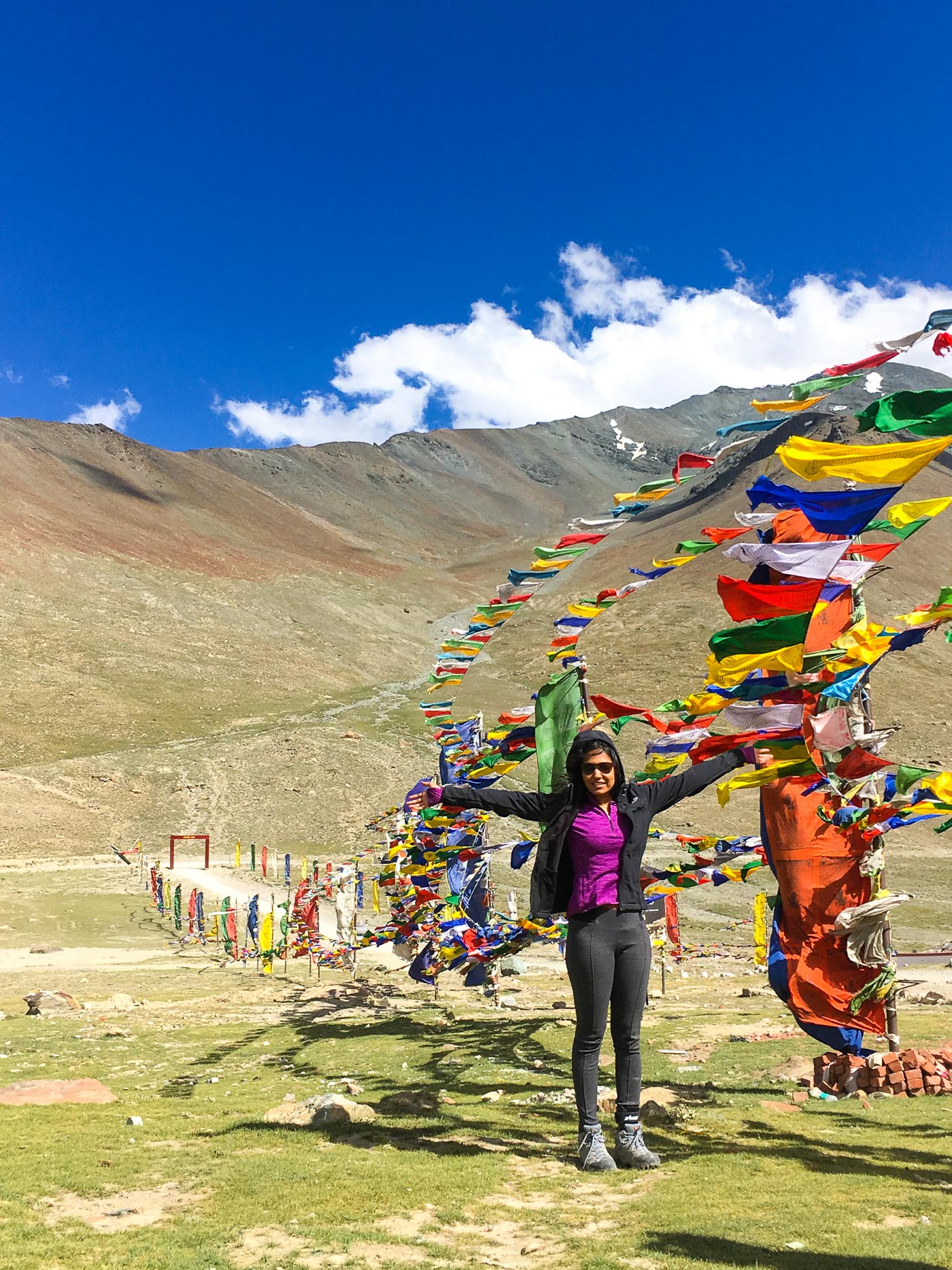 DAY 8
This was the day our driver was most nervous about and had been preparing us mentally for it all along. He didn't believe me when I told him that I had seen the videos and was precisely the reason why I chose to come to seek an adventure in the Spiti Valley! Like most people, he too thought I was crazy to be excited about a journey that entailed river crossings and treacherous dirt roads and where the closest sight or sound of human civilization was at least 10 hours away.
Getting stuck in the middle of nowhere was a real possibility!
Begin your journey as early as 6 am and leave with the other cars heading towards Manali. This is one patch you never want to be alone on and the videos will testify why. After crossing the hazardous roads that pass through Batal-Chota Dhara-Chartadu-Gramphu and the famous Rohtang Pass you will reach Manali in the evening. We went straight to the bus station and booked my tickets for Chandigarh the next day as they sell out soon. We spent the night at 'Hotel Drilbu' that cost us Rs. 400 after we found a good deal on Make My Trip.
DAY 9
Take the morning Volvo bus from Manali to Chandigarh. It takes 8hours and costs only 850 rupees (13 USD) and is much more economical compared to 8000 rupees (125 USD) if we took the same private taxi we had hired all the way to Chandigarh. I spent the night in Chandigarh.
DAY 10
Take a flight back from Chandigarh to Mumbai.
OVERALL BUDGET
The biggest cost fofthis trip is the car rental and flight tickets. We chose an Innova and paid Rs. 26,000 (400 USD) for it. You can reduce this cost by ttravelingwith more people and splitting it further or taking a smaller car from Shimla up to Kaza and then continue in a bigger car from Kaza to Manali. Because of the road conditions, it is impossible for the smaller cars to make it from the Manali route.
Average meals, usually 'thalis', on this trip cost no more than Rs. 200 (3 USD) for 2 people. Kaza is relatively pricier and average meals there cost us about Rs.300-400 (4-6 USD) each.
If you chose to stay in homestays and guest houses the average room costs anywhere between Rs. 600-1500 (9-23 USD) a night, depending on the season.  We did choose to splurge on a glamping site in Nako and that cost Rs. 5000 (76 USD) for 2 with meals included.
Overall we spent about Rs. 22,000 (340 USD) each on this trip, not including flights.
This road trip to the Spiti Valley is one that I will truly treasure for the rest of my life. Thanks to its inaccessibility, Spiti remains a hidden treasure of India, and all those who are lucky enough to make it there know that it is a sight your eyes will capture, the mind will store and heart will cherish forever!!
Have you been on a road trip in India before? Share your experience in the comments below.
Read Next