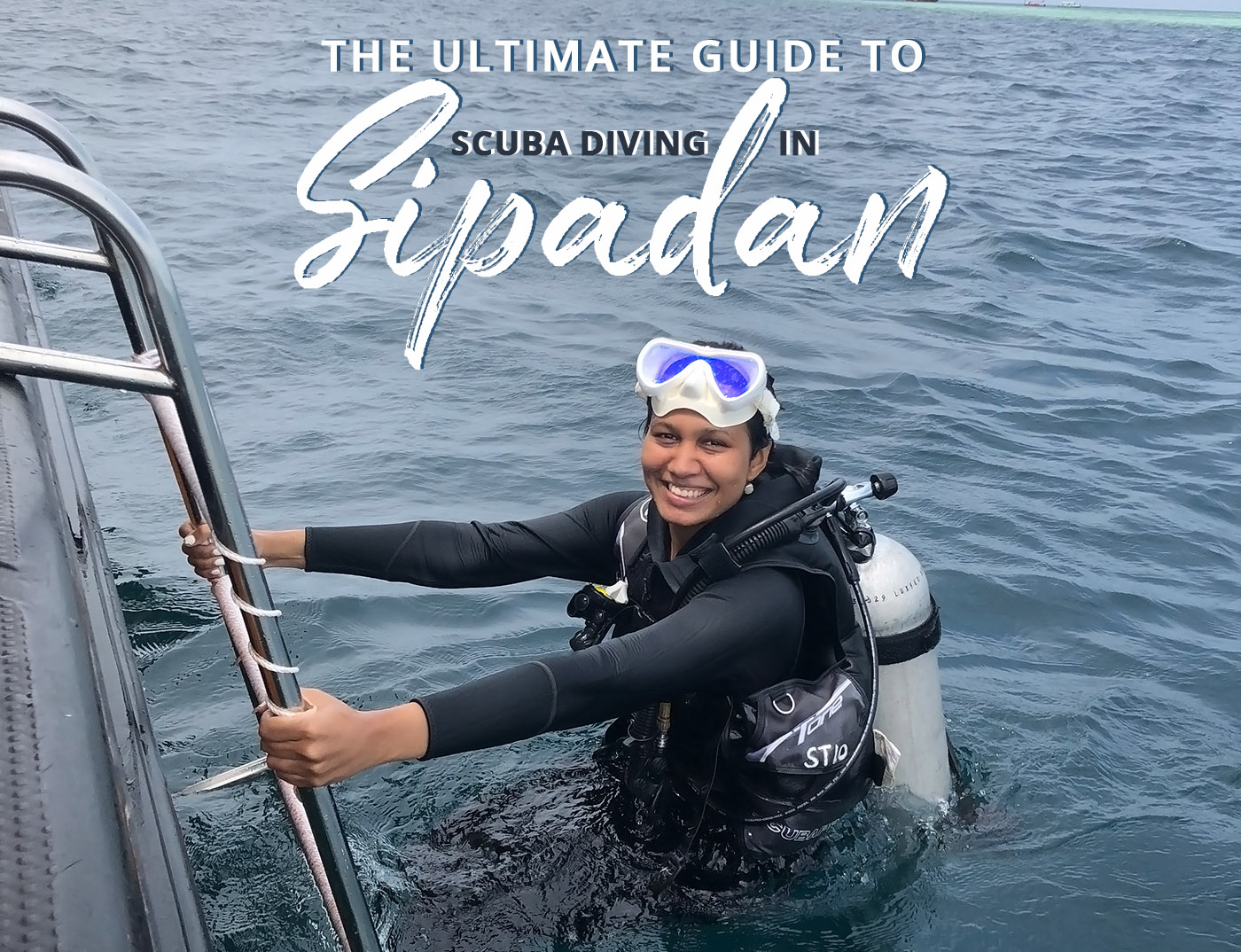 Ever since I got my scuba diving PADI certification I had a whole new list of places added to my bucket list. And since Sipadan is ranked one of the top ten dive spots in the world, I had to go check it out.
Here is everything you need to keep in mind while planning a scuba diving trip to Sipadan.
ABOUT SIPADAN
Sipadan is said to have one of the richest marine habitats in the world with over a hundred species of coral and more than three hundred species of fish in the ecosystem. Pulau Sipadan is a tiny oceanic island located in the Celebes sea just off the east coast of Sabah (Malaysian Borneo). It was formed thousands of years ago when living corals grew on top of an extinct volcano. Barracudas, turtles, manta rays, eagle rays, hammerhead sharks, whale sharks, reef sharks, jackfish and the big eye trevallies are some of the big guys you can expect to see here.
Unfortunately for me, the weather played foul (even in the best season) and although I came for the hammerheads and whale sharks, all I saw were barracudas, a couple of turtles and a few parrotfish. 🙁
GETTING TO SIPADAN
In order to protect this spectacular marine ecosystem and growing popularity of this dive destination, the government has banned all resorts on Sipadan island and relocated them to surrounding islands like Mabul, Mataking, Kapalai, Semporna etc. From these neighboring islands, you can only take day trips by boat to Sipadan.
These are your options to get to the closest islands to Sipadan:
BY AIR
The best option is to fly into Tawau either from mainland Kaula Lumpur or from Kota Kinabalu, the capital of Sabah (also has an international airport). Flights from Kuala Lumpur takes 2 hours 45 min whereas flights from Kota Kinabalu take about 50 minutes.
I flew with Malaysia Airlines from Kuala Lumpur and got the best deal on Traveloka. The journey from Tawau to Semporna, a port town closest to Sipadan, takes about an hour and a half by taxi. If you decide to stay in Mabul, Mataking or any of the other islands you will have to take a boat from Semporna town which might take longer, and therefore check the landing time for flights accordingly. Boat timings can be checked at your accommodation's help desk.
BY ROAD
There are regular buses from Kota Kinabalu to Semporna. Take this option only if you are on an absolute barebone budget as the journey takes over 12 hours or so. This isn't a practical option at all unless you break down the journey in Sandakan. 
BEST TIME TO  GO SCUBA DIVE IN SIPADAN
Sipadan is a year-round destination for scuba diving with average temperatures 30-32 degrees. The best time is between April and December with July and August being peak seasons. Having said that, I was there in the first week of August and it rained 3 out of 4 days.
SCUBA DIVING IN SIPADAN
In an effort to preserve the island, there is a Sipadan permit system limiting the maximum numbers of divers to 120 per day. The Sipadan island is open to divers only between 6 AM and 4 PM. A one day permit for Sipadan costs a whopping MYR 1300 (USD 300). Some resorts offer a minimum two-day Sipadan dive package in order to dive with them and hence finding a good dive center can be quite tricky.
I booked a dive package with Scuba Tiger that allowed me 1 day in Sipadan and 3 days at the other islands, which are really pretty as well. To my shock, without any prior communication about it, Scuba Tiger decided to put me on to another operator called Uncle Chang for my Sipadan dives, who were absolutely terrible and it ended up being my worst dive day ever! Their equipment was old, worn out and leaked and to make matters worse, the dive master barely spoke any English. Not only that, they were so negligent that I had to abort my very first dive that day. Despite the poor visibility the dive instructor did not look out for while descending and left me far behind. It was the scariest experience ever. I also do not recommend Tiger Scuba as the rest of the dives with them were equally disappointing. The dive instructors were as clueless about the dive sites as I was. The management didn't seem to care in spite of repeated complaints and their negligent attitude and rude behavior was terribly disappointing.
After my initial research, I had wanted to dive with Scuba Junkie but since they were sold out I had to shop elsewhere. If I go back to Sipadan I would most probably pick them, as I did hear good reviews from fellow travelers I met along the way.
HOW MANY DAYS ARE ENOUGH TO SCUBA DIVE IN SIPADAN
Considering how expensive the dive permit is, I think 1 day or maximum 2 days (3 dives) in Sipadan would be enough if you get lucky with good weather. Unfortunately, that wasn't the case for me and in hindsight staying an extra day would have been equally bad for me, not to mention I would risk losing $600! Just pray to every weather God possible before you go. Two days (6 dives) on the other islands should be good if you are not looking to spend too much and still want the full experience. I would also spare a night before and after the dives for transit time. A total of 5 nights are good enough for a dive trip to Sipadan and the islands around.
WHERE TO STAY WHILE SCUBA DIVING IN SIPADAN
Most dive centers offer a package deal which includes the diving fee and the accommodation. The dive equipment is usually charged extra. Some resorts offer fancy chalets, as well as dorm rooms, so you choose an option that fits your budget. While I was doing my research I was in talks with Scuba Junkie, Kapalai Dive Resort, Borneo Divers Mabul Resort, Scuba Tiger. Make sure you plan this trip at least 4-5 months in advance, especially if you plan to go during the high season. I only had 2 months in hand before my trip and had to settle with whoever guaranteed me a one day permit to Sipadan.
BUDGET FOR SCUBA DIVING IN SIPADAN
The biggest cost is the Sipadan dive permit, which as I mentioned is MYR 1300 (USD300) a day. Most of the resorts have luxury chalets, as well as dorm rooms for budget and solo travelers. The chalets cost approximately MYR 450 (USD 110) a night, and the dorm rooms MYR 150 (USD 35) a night. Non-Sipadan diving cost MYR 350 (USD 85) for 3 dives a day. For a total of 5 days, I'd say its safe to consider a minimum budget of USD 750 excluding flights.  
OTHER TRAVEL TIPS FOR SCUBA DIVING IN SIPADAN
Plan this trip at least 6 months prior so that you are not compromising on selecting the best dive operators.

If you are a vegetarian, food can be an issue. Carry snacks and packed meals from home.

There were only two currency exchange shops in Semporna and both were shut the day I arrived. Try to keep some local change handy.

Some islands do not have ATMs. It helps to carry cash.

Carry enough bug spray and in order to protect the reefs, use biodegradable sunscreen lotion only.
I hope this blog gives you enough tips and insights and helps you plan your scuba trip to Sipadan in a better way. I also hope you have a better experience than I did on mine. Feel free to email me if you have any more doubts while planning your dive trip to Sipadan.
Is scuba diving in Sipadan on your bucket list?