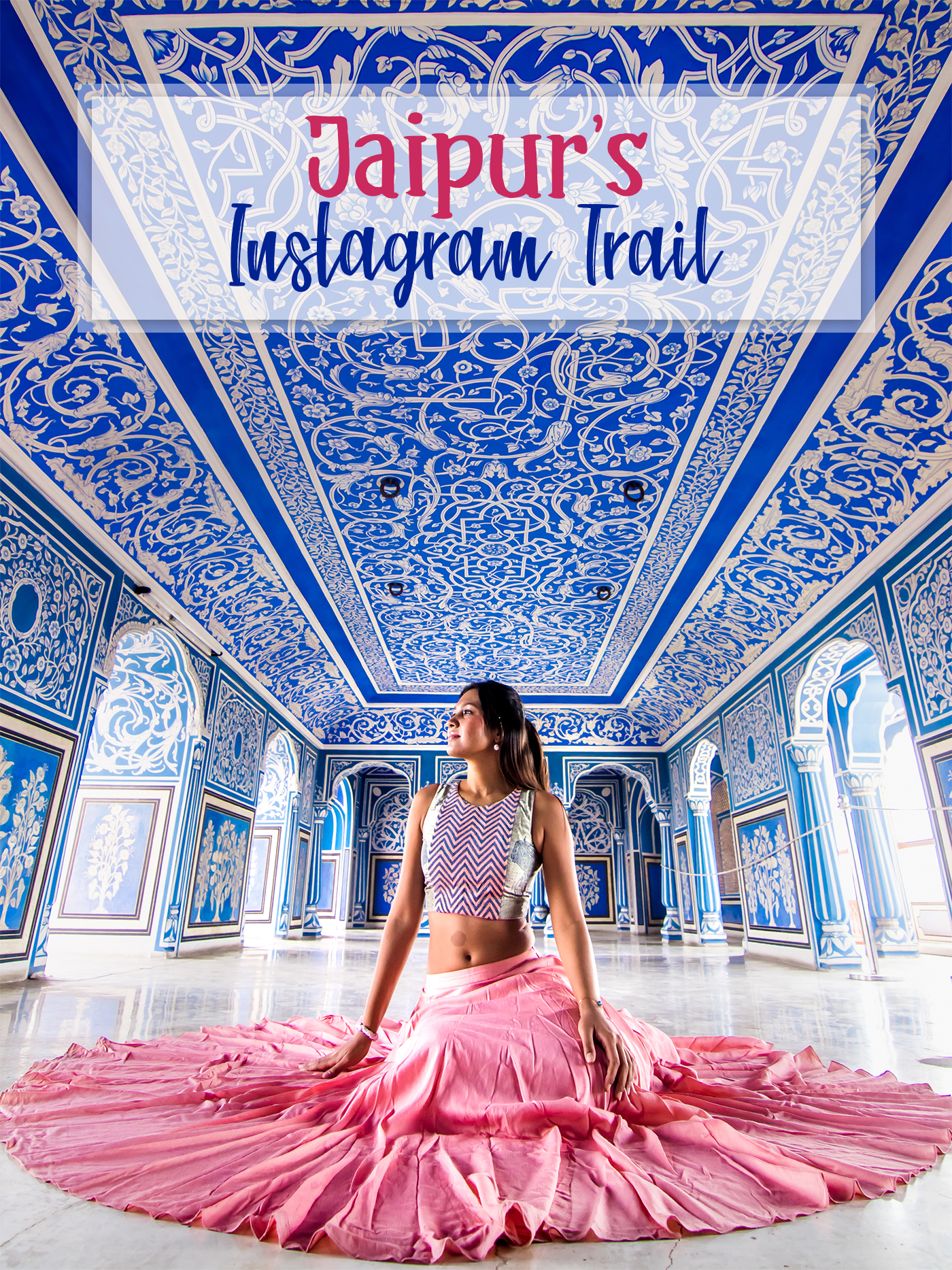 Jaipur! The first place that comes to every traveler's mind when they think of India! Every nook and corner of Jaipur oozes of royal heritage taking you back to a different era. I call it India's most 'Instagrammable' city.
By popular demand, here's my two-day itinerary around Jaipur's Instagrammable spots.
I think its best to rent a chauffeur-driven car for the day that should roughly cost you about INR 2000 (USD 29 ) for 12 hours and up to 80 km, which should definitely suffice to cover the whole route.
DAY 1
7.15 am – 7.45 am Panna Meena Kund
8.00 am – 1.00 pm Amber Palace
1.00 pm – 2.00 pm lunch around Jal Mahal
2.30 pm – 3.30 pm Gaitore Ki Chhatriyan
4.00 pm – 6.00 pm Sunset at Nahargarh Fort
7.00 pm -8.00 pm Hawa Mahal
STOP 1
PANNA MEENA KUND
This is located in Amer town very close to Amer Fort, roughly 12 km from the Jaipur city center. Most travelers end up visiting only the Amer Fort and miss going here. Panna Meena Kund is a stepwell or 'Baori' which is kind of an ancient water storage tank where water could be accessed through a flight of steps in an era when pipelines didn't exist. Today, it serves great
Officially, you cannot go down the steps but a small tip (INR 100-200 maximum) can get you a few photos for a couple of minutes (if there are no other tourists around). I suggest getting here as early as 7.15 am, when there will be absolutely nobody around and then make your way to Amer Palace at 8 am when the gates open.
STOP 2
AMBER PALACE
This is one of the biggest and most beautiful of all the attractions Jaipur has to offer and definitely cannot to be missed. The palace is open to visitors from 8 am to 5.30 pm and the entry fee is INR 100 (USD 1.5) for Indians and INR 500 (USD 7 ) for foreigners. You do have the option of taking a guided tour as well. To get the best shots, make sure you are one of the first ones to enter at 8 am sharp. You will at least need a couple of hours to thoroughly enjoy the beauty and history of the palace. The Amber Palace is a mere 10-minute drive up from Panna Meena Kund. I beg you to please not take the elephant ride up to the palace. It is really torturous and inhumane. Your driver can drive you all the way to the top and park there for an extra INR 50 (USD 0.75) for 3 hours.
Once you are done with the palace itself, ask your driver to drop you to the steps that lead to the opposite side of the mountain near the Amer fort boundary wall and check post. In case he doesn't know it, just search for 'Wall of Amer' in google maps and it should take you there. Unfortunately, 99% of visitors don't make it to this side and miss out on a stunning view of the Fort and Insta worthy photos like the one below. You will have to climb up a flight of steep stairs (each riser is about 15-18 inches tall), which takes no more than 20 minutes with a couple of breaks on the way. Carry some water and wear close comfortable walking shoes.
In case you're wondering how I got this shot, no it's not a drone shot nor shot with any fancy long lens, Marcus, my collaborating photographer was brave enough to climb up the wall on the opposite side and captured this stunning shot. I reckon you will spend at least one and a half hours here in total.
STOP 3
GAITORE KI CHHATRIYAN
'Gaitore' or 'Gatore' literally means resting place of the departed souls. This is the final resting place of the Maharajas of Jaipur and is popular for its cenotaphs or 'chhatris', well known as Gaitore Ki Chhatriyan. With its beautiful carvings and rich history, this place is ideal for that royal Instagram moment.
Still lesser know amongst the mass tour operators, this place is sparsely crowded. The entry is a mere INR 30 (USD 0.5 ) and it is open to visitors from 9 am to 5 pm.
It is located very close to Jal Mahal and can be visited on your way back from Amer Fort. On google maps simply put in 'Gaitore Ki Chhatriyan'. On your way, you can stop by Jal Mahal for a few minutes to have a look, it's actually quite dirty around there and poorly maintained in my opinion, I don't see why everyone loves going there.
STOP 4
NAHARGARH FORT
Head to Nahargarh Fort for the most stunning sunset overlooking the city of Jaipur. The drive will not take you more than 20 min from Gaitore Ki Chhatriyan. The entrance fee is INR 50 (USD 0.75) for Indians and INR 200 (USD 2.8) for foreigners. There is a food court, a Restaurant, the Jaipur Wax Museum as well as a Glass Palace on top of the fort. You can easily spend a good 2 hours here.
View this post on Instagram

You will be pretty exhausted after being out for 12 hours in the sun. I suggest you head to Bar Palladio, where you'll find the old world charm blended with new world modernity coming together in unison.
DAY 2
7.30 am-8.00 am Patrika Gate
8.15 am – 9.00 am Albert Hall
9.30 am – 12.30 pm City Palace
12.40 pm – 1.00 pm Hawa Mahal
STOP 1
PATRIKA GATE
It's the perfect symmetry and vibrant colors of the walkway that make for stunning Instagram photos. The Patrika Gate showcases everything Jaipur. From hand paintings of temples, forts, and palaces, to portraits of Jaipur rulers, blue pottery, jewelry, and photographs of Amer, Hawa Mahal, City Palace, Jal Mahal, thereby giving you a glimpse of the entire history of Jaipur.
The Patrika Gate is located at Jawahar Circle, which is also apparently the biggest circular park in Asia that is at a traffic signal. You can visit any time as it is always open. But to avoid the tourist bus crowds I suggest you get there as early as 7.30 am. There are no visitor fees to be paid either, so make sure you are not scammed into paying anything. This should be your first stop of the day as it is furthest from the city center.
STOP 2
ALBERT HALL
This is where you will get the perfect shot of pigeons flying around you. You can get a shot here only from the outside if you follow my timeline. The Albert Hall Museum actually opens at 9 am and closes at 5 pm. The City Palace opens at 9.30 am and that was my first priority. Hence I skipped going inside and just to a quick shot from the outside of the museum since it was on the way to the City Palace.
STOP 3
CITY PALACE
The present king of Jaipur, the 20-year-old Maharaja Sawai Padmanabh Singh resides in the City Palace along with his family. For the purpose of their privacy and security, only a section of the City Palace is open to the public. The entrance fee for this section is INR 500 (USD 7.2) for foreigners and INR 190 (USD 2.8) for Indians.

The city palace reserves the most beautiful section only for a select few. The Chandra Mahal is a four-story building located behind the area made accessible to the general public. The entrance fee to this otherwise restricted area is INR 3500 (USD 50) for foreigners and INR 3000 ( USD 43)for Indians and is definitely worth a visit. The blue room and all the other pictures you see below are part of this tour as well, which must be done with a guide only (included in the price of the ticket). To thoroughly enjoy the tour of the palace, it is best to get there at 9.30 am when the gates open to avoid the crowd and spend a good couple of hours in there. The palace is open until 5 pm.
STOP 4
HAWA MAHAL
Located on the edge of the City Palace, the Hawa Mahal (Palace of Wind/Breeze) was designed to allow the royal ladies to observe everyday life and festivals celebrated in the streets below without being seen, since they had to obey the strict rules of "purdah," which forbade them from appearing in public without face coverings.
For the best views of the Hawa Mahal, it is best to get to the roof of 'Wind View Cafe' which is on the opposite side of the road. From there you can get the best view and Insta shot along with a refreshing coffee/meal. You can go at any time of the day. I chose to go right after the City Palace as they are both so close by. The night view of the palace is pretty good as well.
On Day 2 you mostly should be done with these 4 places by lunchtime and thereafter if you wish, you could also visit Galtaji (Monkey Temple).
I hope you enjoy exploring Jaipur's Instagrammable spots as much as I did 🙂
Read Next