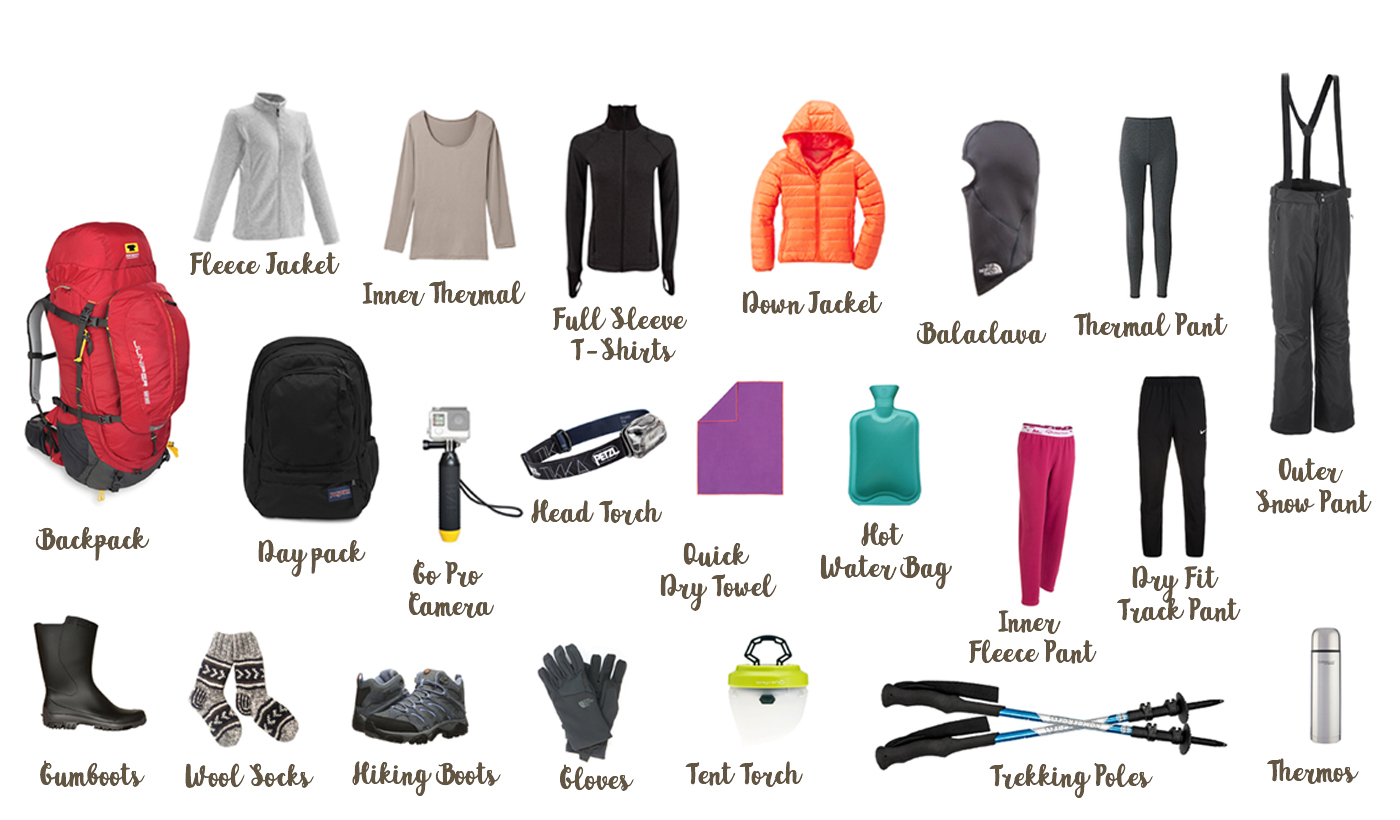 Being fully prepared to enable yourself to mentally and physically conquer the challenges faced on what is known as the deadliest trek in the world is of utmost importance. Among many things, packing the right gear ensures just that.
Here's everything you need for this once in a lifetime adventure in the lap of the Himalayas.
LUGGAGE

Backpack: Look for one that fits you're back the best. I've been using this one for the past 5 years and would highly recommend it to anyone looking to invest in one. The best part about it is that it has a top open as well as front open which makes it so much easier when you want to get something out of the bottom of the bag.
Day Pack: This one must be really comfortable and waterproof as well.
CLOTHING ESSENTIALS

Thermal Inners: The key is to layer up, both top and bottom, thermals being the innermost. I've been using Uniqlo for years now, they are super soft and comfortable especially when you need to wear them for 8 days in a row.
Dri-Fit Joggers: Carry two full-sleeved Dri-fit T-shirts and one bottom that you might use for your workouts. Make this your second layer.

Fleece Jacket and Pants: This one is thicker and traps any air from entering acting as an insulator to keep you warm. I like the one with the full zipper, in case it gets too warm you don't need to take it off completely.
Down jacket: Make this your fourth and outermost layer. Make sure it's waterproof as well.
Waterproof Pants: I found one at the Decathlon store in Mumbai, although from the men's section.

Balaclava: It is very important to keep your ears and mouth covered. Nothing better than a balaclava. I have an old one from NorthFace. I also carried earplugs that helped me a lot during the night when the tent was too stuffy to keep the Balaclava on.
E-tip gloves: My NorthFace E-tip gloves are best winter wear investment. I didn't have to take my gloves off in the freezing cold every time I wanted to take a picture with my touchscreen camera. Although in India they are a lot more expensive, it might be worth it getting from the U.S.
Sunglasses: A pair of polarised sunglasses will protect your eyes from the harsh reflections of the ice.
Undergarments: It might get difficult to strip down in the freezing cold every day, panty liners will come to your rescue here.
FOOTWEAR

Gumboots: You could find a reasonably priced pair at Decathlon or in the Leh market if you don't already own a pair. Gumboots are a must, you cannot go on this trek without a pair.
Hiking Boots: These boots have been my best investment in hiking gear till date. They've taken me all around the world and were comfortable on the Chadar trek too.
Woollen Socks: Carry at least 6 pairs. At some point, they will be drenched in water or sweat and therefore will only freeze in the cold and never dry up. If you don't have good ones, you can easily find them in the Leh market as well.
PERSONAL HYGIENE ESSENTIALS

HIKING ESSENTIALS

PERSONAL MEDICAL KIT

Personal medicines: If you are prone to certain conditions, go prepared with the medicines you need. I usually carry homoeopathy medicines for severe cold, high altitude, AMS, and fatigue as well.
First Aid Kit: Crepe Bandages, sprays and general stuff for open injuries in case you hurt yourself.
GADGET ESSENTIALS

Go Pro: I loved having my GoPro with me. I didn't have to worry about the weather conditions at all before using it.
Extra camera batteries: There is no power anywhere on this route once you leave Leh, therefore make sure you carry enough batteries and fully charged power banks.
Music: Carry your favourite playlists to keep you going, especially when the going gets tough.
TRAVEL TIPS
Make sure you cut your nails short, especially your toes as long nails will really hurt inside your gumboots (I learned it the hard way).

Arrive in Leh a day or two earlier to acclimatise before the trek, especially if you are flying in from a warm place like Bombay, as was my case.

Try to pack as light as possible.

Please do not take on this challenge if you have never been on a hike/trek before. This one is definitely not for first timers, it can be very unsafe.

Prepare yourself mentally and physically before you sign up for this one.

Pick a tour operator wisely. They can make or break your adventure.

The campsites are really trashed by tourists. Please help in cleaning them up or at least be conscious of not adding to the litter.

If you have any warm winter wear that you could give away, please carry them for the porters. They really need them and cannot afford new ones. I gave my gumboots away to one of the porters after the trek and I can't tell you how happy it made them.

Have you been on The Chadar Trek before? Comment below if there is anything else that helped you enhance your experience on the frozen river.
Read Next