The Indonesian archipelago holds the record for the highest number of active volcanoes (76) in the world, with a total of 1,171 dated eruptions, a close second to Japan's 1,274 eruptions. A trip to Indonesia is definitely incomplete without making it to at least one of them. So far I've made it to three!
Mount Bromo & Kawah Ijen located in East Java are one of the most famous volcanoes in Indonesia, making it a very busy and popular tourist destination.
If you are looking for a relaxing vacation, this one is definitely not for you. If you are not comfortable in overly crowded places, then this one isn't for you either. But if you love an adventure and are willing to rough it out for a couple of days in exchange for some rare glimpses of mother nature's glory, then this one surely for you.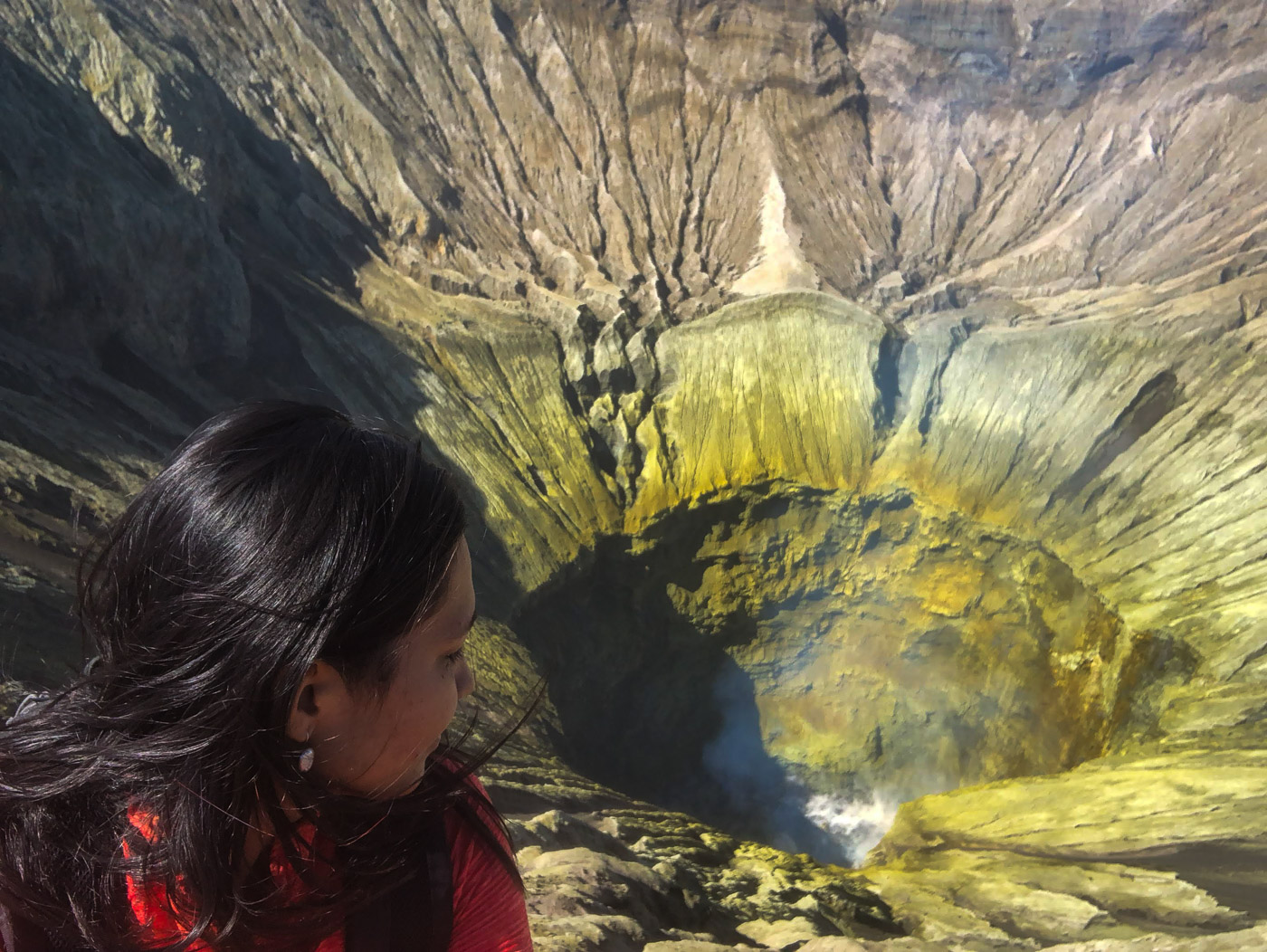 ABOUT MOUNT BROMO
Mount Bromo is the only active volcano, part of the Tengger massif, perched at 2,329 meters in East Java. The volcano belongs to the Bromo Tengger Semeru National Park, the only conservation area in Indonesia that has a Sea of Sand. The name of Bromo is derived from the Javanese pronunciation of Brahma, the Hindu God known as the creator of the universe. It is one of the most famous tourist attractions in Indonesia to the extent that, for the Indonesians, seeing the sunrise on Mount Bromo and then walking up to its crater is considered a holy pilgrimage.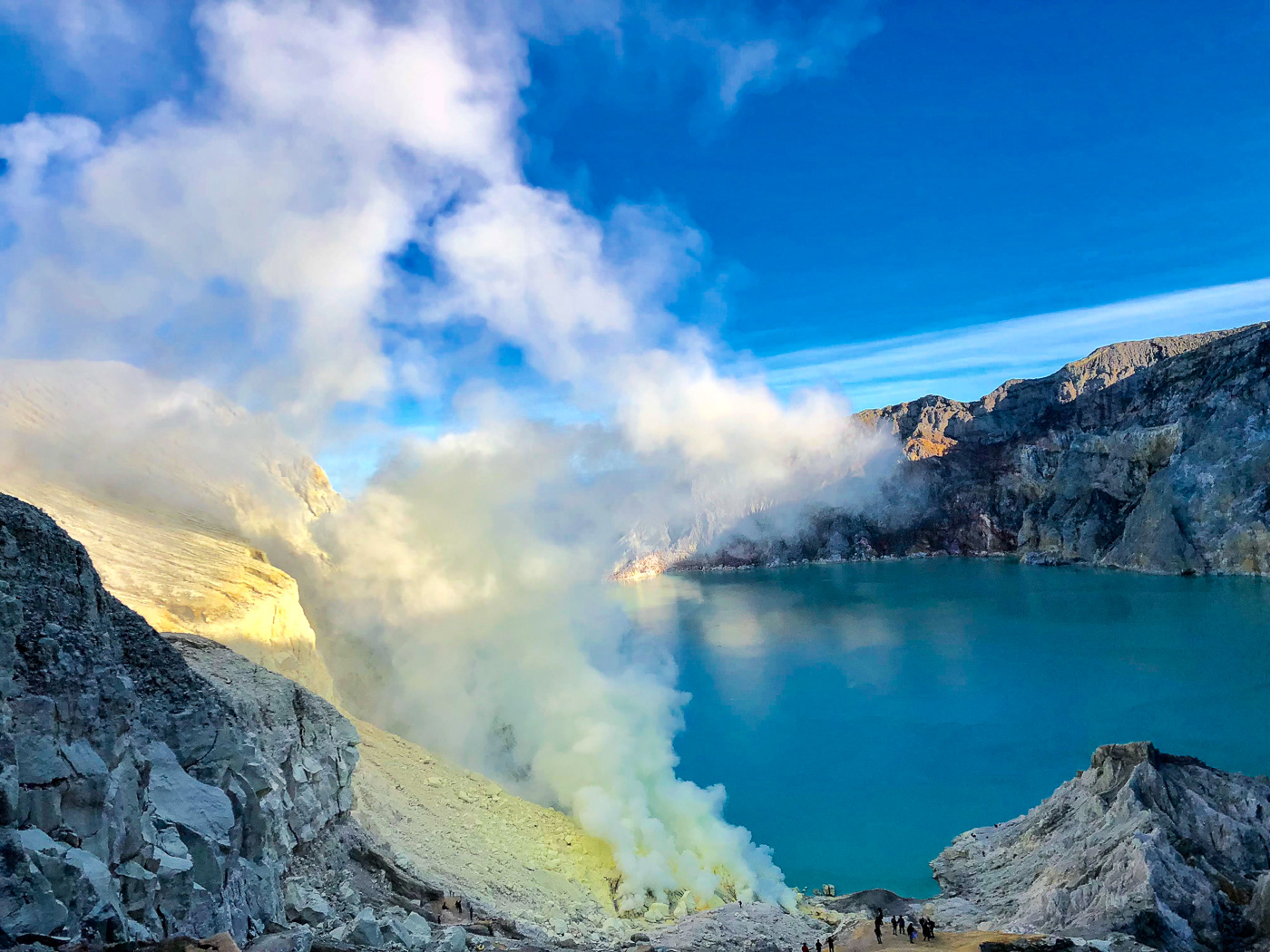 ABOUT KAWAH IJEN
Kawah Ijen Volcano is the largest acidic crater lake in the world know to have two of the most unusual occurrences on Earth.
The first is an active solfatara that emits hot, flammable sulfurous gases. Some of the gas condenses in the atmosphere to produce flows of molten sulfur that also burn with an electric-blue flame. The flames are difficult to see during the day but illuminate the landscape at night.
The second occurrence is a one-kilometer-wide caldera lake filled with turquoise-blue water. The colour of the water is a result of its extreme acidity and a high concentration of dissolved metals.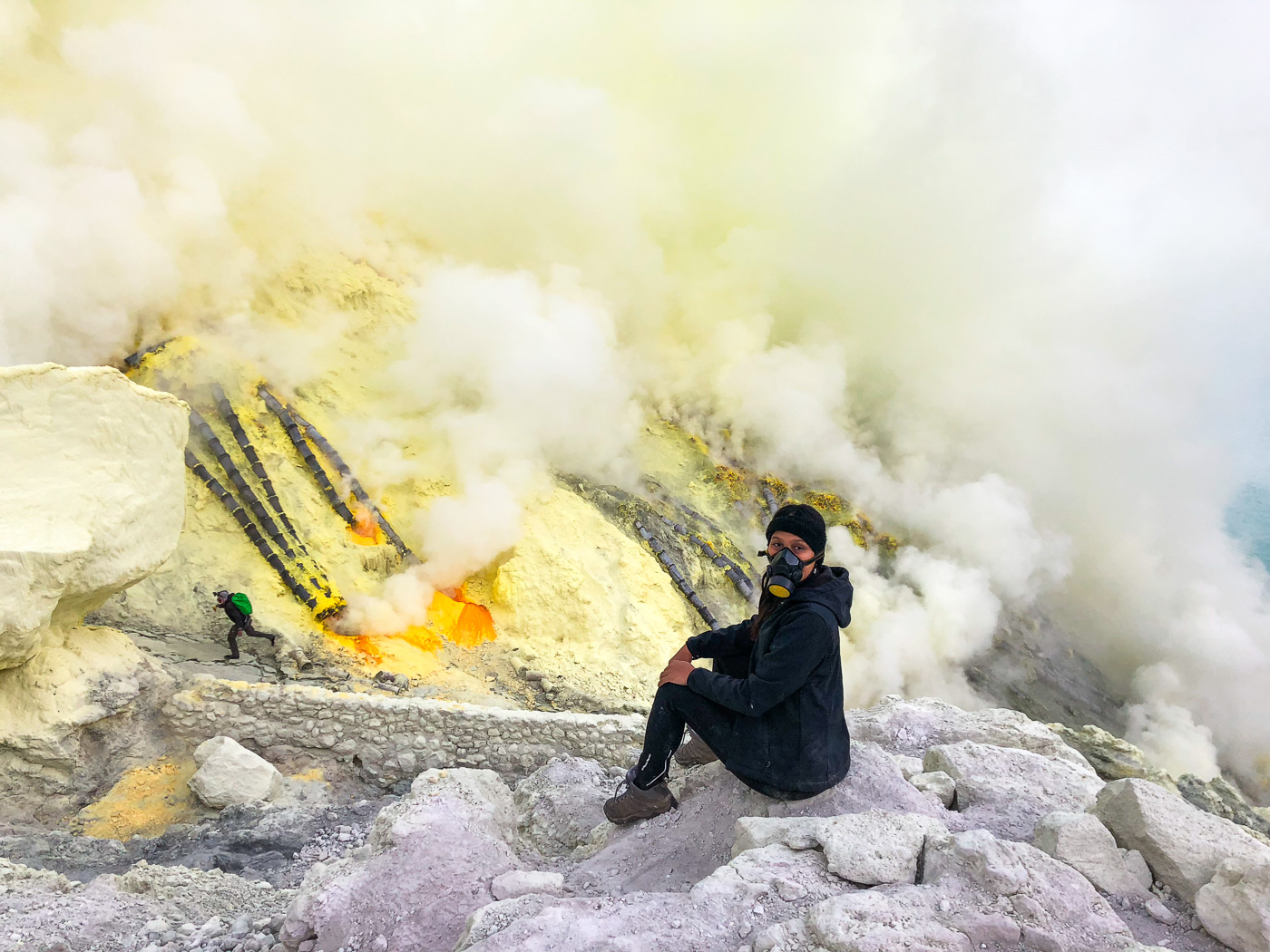 Visiting these active volcanoes was a massive bucket list check for me, and more so because I did it solo!
No guide, no tour operator, nobody! Just me and my strong will. It was my first encounter with an Active volcano and I hadn't witnessed anything this magical in a long time, to say the least.
Here is everything you need to know to plan your trip to these active volcanoes.
BEST TIME TO VISIT MOUNT BROMO & KAWAH IJEN
Best time to plan a visit to Mount Bromo and Kawah Ijen is during the dry season. The dry season in Java is between April to October. May to August are the best months with the least chances of rain, therefore making them the most crowded months as well.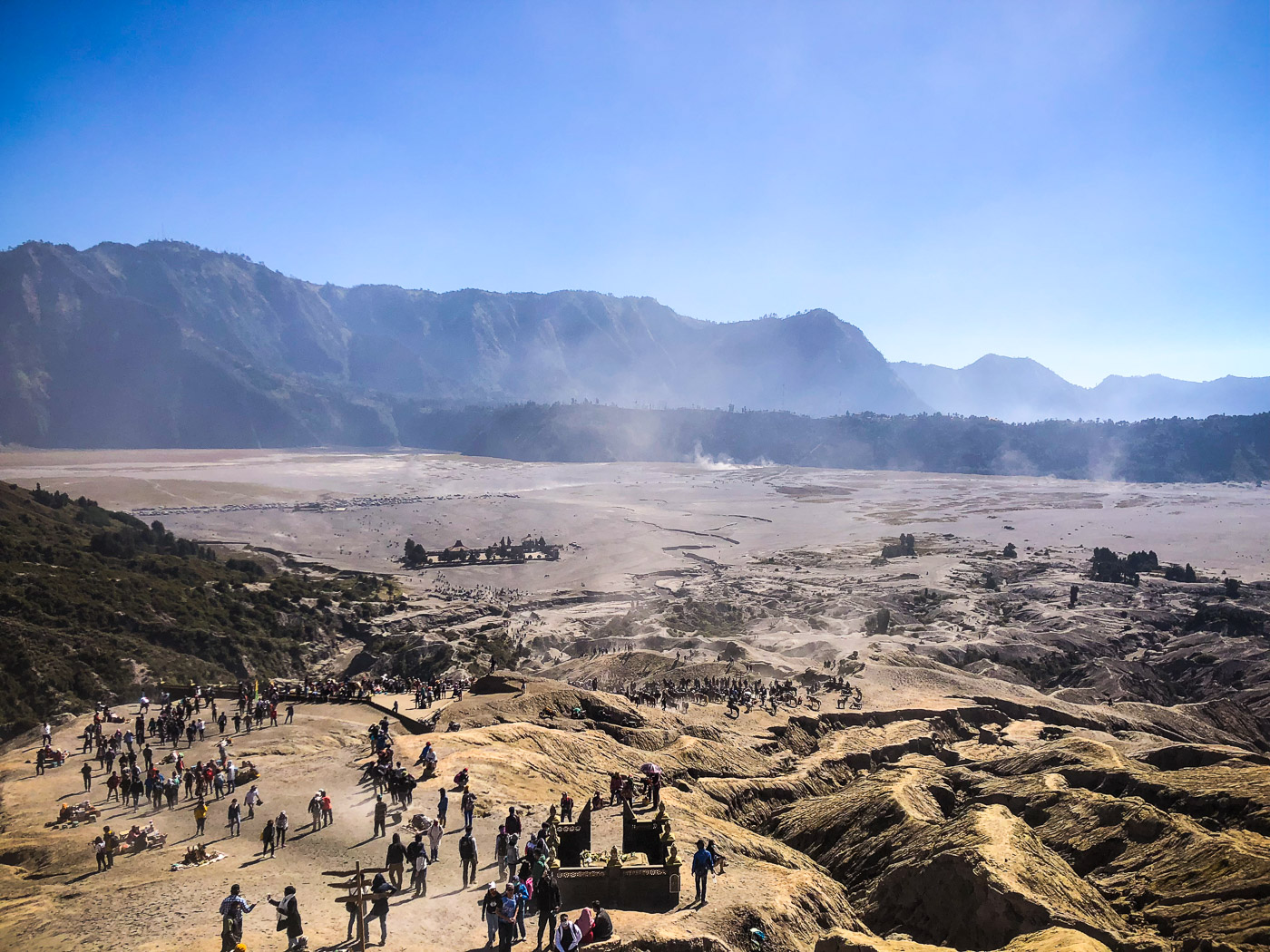 BEST WAY TO GET THERE
There are a couple of options to get to the eastern side of Java.
By Ferry
You can easily take a ferry to Banyuwangi from Bali and then a private taxi or bus starting with Kawah Ijen and then to Mount Bromo. There are many tour operators who can organize an all-inclusive round trip from Bali.
ROUTE
Day 1 – Banyunwangi
Night 1 – Kawah Ijen
Day 2 – Probolinggo – Cemoro Lawang
Night 2 – Mount Bromo
Day 3 – Banyunwangi (Via Probolinggo)
By Train
The train network in Java is pretty affordable and tourist friendly. You can book tickets online and check the timetable here. Take a train to Probolinggo from Surabaya or anywhere else in central Java and then either a private taxi or shared bus to Cemoro Lawang, the village at the base of Mt. Bromo.
ROUTE
This is the route I followed.
Day 1 – Surabaya-Probolinggo-Cemoro Lawang
Night 1 – Mount Bromo
Day 2 – Probolinggo- Bondowoso
Night 2 – Kawah Ijen
Day 3 – Surabaya (via Probolinggo again)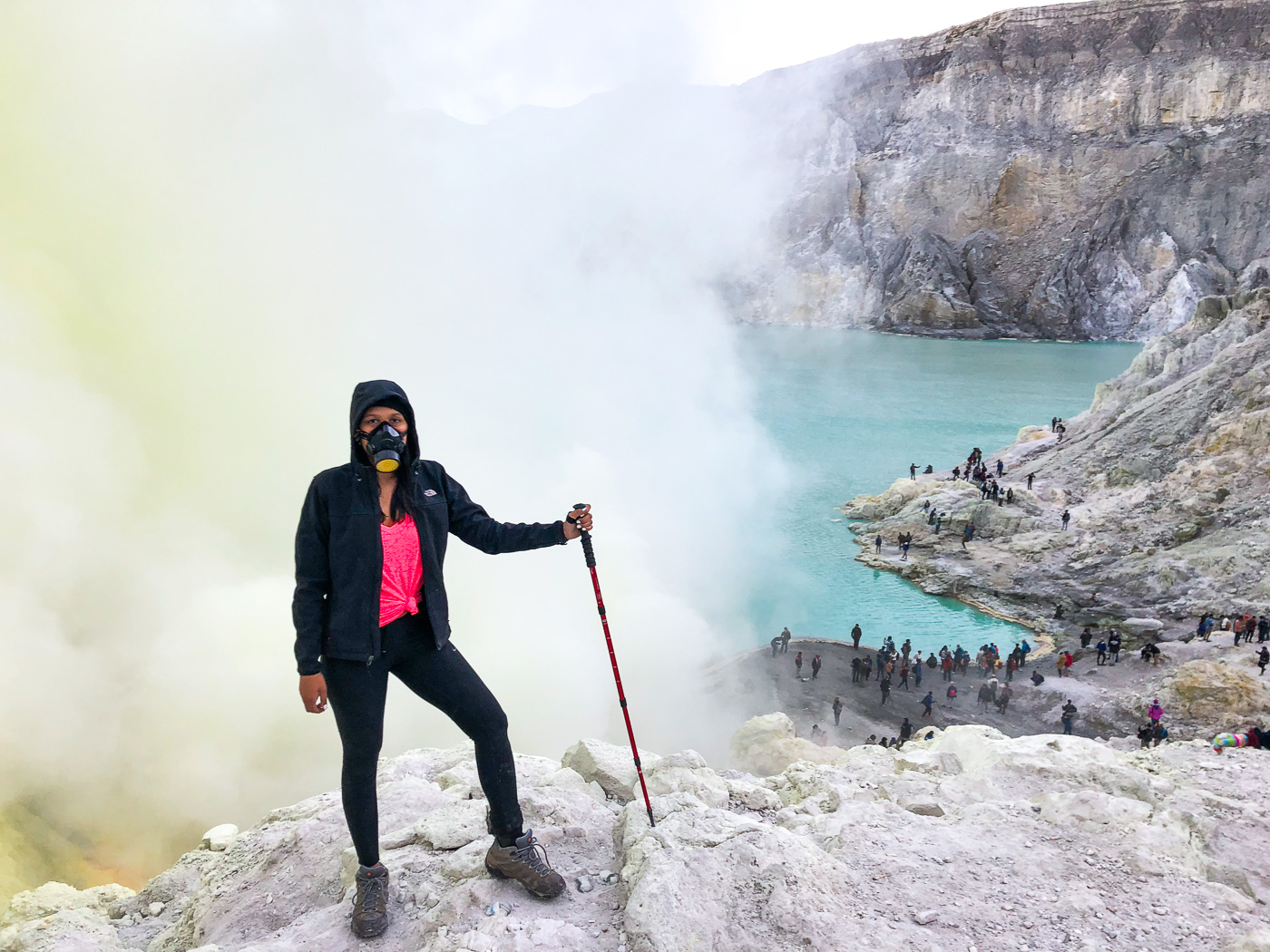 TRAVEL TIPS FOR MOUNT BROMO AND KAWAH IJEN
It is going to be extremely crowded.
If possible completely avoid going there on the weekend or public holiday. I was there on a weekend and believe me there were at least six thousand people in each of the places.
It is going to be quite strenuous.
If you decide to take the 2 night 3 days package (the most common one) you are signing up for three hikes on two consecutive nights. Prepare yourself mentally for it. I saw a lot of people passing out along the way and their guides literally shaking them up. The hike is medium difficulty level, but the chilly night temperatures make it a lot tougher.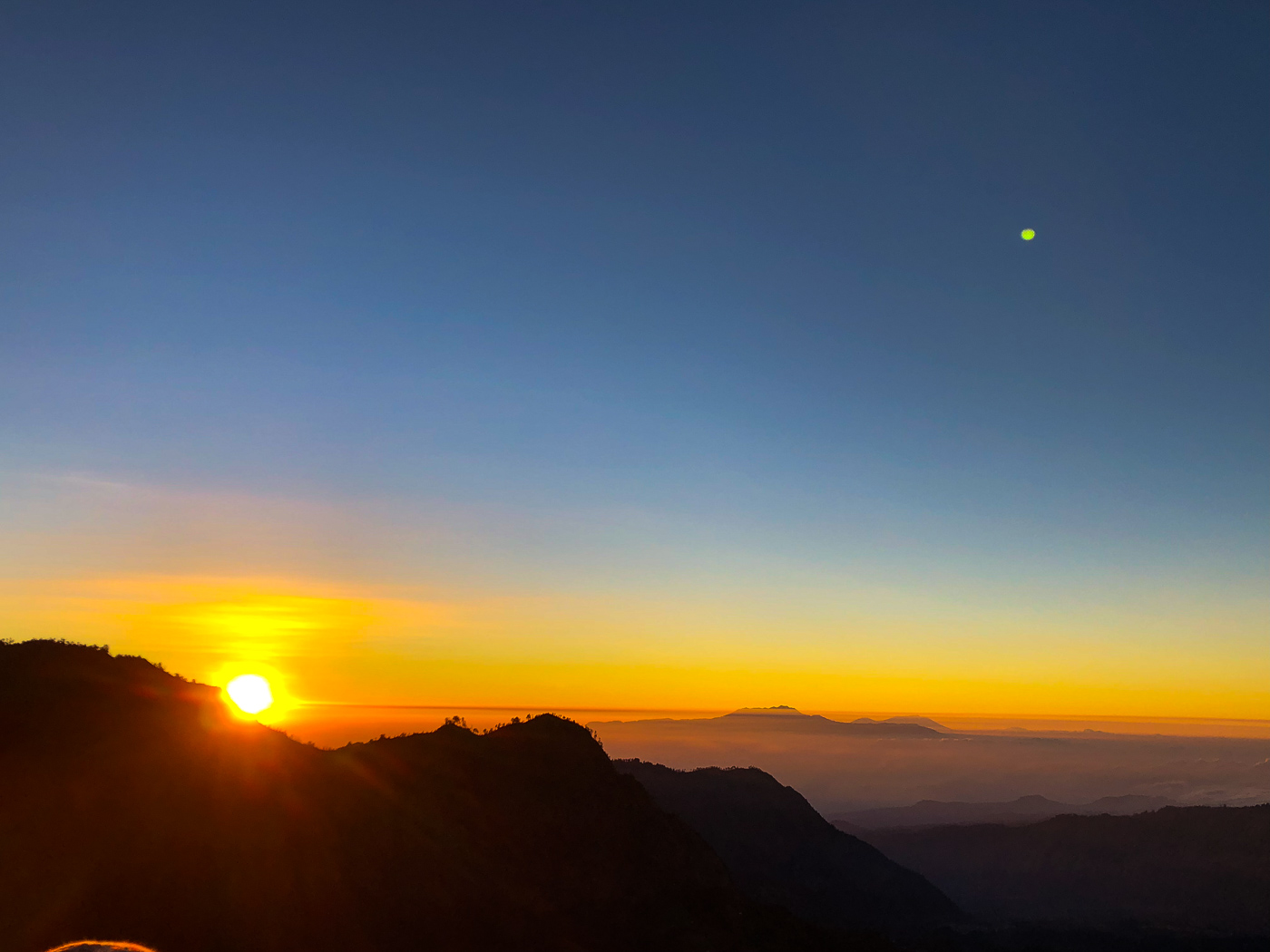 Timing is of the essence.
If you are delayed for whatever reason you will miss the show.
For Mount Bromo this should be your rough schedule: 
3:00 AM – Leave Cemoro Lawang for the Mount Bromo Sunrise
5:00 AM – Arrive at the topmost viewing point
5:30 AM – Watch the Mount Bromo Sunrise
6:10 AM – Begin your decent
7:45 AM – Arrive at the base
8:00 AM – Freshen up and head to Bromo Crater
9:00 AM – Start the Mount Bromo hike to Bromo Crater
10:00 AM – Arrive at Bromo Crater
10.30 AM– Begin your decent
11.45 AM – Back in Cemoro Lawang for breakfast
A lot of people make the mistake to stop in Cemoro Lawang for breakfast after the sunrise hike. I highly recommend to carry a snack for the road and continue straight to the Bromo Crater, if you don't need a break. The later you go, the hotter and harder it will get and therefore more difficult to climb up.
For Kawah Ijen this should be your rough schedule: 
10.30 pm– Begin your car journey from Bondowoso
12.30 am– Reach Kawah Ijen base
1.30 am– Begin your hike
3.30 am– Reach the rim of the crater
3.30 am– Continue the descent down to the crater
4.30 am– Reach the volcanic crater
6.00 am– Begin your ascend to the rim of the crater
7.00 am– Continue your descent down to the base
8.30 am– Reach back to the base
No matter what happens you must reach the crater before dawn or else you will miss seeing the blue sulphuric flames.
If you must dodge your way through the crowd, don't hesitate to do so. I had to do it and it was totally worth it. A lot of people snoozed and missed the entire show!
The weather is unpredictable.
It is biting cold in the night which makes the hike a bit tougher. Layering up is essential as it gets quite hot once the sun is up.
Cover your nose at all times.
With all the sand and wind blowing at Mount Bromo and sulphuric fumes at the Ijen crater, it is really essential to carry a nose mask for both these places. If you don't have one, don't worry, there are a lot of vendors selling them for really cheap at the base of Mount Bromo and Kawah Ijen.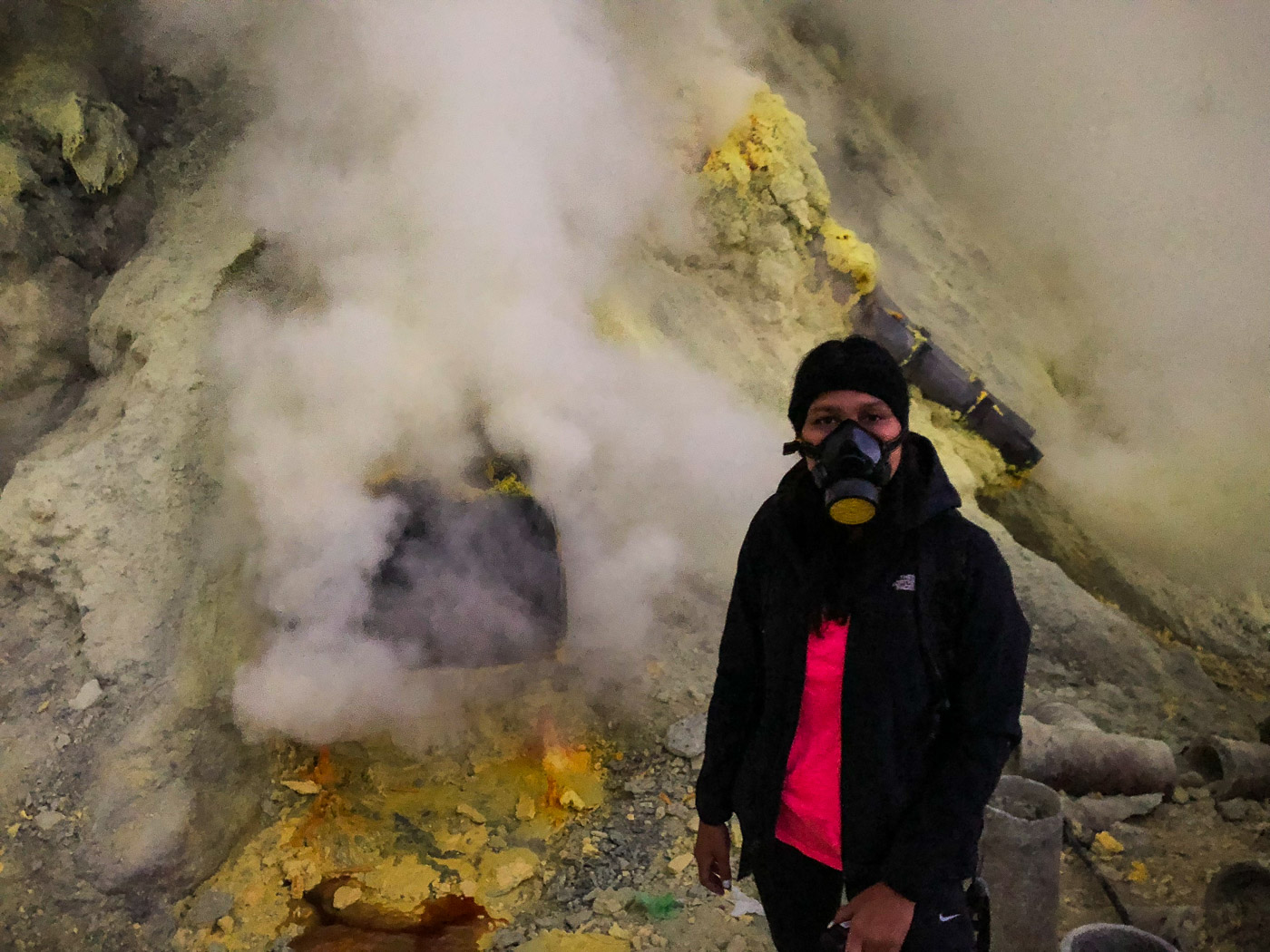 Most people visiting were there with a guide. It's not a bad idea to get one too, considering both of them are night hikes. I did this route SOLO and did not feel the need for a guide at all. Both these volcanos are worshipped by the locals and there were old people hiking up as well. If they can, you can! At any given point you will be surrounded by at least 200 people, it is that busy and there is absolutely no way you can get lost.
After doing this trip on my own I think it is best to take an all-inclusive package tour from Bali or from Surabaya the capital of East Java. The package usually includes your transportation and accommodation, guides are charged additionally.
Considering how cheap Indonesia already is, it's not worth the struggle trying to figure it all out on your own.
Here is a  tour operator Claudia from My Adventures Around the world recommends:
In case you still decide to go ahead and do it on your own. Simply follow my DIY Itinerary and you'll thank me later for it.
If you have any more questions feel free to email me or leave a comment below.
Read Next