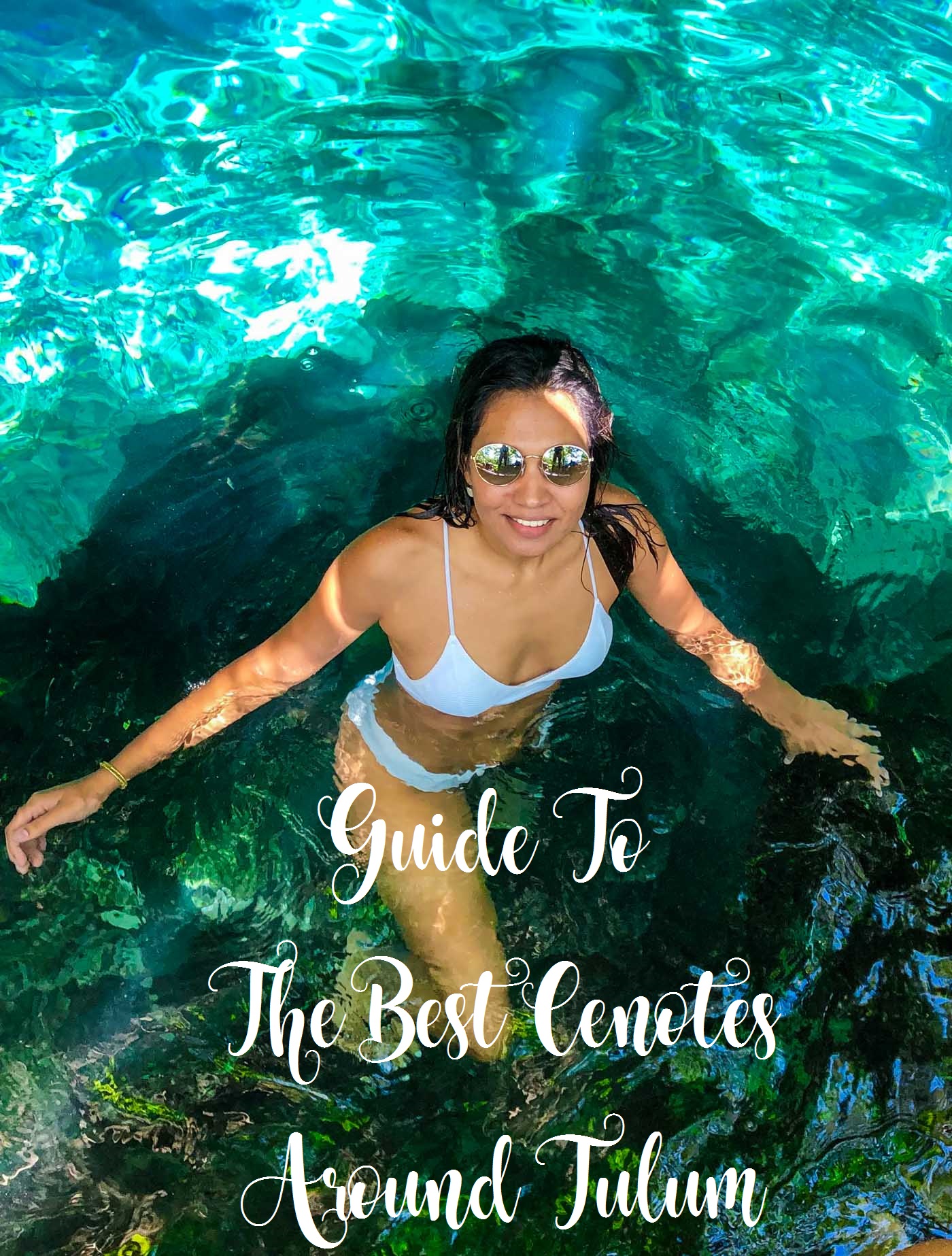 Hopping around Cenotes along the Riviera Maya was one of the highlights on my first trip to Mexico and I highly recommend you experience these cenotes too.
A few years ago I remember seeing photos of some 'water bodies' on Pinterest with its location stating Mexico and I simply saved it for later. I had no clue what they were but later found out they were Cenotes.
The word 'Cenote' is derived from the Mayan word, "Dzonot" which means sacred well and is pronounced: say-no-tay.
Cenotes are basically sinkholes, underground caves, and rivers that developed thousands of years ago as a result of various geological events and climate change. It is said that there are over 6000 cenotes in Mexico. Some are covered underground and some are open to the sky, some are small and some are grand like the popular 'Gran Cenote'. A lot of them are still left raw, untouched and inaccessible to people. Over the past 20 years, professional scuba divers have been exploring more and more of these caves and have so far discovered more than 300 miles of interconnected underground passageways and caves that make up this one of a kind ecosystem.
Cenotes are only found in this part of the world.
On my trip to Mexico, I visited 7 different cenotes in and around Tulum and thoroughly enjoyed them all, only because each of them was so unique and natural.
Here's a detailed list of all the Cenotes I visited: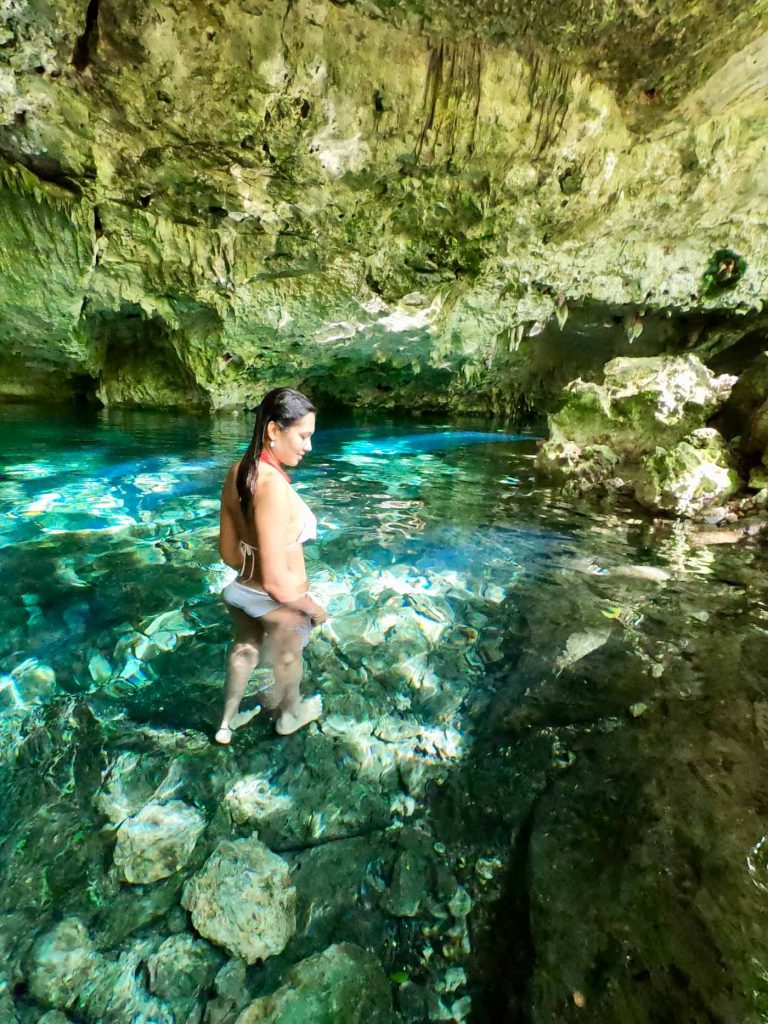 DOS OJOS CENOTE
"Dos Ojos" literally means "two eyes" in Spanish. The cave system has two main entrances, the aerial view of which looks like a pair of eyes staring at the sky. Cenote Dos Ojos is best known for scuba diving but snorkeling there is worth it as well. The cave system of this cenote is said to be about 61 km long and 118 meters deep. Cenote #2 is a huge 360-degree loop around a sinkhole. I spent an afternoon picnicking and swimming all around it.
Cenote Dos Ojos is 17 km from Tulum and is open daily from 9 am to 5 pm. If you don't have a car rental you can either take a private taxi or a collectivo (shared van) from Tulum town headed toward Playa del Carmen and ask the driver to drop you off at this cenote on the highway. The collectivo charges a mere Peso 30 (USD 1.5) from the highway it is a 15 min walk through a jungle to the cenote. The entrance fee to this cenote is Pesos 350 ( USD 18 ) for both the caves. Yes, this is one of the more expensive entry fees to a cenote, but worth it in my opinion. They do not accept card so make sure you carry enough Pesos.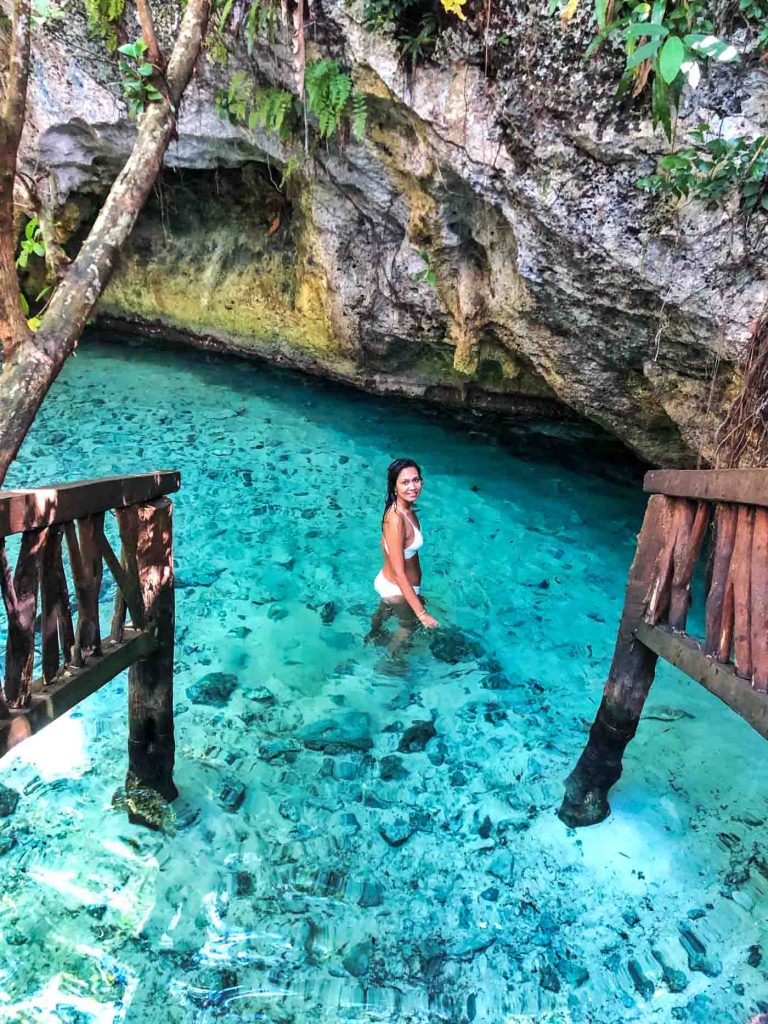 GRAN CENOTE
Gran Cenote is the most famous cenote in Riveria Maya, making it a super busy one as well. Although its name suggests that it is one big cenote, it consists of several cenotes meandering along the underground jungle floor and is connected by wooden bridges. It is a partial cave cenote and has a platform you can jump from or stairs which allow you to ease into the water. The color of the water is so clear that one can see fish swimming without even snorkeling. You will also see a lot of turtles swimming in and out of the water here. It's best to go as early as possible to avoid the crowd.
This cenote is open daily from 10 am to 5 pm and the entry fee is Pesos 180 (USD 9) per person and an additional pesos 80 (USD) to rent a snorkel mask. The Gran Cenote is only just a few kilometers from Tulum on the way to Coba. You can rent a bicycle (Pesos 100, USD 5 for the day) and ride there or take a taxi as well.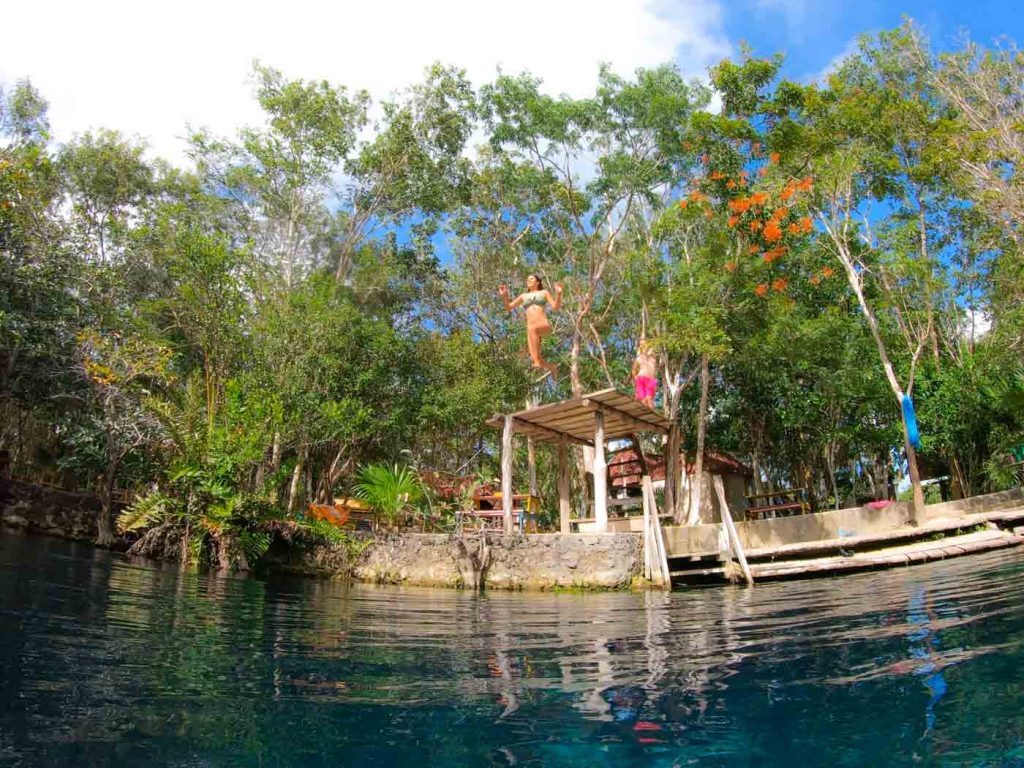 ACTUN HA (CAR WASH CENOTE)
Cenote Actun Ha commonly know as Car Wash, is an 'open to the sky' green water cenote with a lot of aquatic life just under the surface and if you're lucky you'll see turtles and little crocodiles (don't worry, they're harmless and too small to attack humans).  I really tried hard to look for the baby croc, but I lucked out :(. I recommend this one to those who would feel claustrophobic in the underground cave cenotes.  This one feels like a natural swimming pool with mind-blowing shades of green refracting from the bottom. It even has a platform you can jump off into the crystal clear waters which makes it double the fun.
 Cenote Car wash is also just a couple of km from Tulum. You can bike down there, take a cab or drive down if you have a car rental. The entrance fee is a mere Pesos 50 (USD 2.5 ) and the cenote is open daily from 9 am and 5 pm.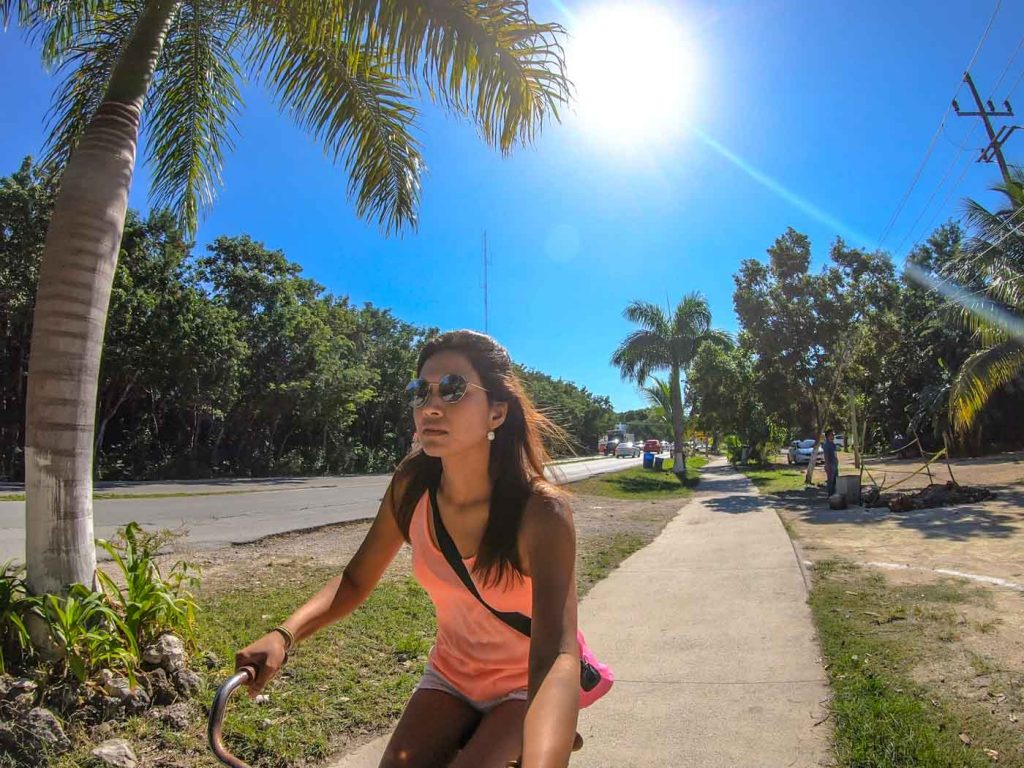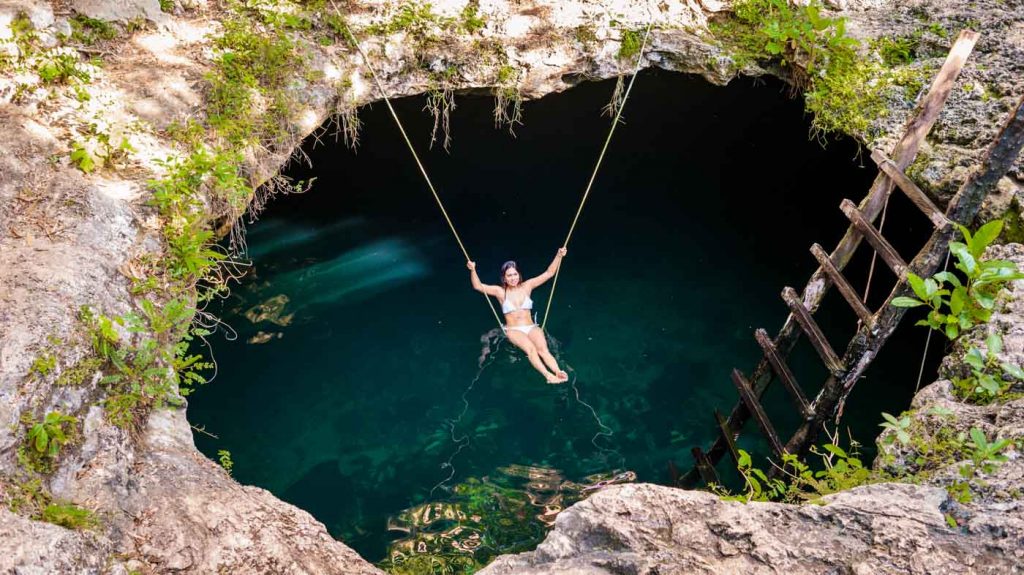 CENOTE CALAVERA
Of all the cenotes near Tulum, Calavera is the closest. It is also called the "Temple Of Doom". Calavera is a cylindrical cenote with a small central opening and ladder for easy access and two smaller holes on the side, which were very scary to jump from, but a lot of fun. It has a rope swing which makes it perfect for that Instagram shot. If you are short on time but still want to visit a cenote that you can jump into without it feeling like a swimming pool, I'd pick this one.
Cenote Calavera is just a few km from Tulum and you can walk, bike there, take a taxi or drive yourself, it's super easy. The cenote is open daily from 8 am to 4 pm and the entry fee is Pesos 100 (USD 5).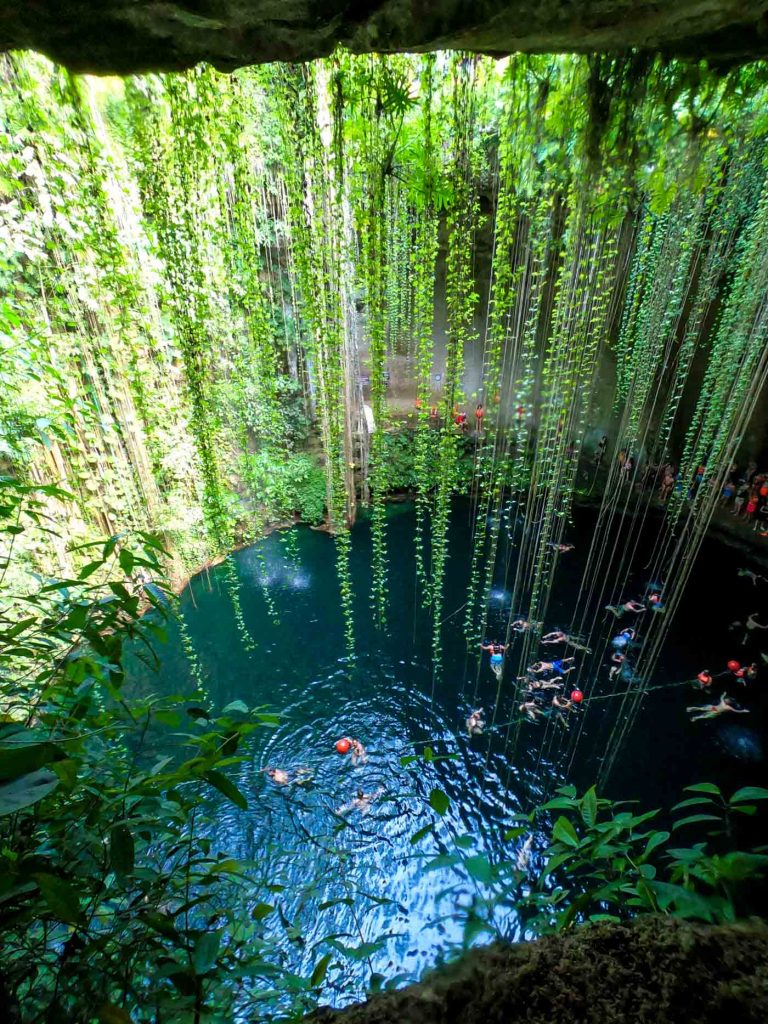 CENOTE IK KIL
Cenote Ik Kil is perhaps the most photographed cenote in the Yucatan Peninsula and said to be one of the best cenotes in Mexico, but I disagree. Yes, from the top, you can see a big well like hole surrounded by vines which is very impressive, but if you arrive any later than 9 am, you'll see a sea of tourists swimming in orange life jackets instead. One of the reasons why its so busy is because of its proximity to Chichén Itzá – one of the seven wonders of the world. I recommend making a quick stop at this one after you are done visiting Chichén Itzá but don't stay for too long, there are better ones around where the tourist buses don't go.
This cenote is also open daily from 9 am to 5 pm and the entry fee is Pesos 70 (USD 3.5) plus Pesos 30 (USD 1.5) for a life jacket which is optional. The best way to get there is to rent a car from Tulum and drive down for 2 hours.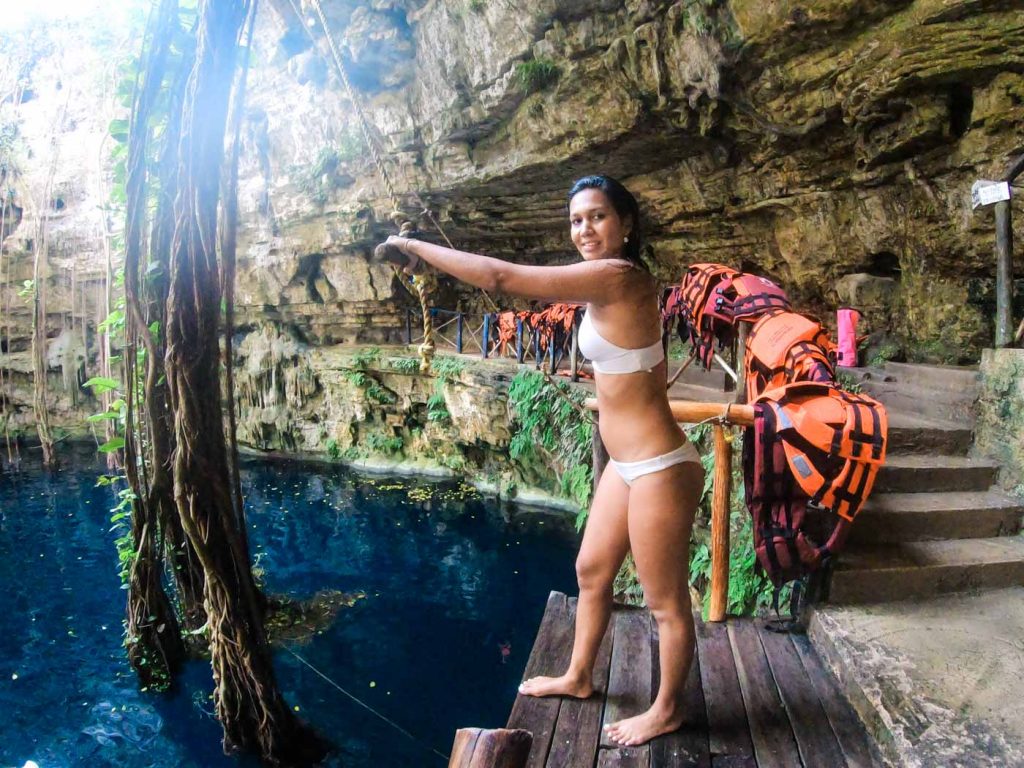 CENOTE OXMAN
Cenote Oxman was my personal favorite. It is an underground but open to sky cenote about 20 meters in diameter and 20 meters deep. It has an observation deck at the top to see it from one side and the other side is a platform to jump into the cenote. Located in Valladolid, this cenote is quite inaccessible if you do not have a car, hence it is never crowded. That's one of the reasons I enjoyed it so much :). It had the best of all, hanging roots and vines like cenote Ik Kil, a rope swing to channel your inner Tarzan, the bluest of blue water, and very few people at most times of the day.
Cenote Oxman is almost a 2-hour drive from Tulum. It is open daily from 8 am to 5 pm and the entrance fee is a mere Pesos 70 (USD 3.5) for all of the above, offering the best value for money experience.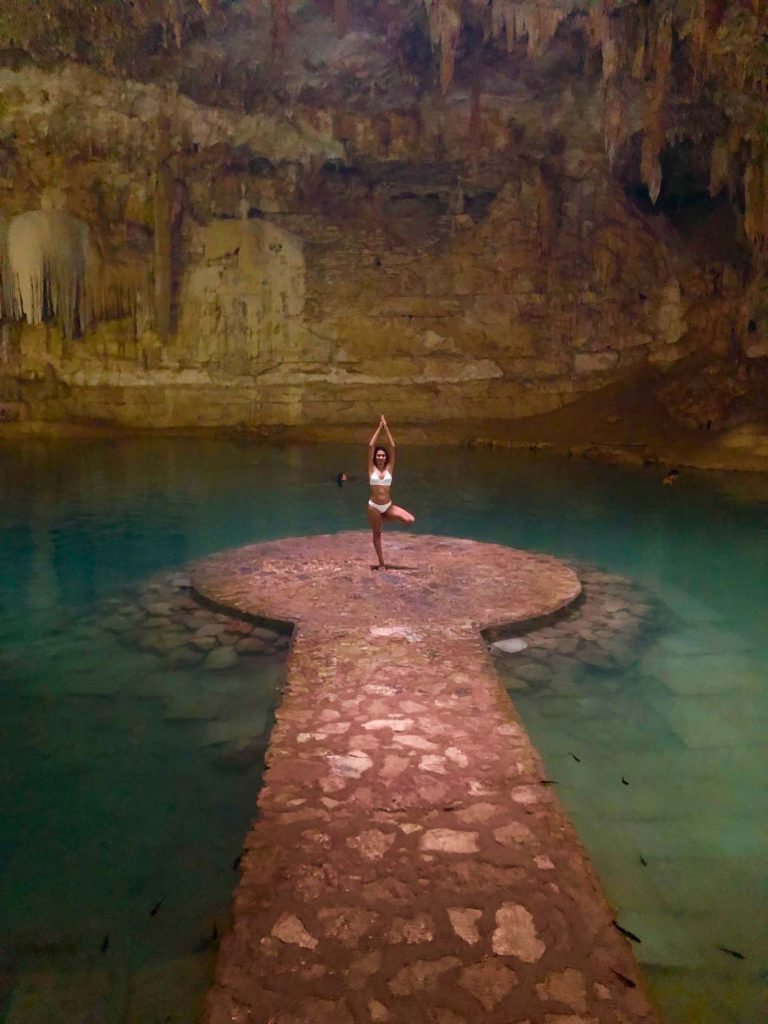 CENOTE SUYTUN
The name Suytun means 'center stone' and that is befitting for this cenote as it has a shaft of light beaming down from the small opening to the water. The cenote isn't very deep (max depth 5 mt) and you can see catfish (absolutely harmless) almost on the surface of the water. Cenote Suytan is also gaining popularity among tourists. It's definitely worth a visit and I suggest you go before it gets as busy as Cenote Ik Kil.
This cenote is about 6 km from Valladolid and about 2.5 hrs drive from Tulum. It is open daily between 9 am and 5 pm and the entrance fee is  Pesos 70 (USD 3.5).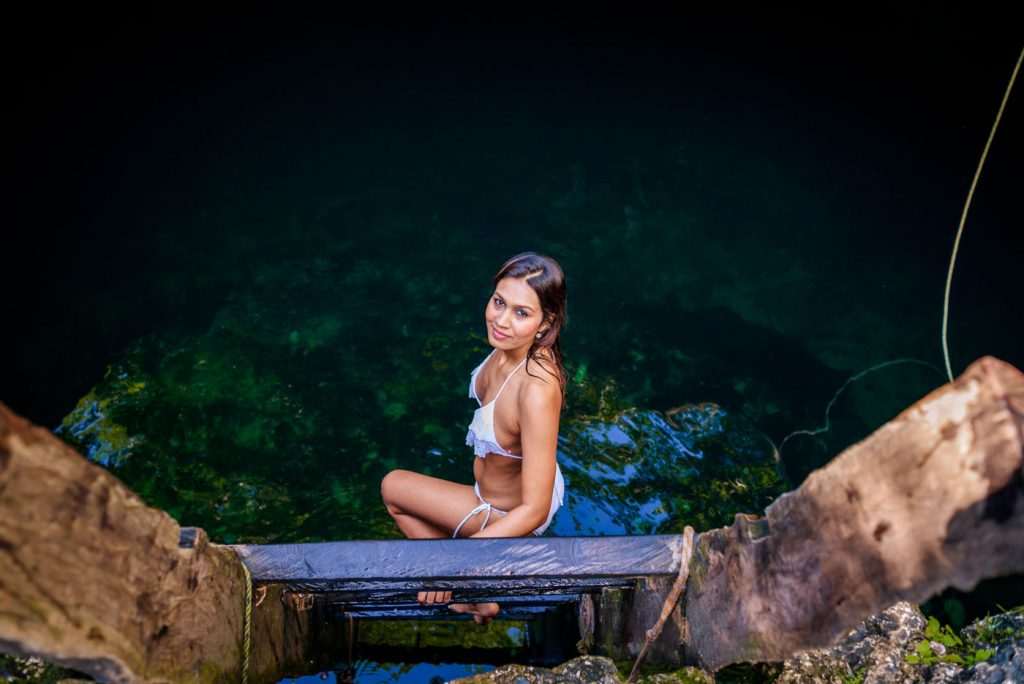 TIPS FOR THE BEST CENOTE EXPERIENCE
Swimsuits are mandatory in all cenotes for men and women both. Most cenotes will have changing rooms.

Wearing makeup and/or sunscreen is NOT allowed in ANY cenote to protect the fresh water from contamination.

You don't have to know swimming to enjoy the cenotes. Most cenotes offer free lifejackets.

A shower is mandatory before you enter any cenote.

Most of the cenotes only accept cash, always keep Pesos handy. They might accept USD but the exchange rate is quite high.

It might be worth it to buy a snorkel mask if you intend to go to multiple cenotes, instead of renting them everywhere.

Renting a car and driving around is the best way if you are short on time would like to cover more cenotes.

Afternoons are the busiest at any cenote, plan your day accordingly.

Even in winter, the water temperatures were absolutely perfect for a dip.
Cenotes have become one of my favorite natural water bodies and I'm quite sure you'll agree once you visit a few too.
Have you been to any cenotes yet? What did you think of them?
Read Next