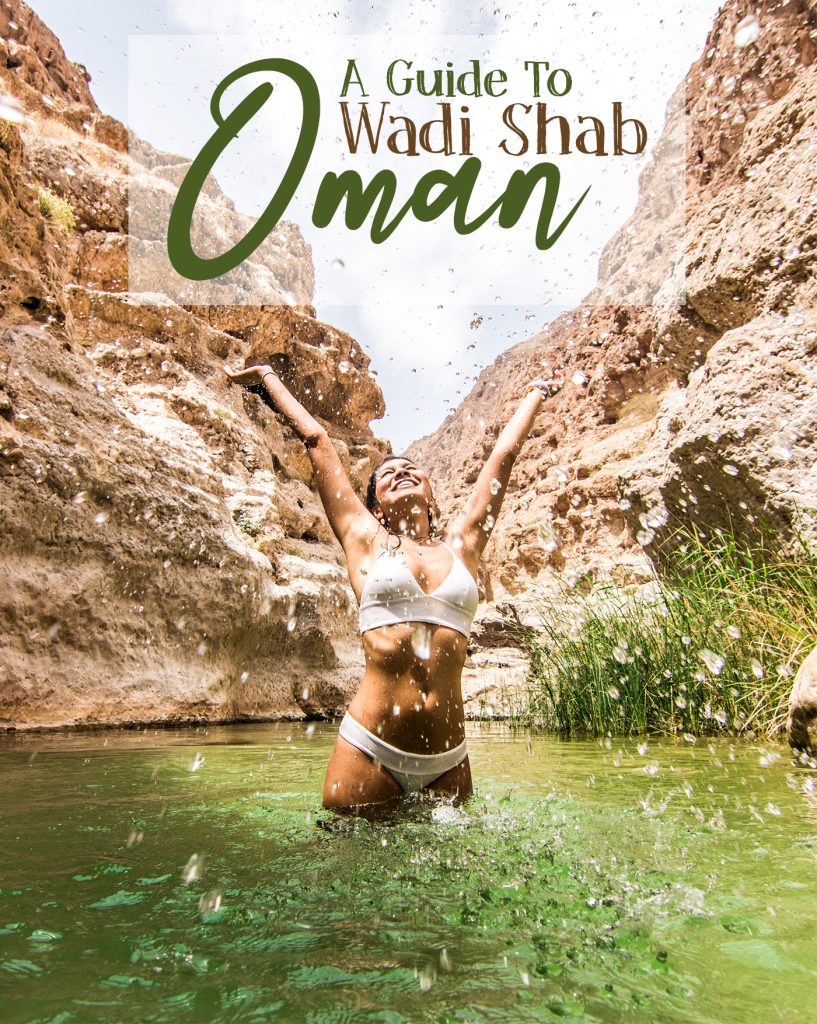 Wadi Shab was the highlight of my two-week road trip to Oman, and I'll happily go back to it in a heartbeat. But I wish I was better prepared for it and since I found very little information online, I thought I'd write a more detailed blog to help improve your experience there.
ABOUT WADI SHAB
A 'wadi' is a gorge or valley with a river or stream flowing through. Some wadis are perennial but some can be seasonal. Wadi Shab, aptly named in Arabic means the 'Gorge between Cliffs", is located roughly 150 km southeast of Muscat along the Muscat- Sur coastal highway. Wadi Shab is blessed with turquoise pools, waterfalls and terraced plantations with pretty pink flowers blossoming along the edge of the water.
GETTING TO WADI SHAB
Your only option is to rent a car and drive from Muscat or join a guided tour from Muscat or Sur. There is no public transportation to Wadi Shab, as of writing this blog. I highly recommend you explore it at your own pace and there is really no need for a guided tour for this adventure if you follow this blog to the T. To get there you don't necessarily need a 4WD as its all highways and there is no off-roading required, even a hatchback or sedan would do just fine.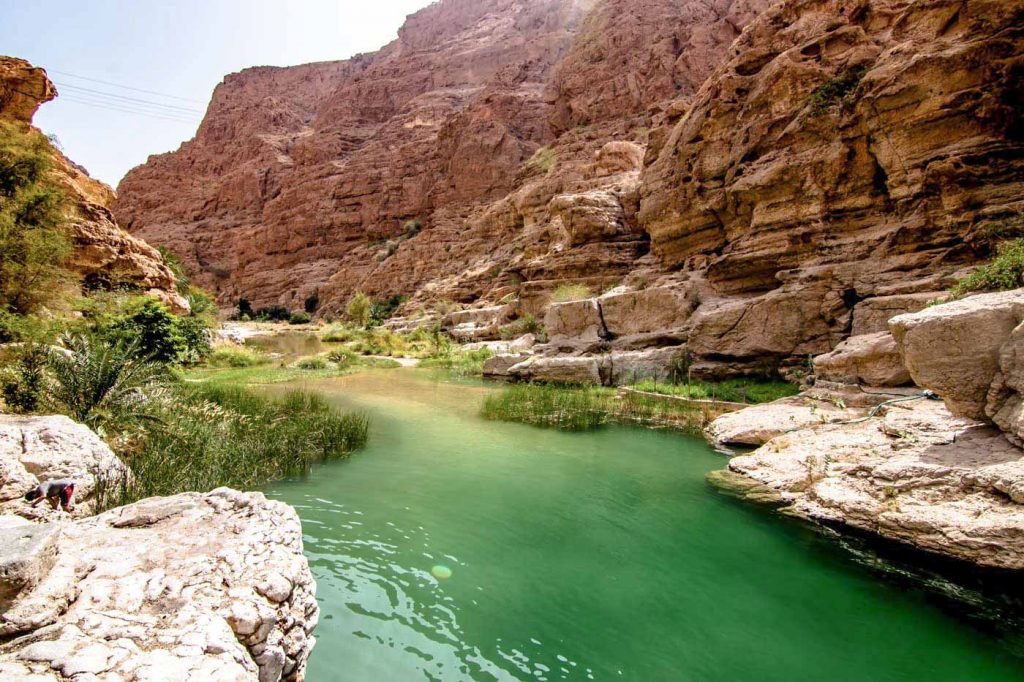 WHEN TO GO TO WADI SHAB
Season-wise October to April is the best time to visit.
I suggest you get to the starting point (the parking lot under the coastal highway) by 7 am or latest 7.30 am to avoid the midday crowd. This means you'll either have to leave from Muscat really early in the morning or stay the previous night somewhere around the wadi or in Sur. I highly recommend that you do not visit this wadi on a weekend (Fri-Sat) or on a bank holiday as it is a popular spot not only for tourists but also the locals and gets really really crowded.
WHAT TO EXPECT AT WADI SHAB
The complete adventure to the end of the wadi, which is the waterfalls and back will take about 4-5 hours depending on your pace and how often you stop for photos. From the parking lot, you first have to take a 2-minute boat across the deep river onto the other side. The boat ride will cost OMR 2 per person for a return journey. Once you cross over, it's a moderate one hour trek along the plantations and villages while crisscrossing the wadi several times until you reach a water pumping station. Swimming in the lower pools is prohibited as it is a source of drinking water for the villages around.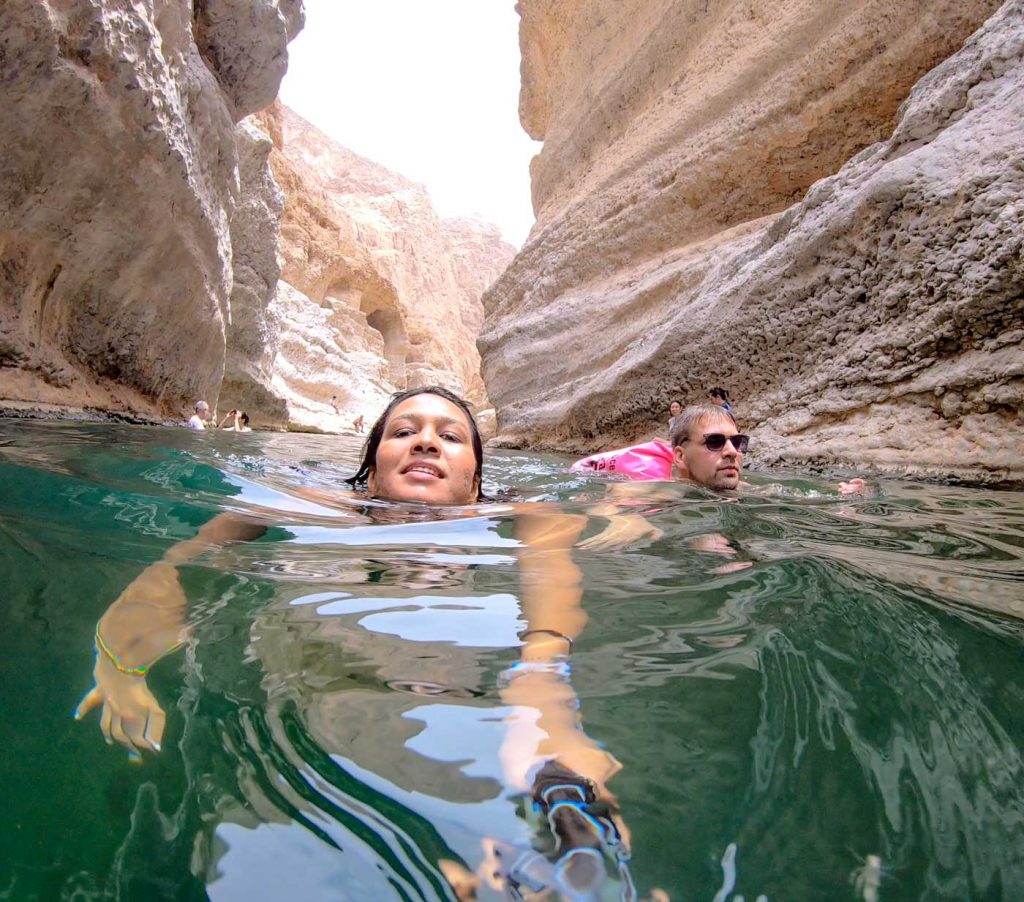 Once you cross the pumping station, the fun begins! You will have to start wading through the wadi as that's the only route to get to the waterfalls. In some places, the water is level is up to the waist and sometimes lower. Be careful of slipping on algae-covered rocks here. In a few places, the water is even neck deep but don't worry, it is absolutely safe. Keep going until you see a few ropes hanging on the sides of the wall. Yes, you can climb those to cliff-jump into the wadi. Keep going further past the ropes, and you'll see a 'keyhole' like opening between two rocks with a ray of light passing through. You have to continue in through that passage for about 15-meters in neck-deep water to get to the other side where you will see the waterfall. This patch is a bit claustrophobic and many people don't make it through, but believe me, once you're on the other side you'll thank yourself for braving it through.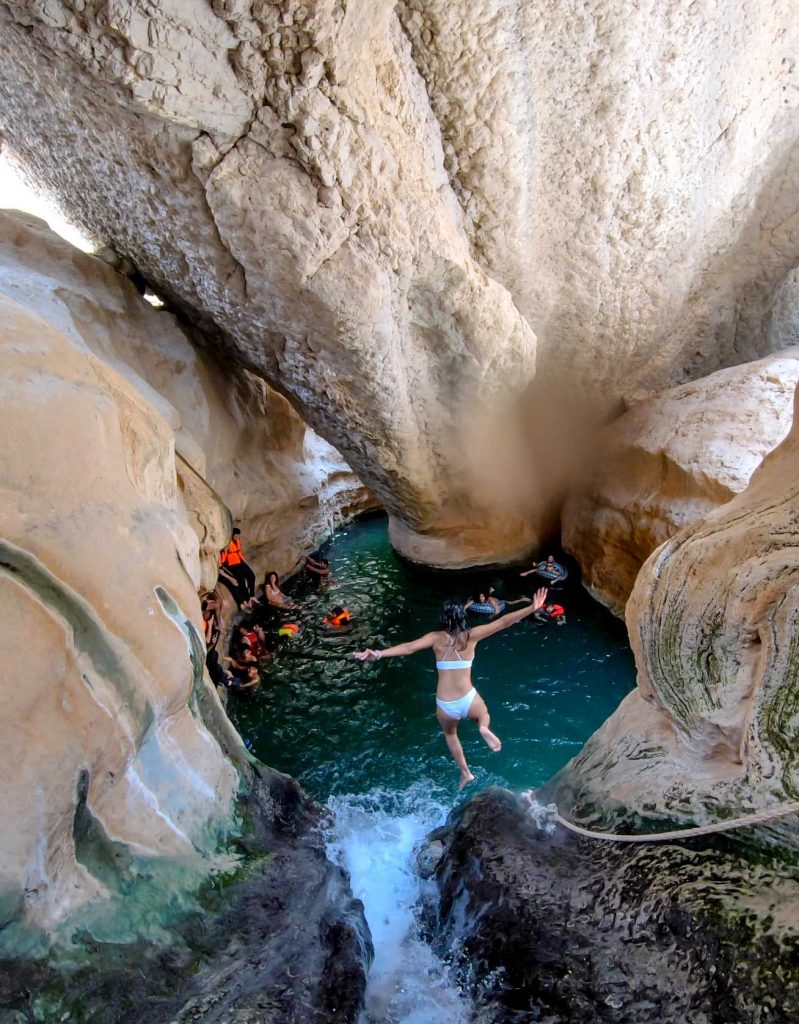 Once you're there, you can climb up to the waterfall, or go further and cliff-jump from the highest rock, or simply chill and enjoy the waterfall. You can spend about half-an-hour to 45 minutes here and begin your journey back the same way out.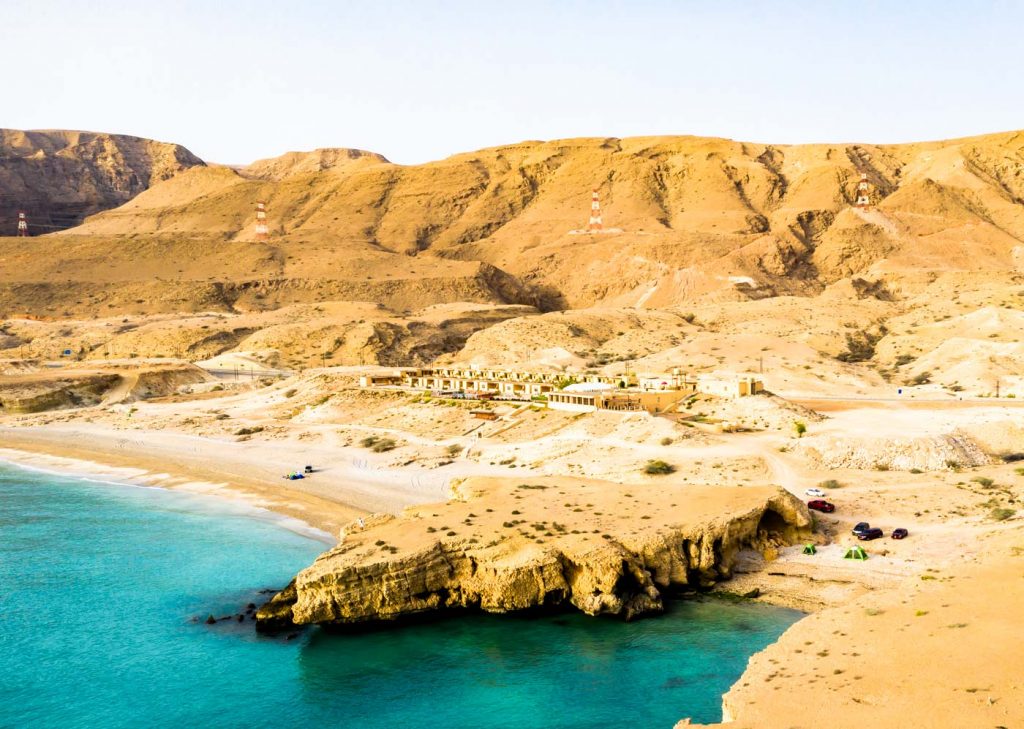 WHERE TO STAY AT WADI SHAB
Here are your options:
Either you stay in Muscat and drive down really early in the morning.
Stay at Wadi Shab Resort, the only one around the area, as of now. Because of the monopoly, they're priced pretty high and are not value for money. The only advantage is its literally 2 minutes from the parking lot of Wadi Shab.
There is plenty of temporary campsites along nearby beaches. The most popular is Tiwi Beach (White Beach), a large sandy bay almost 9 km long, which can be accessed via the old coastal road. When I go again, that's where I'll be spending the night. Camping in Wadi Shab is strictly prohibited.
Stay at a hotel/Airbnb in Sur which is about 50 km away from Wadi Shab.

WHAT TO CARRY TO WADI SHAB
Once you begin your adventure from the parking lot, there are absolutely no shops beyond this point. There is nowhere you can leave your belongings before you start swimming up to the waterfall either. You will have to carry it all with you till the end and back. Hence, carry the bare minimum that you need and leave the rest in the car.
The only essentials you will need with you are:
A dry bag to keep everything in.
A waterproof camera. So glad I had my GoPro to capture the best moments at Wadi Shab.
Biodegradable sunscreen only, as the wadi is a source of drinking water for the villages around.
A waterproof case for your mobile in case you decide to carry it.
A bottle of drinking water.
A snack to keep you going.
Leave your wallet and money behind in the car, except for OMR 2 for the boat ride you won't need money for anything else.
WHAT TO WEAR AT WADI SHAB
From my pictures, you can tell I was ill-equipped, its because I really didn't know what I was heading for. I assumed it was a short walk and then just swim around like any other pool. Clearly, I was so wrong.
To get the most out of this adventure, you must wear aqua socks or waterproof closed shoes. The rocks in many areas are slimy and there are serious chances of you falling. If you ask me, wearing dry-fit activewear is the best option. Once you start wading in the water you can get into your swimwear but only for that part of the adventure. Do not walk in your swimwear all the way out to the car park, the locals will definitely be offended. Wear a cap if you must.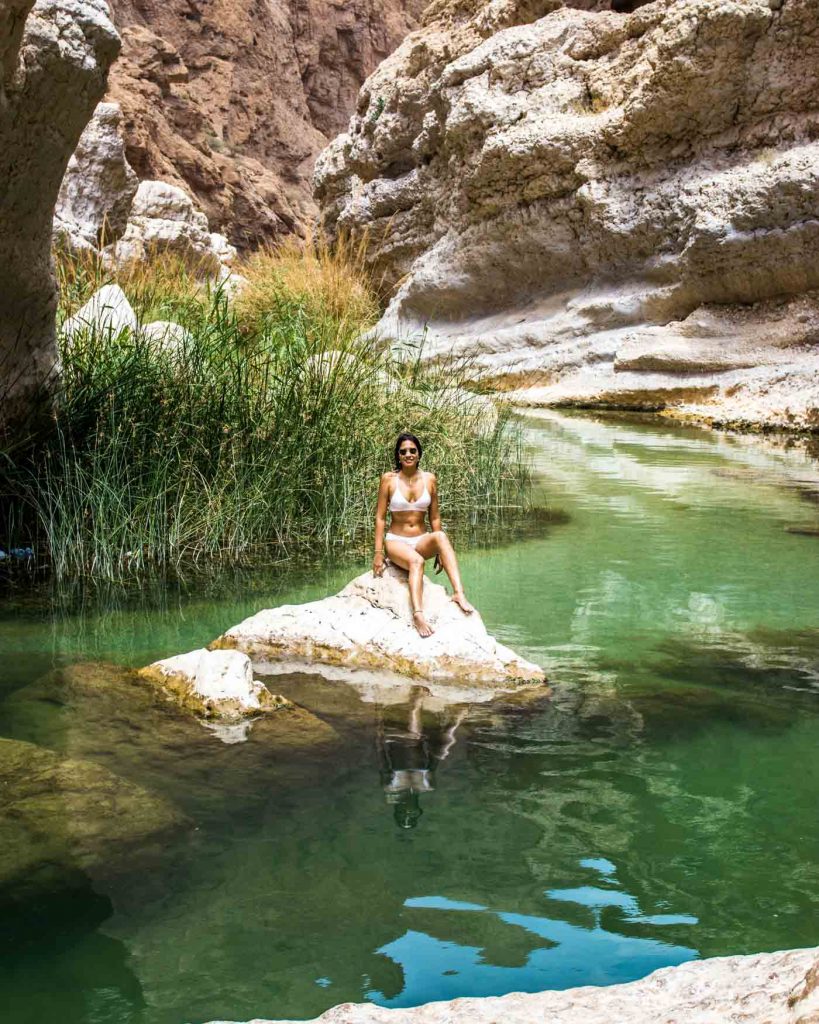 TRAVEL TIPS FOR WADI SHAB
Go super early in the morning to avoid the crowds and do not go on Fri-Sat or bank holidays.

If you're vegetarian, the food options available are limited. Carry a snack as you will be starving after this 4-hour adventure.

You can go there even if you don't know swimming. Just carry a lifejacket or a floaty along.

Carry a change, but leave it in the car. There is a toilet in the parking lot that is open from 7 am to 7 pm, you can change there.

This is an adventure for people of all ages. It is quite safe, but just be careful on the slippery rocks.
Indeed this was my best adventure in Oman and highly recommend it to you too. No trip to Oman would be complete without a visit to Wadi Shab.
Have you visited already?
Read Next