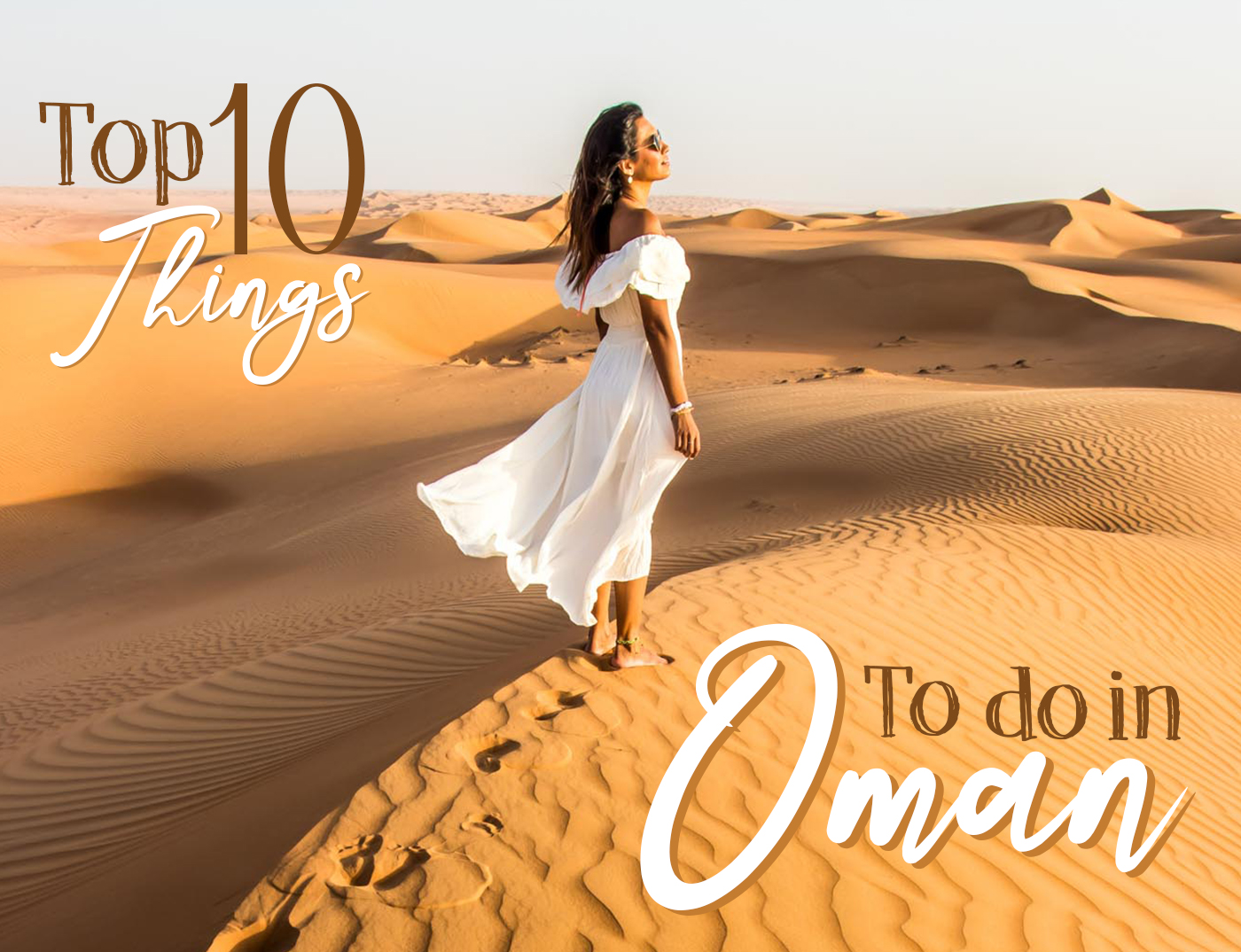 What struck me the most about Oman was how it has been able to maintain its own identity and balance and not get influenced by its two mighty neighbors – the UAE and Saudi Arabia. I love how much pride they take in their own culture but at the same time are so liberal and tolerant of everyone else around them. Along with modern infrastructure, a safe and stable environment, stunning scenery and untouched natural beauty, in addition to a variety of amazing luxury properties and fun adventure activities, Oman truly offers something out of the ordinary.
After two weeks of exploring Oman, which in my opinion was one of the most underrated of the middle eastern countries, I was completely surprised and highly impressed.
These are my top 10 experiences that I recommend you do not miss out on.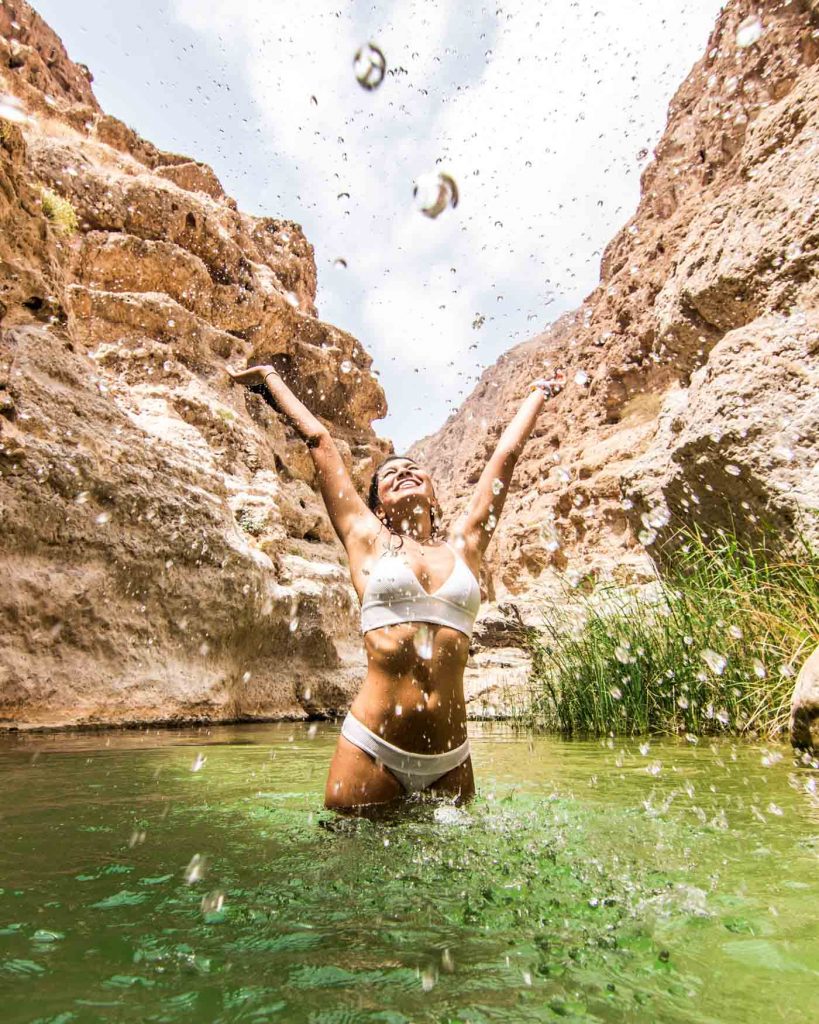 1. SWIM YOUR WAY TO WADI SHAB
Whether you visit Oman for a weekend or a long trip you have to visit Wadi Shab, it was my favorite experience of all. A 'wadi' is a gorge or valley with a river or stream flowing through. Some wadis are perennial but some can be seasonal. Wadi Shab is the best one in all of Oman and therefore quite popular amongst travelers and locals. Needless to say, if possible, avoid going there on the weekend to skip the crowds.
To get to the end of the Wadi, which is also the best spot (a waterfall), you'll first have to take a 2-minute boat ride across the river, then trek for about 45 minutes and lastly swim through the river for about 15 minutes. If you are a non-swimmer you can rent a life jacket for your safety, but do not miss out on this experience!
2. GO GLAMPING IN THE DESERT OF WAHIBA SANDS
Glamping at Thousand Nights Camp in the Wahiba Sands was my second favorite experience. The Omani desert is enormous and is part of  'The Empty Quarter' which comprises of parts of Oman, U.A.E., Yemen, and Saudi Arabia. To access the desert, it is best to rent a 4 x 4 and self-drive. This unique experience is simply exhilarating!
Don't forget to download offline maps in case you get lost, you'll definitely lose data, also half deflate the tires and top up your fuel tank before you get into the desert.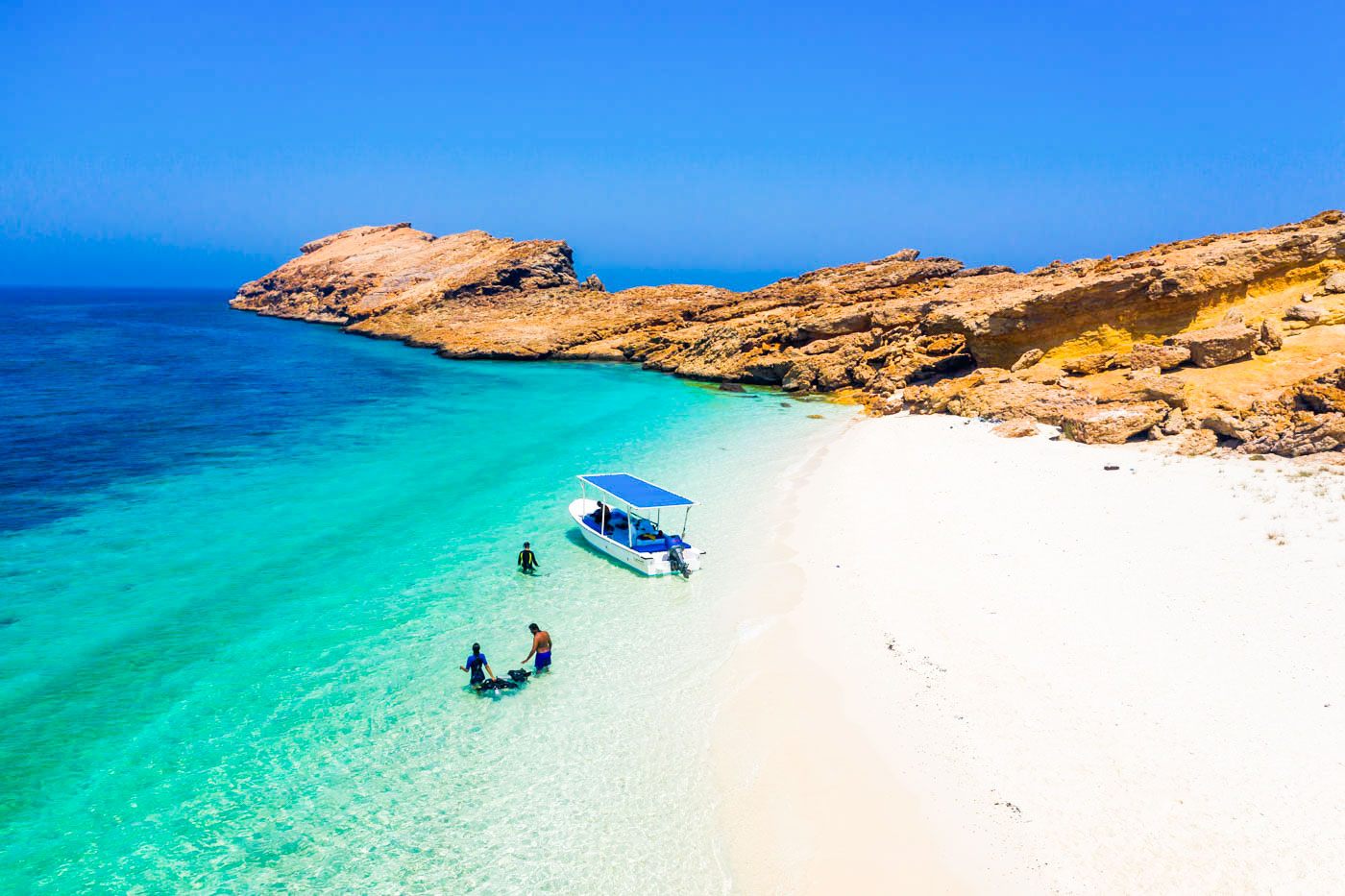 3. GO SCUBA DIVING IN DAYMANIYAT ISLANDS
There are a huge array and abundance of marine life along the coast of Oman. Daymaniyat Islands are known to have the best reefs and if you visit between May to September (peak summer though) you are almost guaranteed sightings of whale sharks, dolphins, and whales.
The dive sites are accessible for all level of divers as there is little current and they are not very deep. Visibility, however, can be unpredictable at times as I found out. I was unlucky and had very poor visibility on my dives, but was glad to see that the reefs looked colorful and healthy.
There is no accommodation on the Daymaniyat island unless you camp there (not recommended). In that case, you will have to take the boat from either Muscat which is quite far or Al Sawad. I stayed at the Al Sawadi Beach Resort & Spa which is the closest to the Daymaniyat islands. It is the only dive resort in the area, which means your boat will leave from the beach and you won't have to go through any marina. I thoroughly enjoyed my dives with them and recommend them to you as well.
4. SWIM IN THE LONGEST POOL IN THE MIDDLE EAST
The Chedi Muscat proudly holds the distinguished title of having the longest pool in all of the middle east. It is 103 meters long, twice the size of an Olympic pool and definitely keeps your fitness levels in check even on a holiday. Besides, they even have the most luxurious spa which makes it a perfect combination to rejuvenate after a workout. The Chedi Muscat oozes luxury and grandeur while still retaining its Omani heritage. If luxury is on your mind, you'll love everything about this property.
5. VISIT THE SULTAN QABOOS GRAND MOSQUE IN MUSCAT
No trip to Oman can be complete without a visit to the Sultan Qaboos Grand Mosque in Muscat. It is the largest mosque in all of Oman and can house up to 20,000 devotees. The mosque took six years to build and opened in 2001. It holds the record of having the world largest chandelier made up of 600,000 Swarovski crystal and 24 karat gold plating. The carpet used to be the biggest one-piece carpet in the world as well until the Emiratis and Qataris made bigger versions and stole the title from them.
The mosque is open for non-Muslims from 8 am – 11 am on all days except Friday's. It is mandatory for both men and women to fully cover up. Wear a long sleeves top up to the wrist and pants to your ankle. Women must cover their head with a scarf as well. In case you forget to dress appropriately you can always rent an abaya at the entrance of the mosque for an extra 2 Riyals.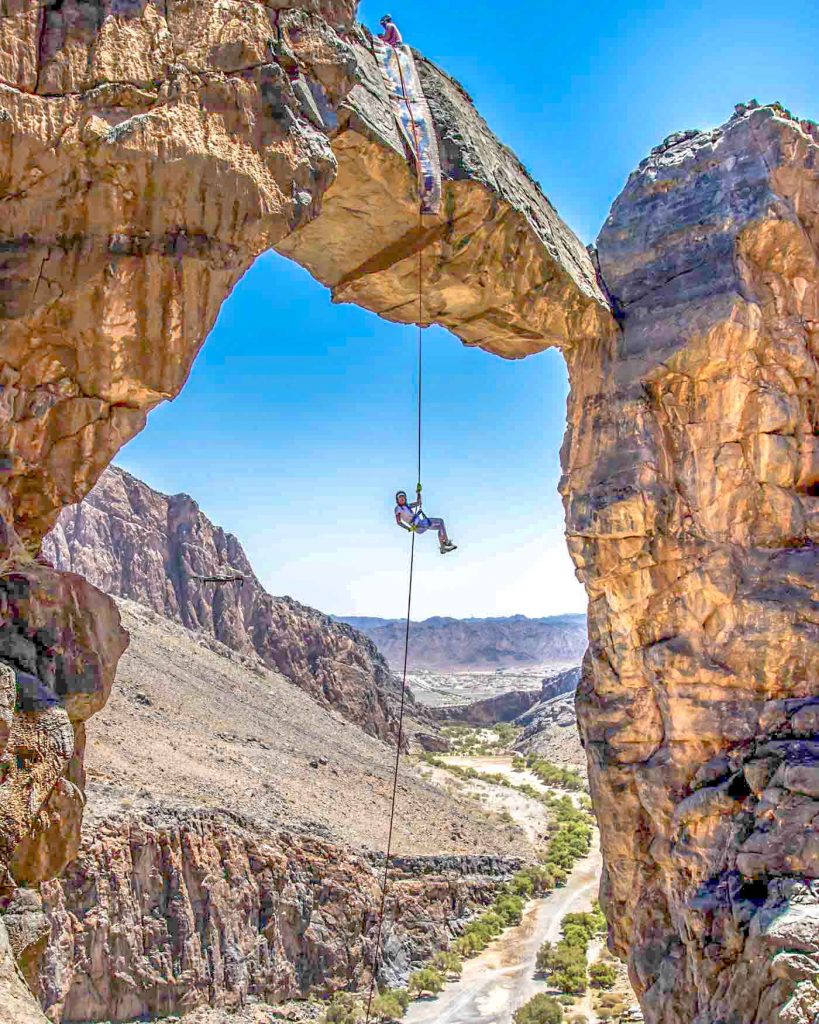 6. RAPPEL DOWN THE ARCH IN WADI TANUF
All you extreme adventure junkies out there, this one is for you. If you ask me personally, the one hour trek up to arch in the scorching sun was the most difficult part. Once you're up there, the 35 meters of rappelling down takes literally 2 minutes. But believe me, the feeling of being mid-air is unparalleled and worth it all. Not to mention the bragging rights for life!
The only person you need to contact for this adventure is Ahmed. He is an absolute professional and I can personally vouch for that. This activity takes place around Wadi Tanuf very close to Nizwa. Get in touch with Ahmed well in advance to book. I recommend its best to schedule your adventure early in the morning as it gets extremely hot by midday.
7. SPA DAY IN THE SULPHUR SPRING
Ain Sahban Sulphur Springs is completely off the tourist route, and about a 3 hours drive from Muscat. Most locals I asked didn't know about it either, but after a lot of research, I did make it there. You can either camp the night there so that you wake up and have the springs all to yourself before other tourists arrive or choose to stay at the closest hotel, which is about 60 km away. There is no entry fee for the sulphur springs and are always open.
To get there simply follow this pin.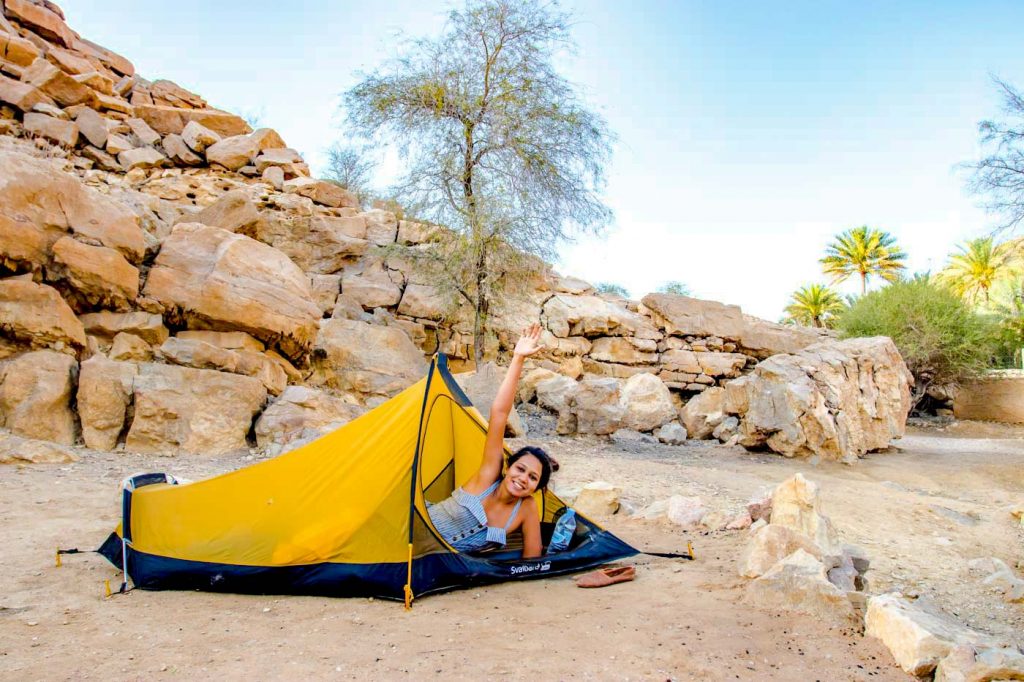 8. GO WILD CAMPING
The beauty of Oman is that it has the best of both worlds. One night you can cozy up in a lavish five star and another night you can sleep under five billion stars and both are equally exciting and safe. You can literally camp ANYWHERE in Oman unless its someone's private property and has a board that says otherwise.
On my trip, we camped out for 2 nights. One at Wadi Bani Khalid and the other night at Ain Sahban Sulphur Springs. If you're on a budget trip this is a great way to save hundreds of dollars, all you need is a sleeping bag and a tent.
As a female traveler, I didn't feel unsafe for even a minute and the Omani locals were super friendly and helpful everywhere we went. One thing, make sure you reach the campsite at least an hour before sunset so that it gives you enough time to set up for the night.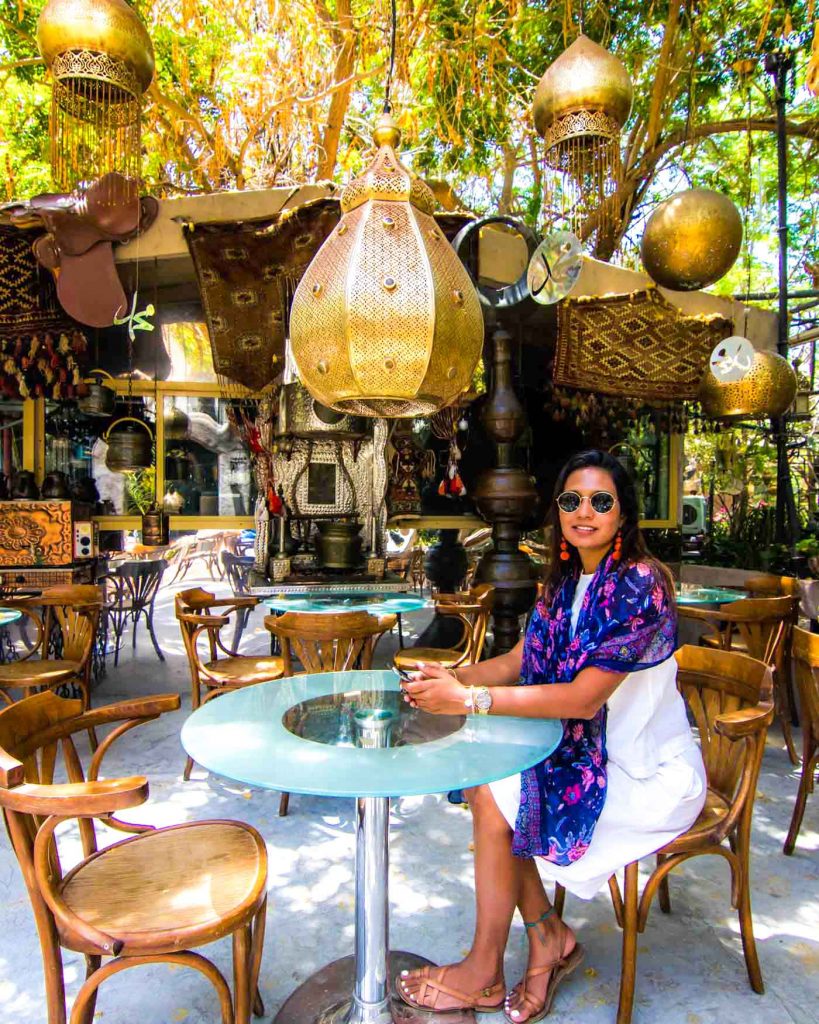 9. ARABIAN STYLE DINING & SHEESHA AT KARGEEN
This one was hands down my favorite Arabian style gourmet dining experience in all of Oman. Kargeen is in the heart of Muscat and offers its guests a great variety of preparations (loads of yummy vegetarian options) with Pinterest perfect Arabian decor goals.
The restaurant is open all day from 8 am to 1 am, which means you can go literally at any time of the day, for any kind of meal.
I first went there for brunch and loved the food and ambiance so much that I decided to come back for dinner. The look and vibe of the place changed completely and I'm so glad I went back. Make sure you reserve a table beforehand and if you decide to go for dinner ask for a table outside.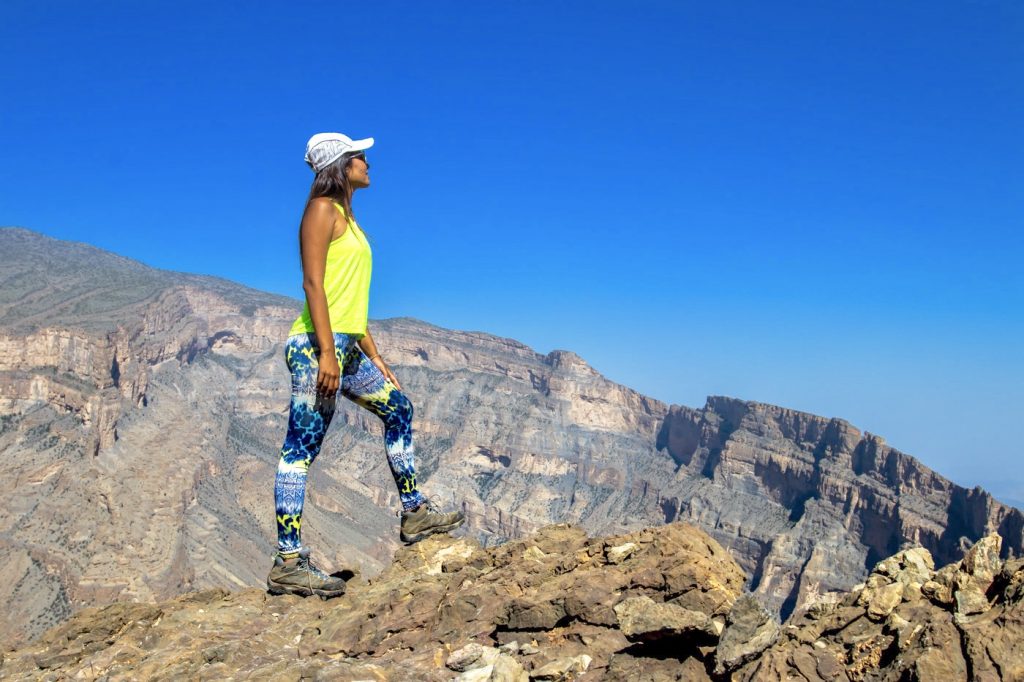 10. HIKE THE HIGHEST MOUNTAIN OF OMAN AT JEBEL SHAM
Explore the highest mountain in Oman, Jebel Sham (3009 mt). These mountains are known for the best views of the spectacularly deep Wadi Ghul and are locally known as the Grand Canyon of Arabia. The drive in this region is absolutely breathtaking and make sure you have a 4×4 to drive around in. The roads are well marked like the rest of Oman but the slopes are quite steep and having some driving experience here will help. You can do the 'Balcony walk' that takes about 2 hours and ends at an abandoned village and a lake. Check with the locals before you go since it is a seasonal lake.
I hope you've now got enough reasons to plan a visit to Oman sooner rather than later. 🙂
Have you already visited Oman? What was your favorite experience there?
Read Next