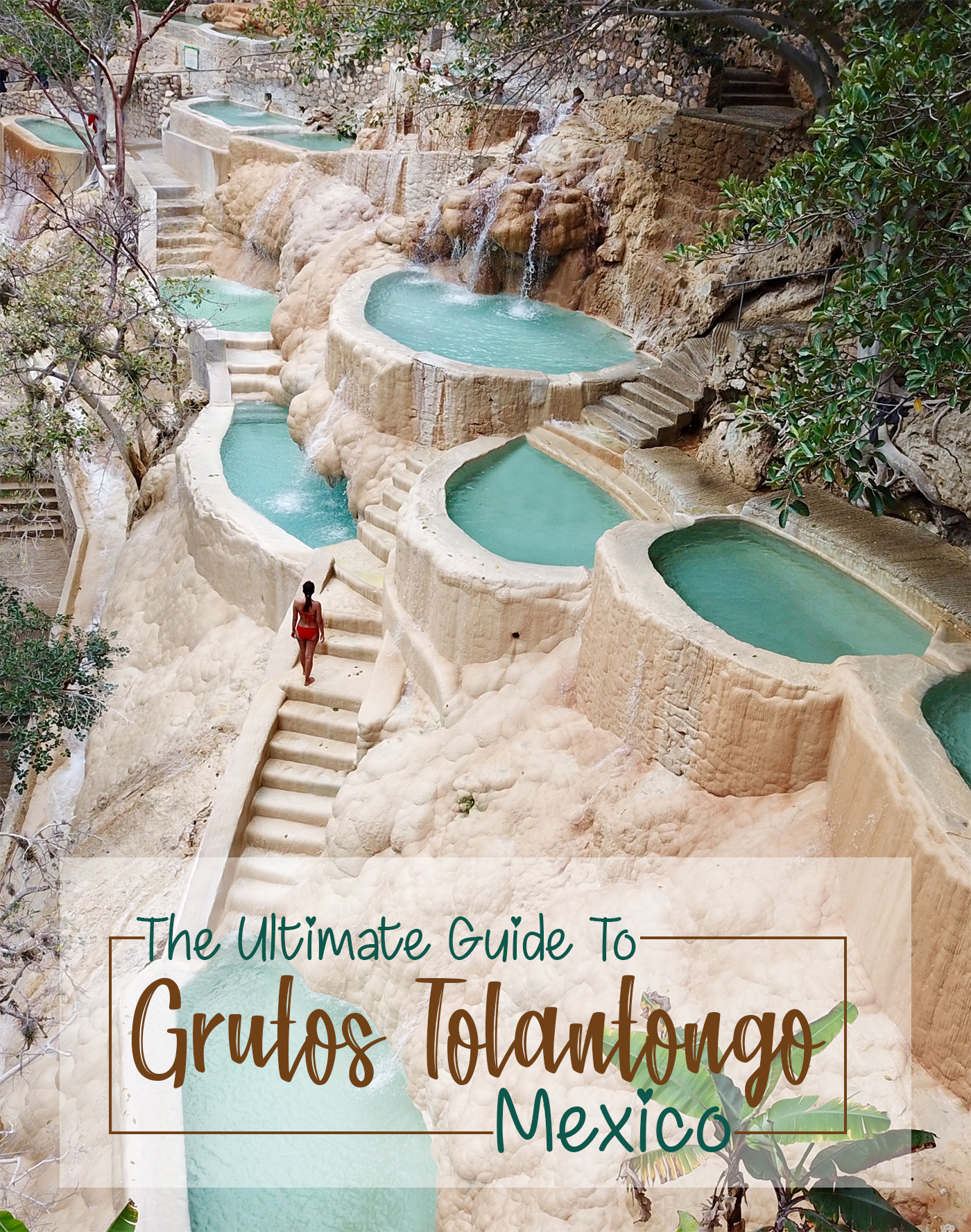 I had seen a stunning postcard-like photo of some beautiful pools somewhere in Mexico on Instagram a few years ago and saved it to my travel wishlist. When the opportunity to explore Mexico finally presented itself, this was topmost among the places I wanted to visit. Clueless about its name or whereabouts, I sent this picture to a Mexican blogger friend Raphael from Journey Wonders (all photos on this article are credited to him) hoping he would identify the location because that all I had. To my delight, he instantly recognized the place and said it was "Grutos Tolantonga" and better yet, he offered to join me on a road trip from Mexico City. I jumped to the idea of it!
This turned to be an absolute adventurous experience and one that I would I highly recommend to all nature lovers and explorers, for this place was completely off the tourist map. No wonder, I couldn't figure it's whereabouts earlier!
Here is everything you need to know to plan a trip to Grutos Tolantongo.
ABOUT GRUTOS TOLANTONGO
'Grutos' in Spanish mean caves and these Tolantongo caves are a collection of natural hot spring pools that are built on a cliff overlooking a picturesque canyon. These pools are filled with warm, natural mineral-infused water that's heated by the surrounding volcanic mountains.
The park is divided into two areas; the first is where you can relax and unwind in the dozens of turquoise hot springs that have been built on the cliff of the canyon wall with breathtaking views of mountains all around. Each pool is uniquely designed with water temperatures ranging from 34C-38C degrees.
The second area is further away and is more for adventure seekers like me. Here you'll find two natural caves beneath a big waterfall. It was pitch dark as I stepped in and I felt a sudden whiff of hot steam. It's hard to describe, but imagine being in a sauna and a steam room at the same time. The other cave is filled with warm, turquoise water with a gushing waterfall center and smaller caves at its edges.
Besides this, you'll also find a suspension bridge, waterslides, swimming pool, campsites, hotel, and restaurants galore to keep you busy and entertained.
The entrance fee to the park is a mere Mxn 140 (USD 8) per person and there's also an Mxn 20 (USD 1) parking fee. The entrance ticket gives you access to all the attractions (Grotto, Tunnel, River, Pools, Thermal Pools, Hiking) and certain services (Doctors, Baths and Watering in all areas day and night, 24-hour security, etc.)
A trip to Grutos Tolantongo is completely off the beaten path and ideal only for couples, families, friends or groups willing to rough it out a bit in exchange for some precious moments in nature. I wouldn't recommend this one for solo travelers who like me, don't enjoy solitary time on their own. (I travel solo out of no choice and usually find company along the way. I'd hate to be in this beautiful place like this all by myself and not have anyone to share memories there with).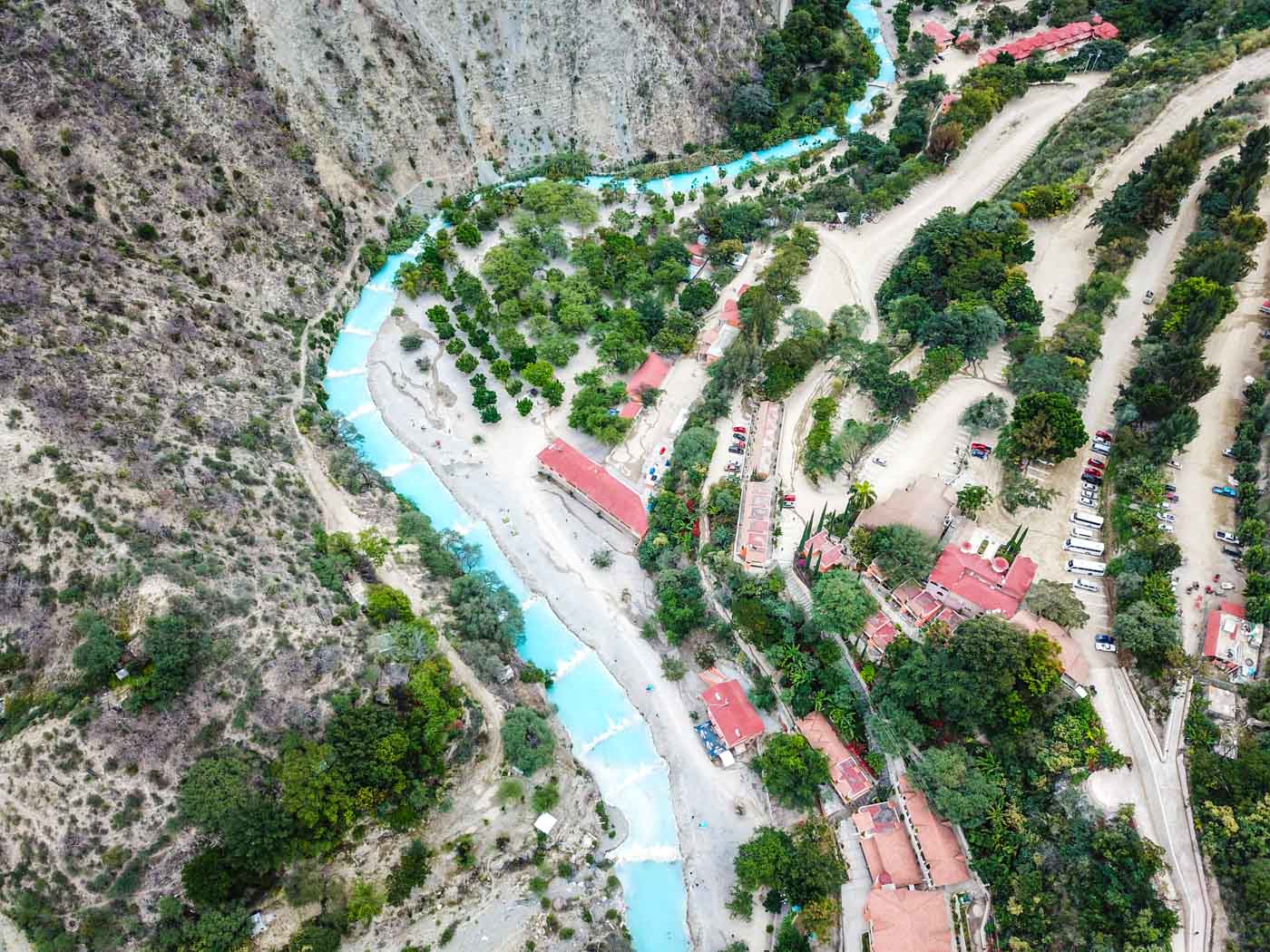 WHERE IS GRUTOS TOLANTONGO
Tolantongo is a resort located 17 km from Ixmiquilpan on Route 27 in the Mezquital Valley, in the state of Hidalgo in Mexico. It is 198 km or three-to-four hours northwest of Mexico City. The closest village to the resort is called El Cardonal.
BEST WAY TO GET TO GRUTOS TOLANTONGO
The best and most practical option to get to Grutos Tolartongo is to rent a car and drive down from Mexico City or if self-driving isn't an option then book a tourist vehicle with a driver to drive to you there. Since we were two of us, we hired a car and drove there over 2 days.
I rented an automatic Volkswagon Vento with Enterprise on Expedia.com and picked it up from Mexico City International Airport. Initially, when I booked it online I was told it was USD 25 per day inclusive of taxes and liability insurance coverage, but when we got to the Enterprise office to collect the car, there was an additional mandatory insurance to be purchased and the rental went up to USD 60 per day, which in my opinion was still worth it. Petrol for the two days cost us Mxn 820 (USD 43).  I was pulled up by the cops for a 'random check' looking for a way to make quick money from a tourist, but my passport and international license saved me from a hefty bribe.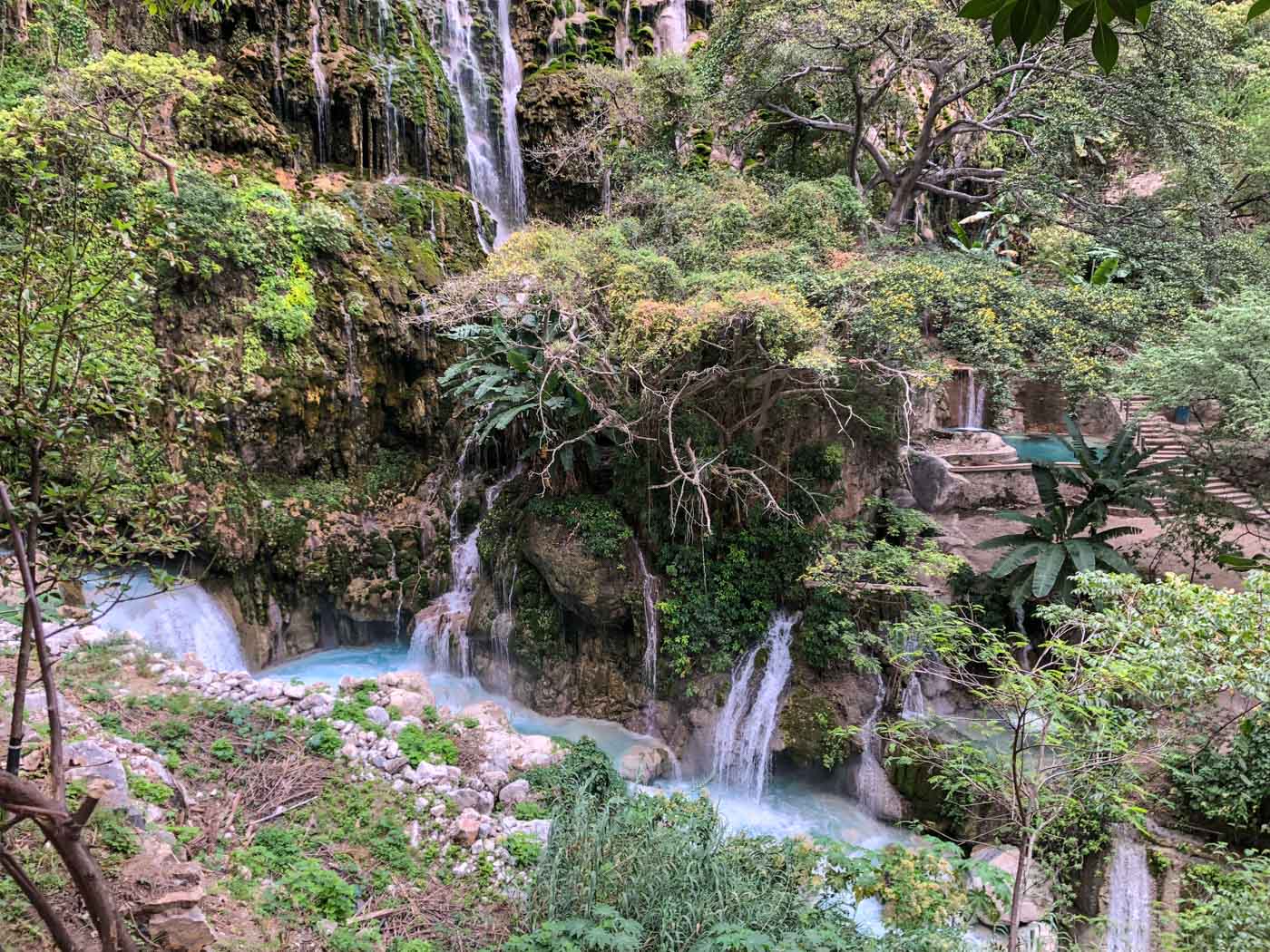 BEST TIME TO VISIT
The winter months begin from December to March and the rainy season starts from June to August, and therefore the best months to visit are April and May as well as September to November. I was there at the beginning of December and although it was a little cold, it was still worth it.
The park is open all year round including holidays and there's no low season. I definitely recommend going on a weekday, if possible, as weekends get super busy and crowded.
Service Hours
Grutos, tunnel, waterfalls, and pools: From 8:00 a.m. to 5:00 p.m.
Thermal pools (Only some) and river: From 8:00 am to 09:00 pm
Restaurant and kitchens (Only some): From 8:00 a.m. to 9:00 p.m.
Grocery store (only some): From 8:00 a.m. to 9:00 p.m.
HOW MUCH TIME DO YOU NEED FOR THIS ROAD TRIP
Ideally, you need 2 days and 1 night for a road trip. But if you have more time you could even spend 2 nights there and enjoy the magic of mother nature. You might also need a night in Mexico City before and after you return from Grutos Tolantongo. In Mexico City, I stayed at the Holiday Inn and found it really comfortable.
ACCOMMODATION AT GRUTOS TOLANGTONGO
Tolantongo has hotels and camping grounds, but they do not take any advance reservations by phone or email. The hotels sell out really fast since they aren't many rooms, but if you come on a weekday and a bit early you should be able to score a room for sure. Camping is also a great option, especially if you're more adventurous. There are 4 hotels, two of which are open all through the year and 2 only on weekends. You can find more information here.
There are 5 camping areas within the park, 4 are on the banks of the turquoise blue river and the last one is near the thermal pools, a beautiful spot to spend the night falling asleep to the sound of water. You can also rent blankets and sleeping mats along with a 4 person tent for as little as Mxn 477 (USD 25).
Imagine waking up and jumping straight into the warm river!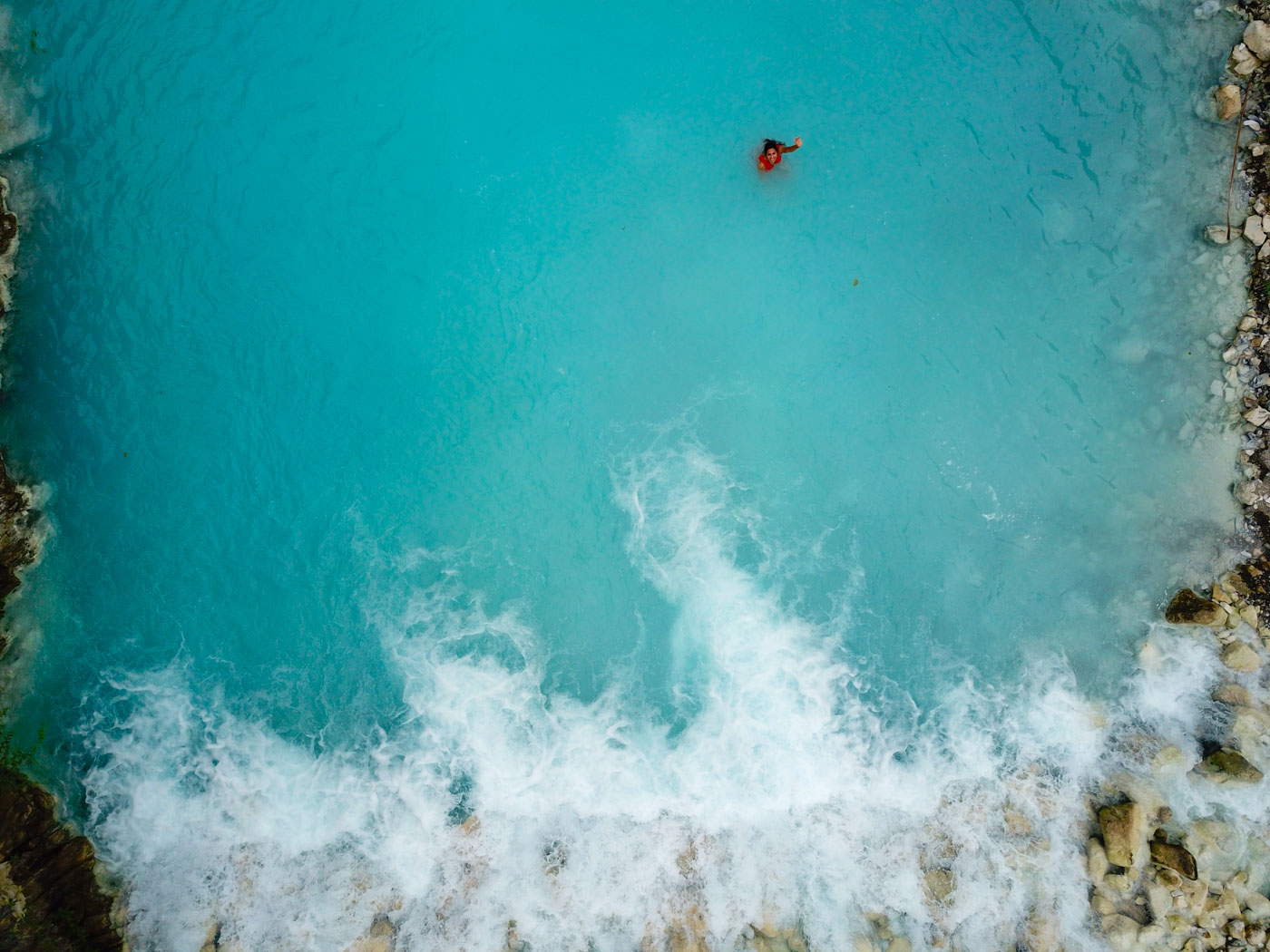 BUDGET FOR GRUTOS TOLANTONGO (2 DAYS)
Here's the complete breakdown from my trip:
Car rental Mxn 2300 ( USD 120)
Toll tax Mxn 80  (USD 5)
Dinner Mxn 180 (USD 10)
1 nights room stay for 2 people Mxn 250 (USD 13)
Brunch for 2 inside the park  Mxn 150 (USD 8)
Entry fee to the park Mxn 140 (USD 7)
Car Parking Mxn 20 (USD 1)
Toll tax on the return journey Mxn  83 (USD 5)
Petrol for the complete journey  Mxn 820 (USD 42)
TOTAL: Mxn 3843 (USD 200)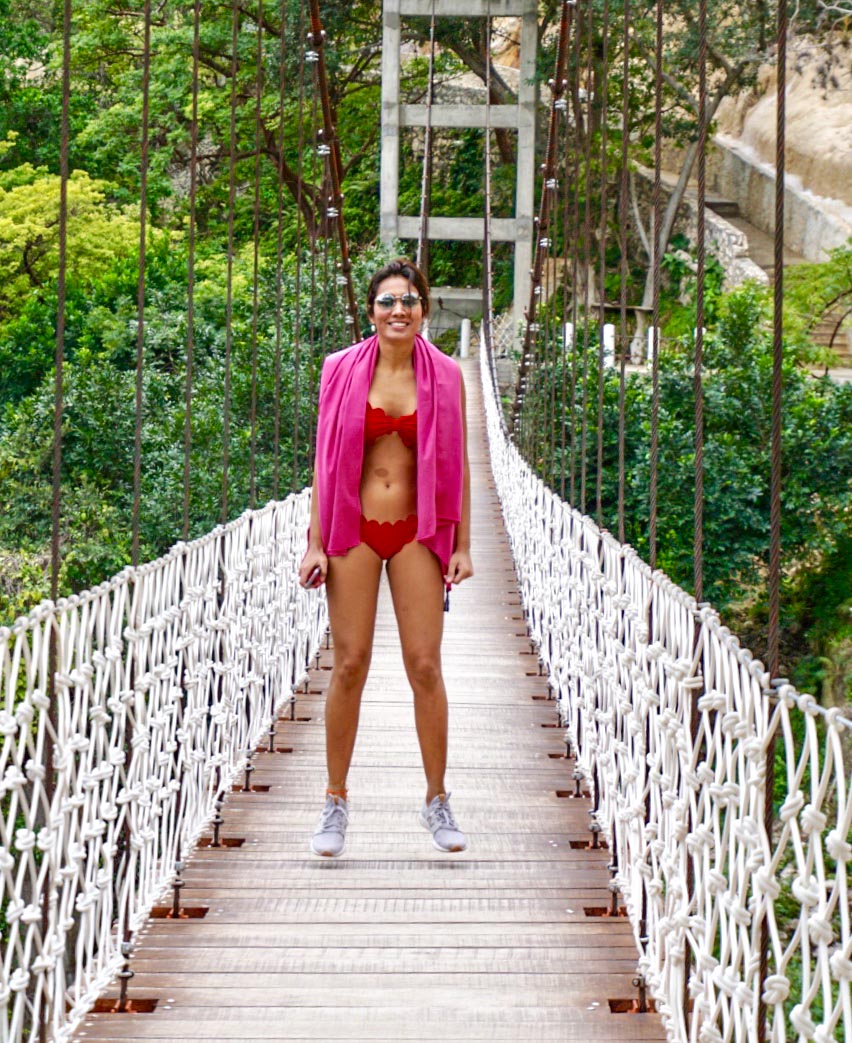 TRAVEL TIPS
 Bring a waterproof torch and camera as it's pitch black and wet in the caves!

 Only cash is accepted everywhere in the park. The closest ATM is an hours' drive away in Ixmiquilpan, Hidalgo.

If possible avoid going on weekends and bank holidays as it gets really busy.

 Swimsuits are mandatory to enter the Grutos, river and thermal pools.

Please wear biodegradable sunscreen only! Let's save these natural wonders for our future generations as well.

 

 The park only has cell phone signal from a company called 'Telcel'. Don't miss this opportunity to disconnect from the world! It's totally worth it.

Is the Grutos Tolantongo on your bucket list?
Read Next