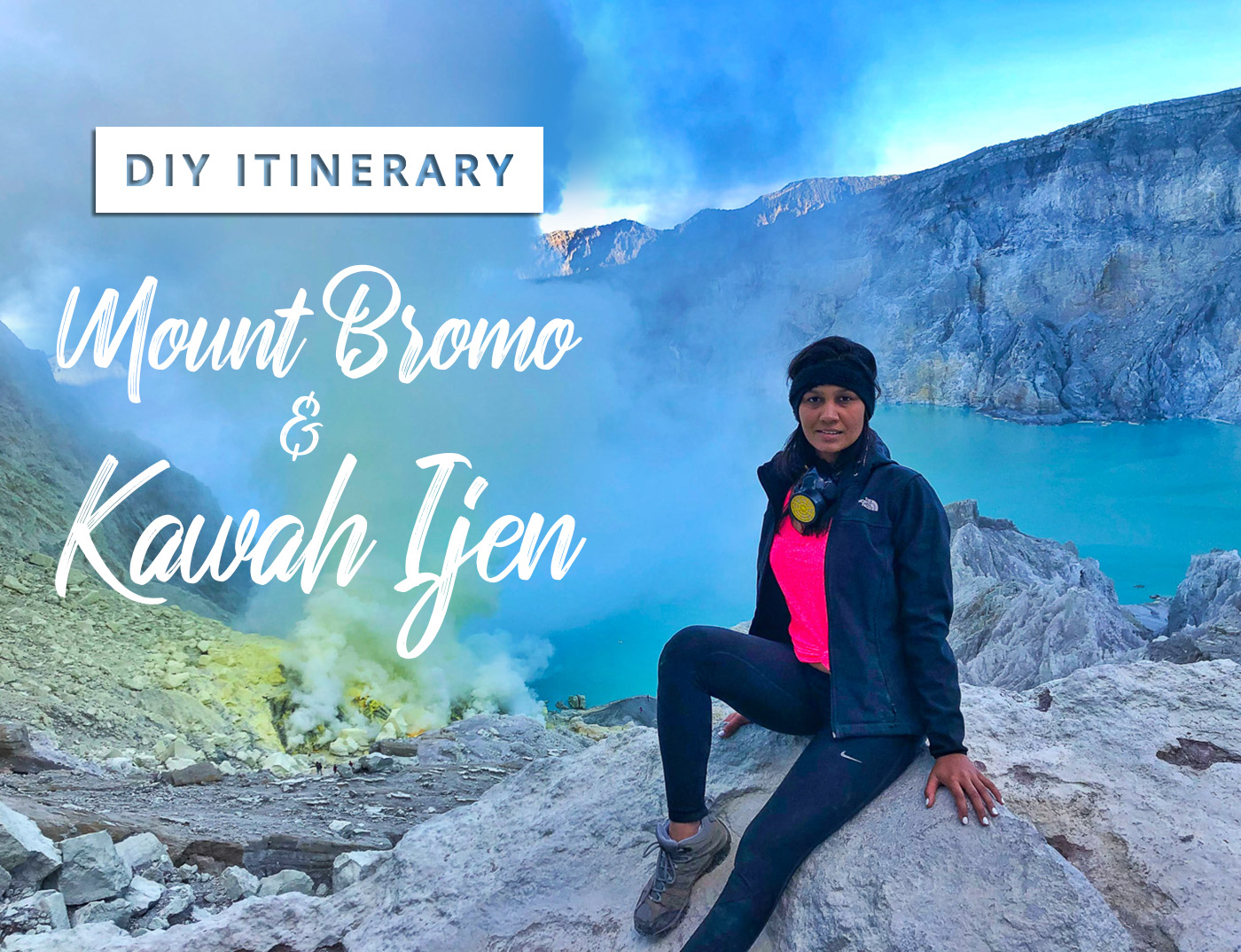 What an exhausting but equally exciting weekend it was! This is the first thought that comes to my mind when I think of my time in Mt. Bromo and Kawah Ijen.
I hadn't felt more dead and alive at the same time!
This is the detailed DIY route I followed after a lot of research online for my solo trip to Mount Bromo and Kawah Ijen located in East Java, Indonesia.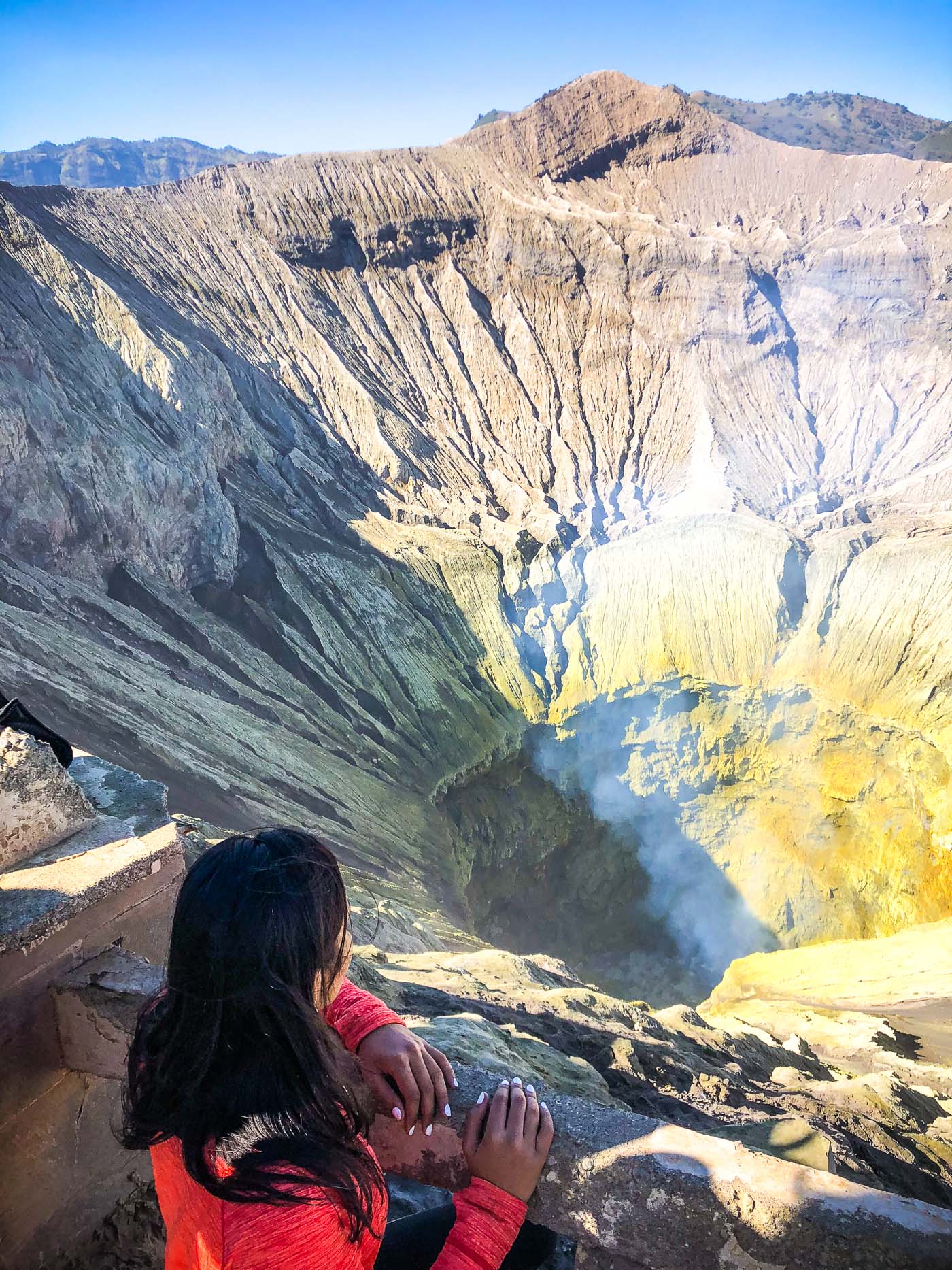 DAY 1
Fly early into Surabaya Juanda International Airport, the capital of East Java. From there I took the Damri airport-bus toward the Bungurasih bus terminal in the center of town. This air-conditioned bus costs IDR 25000 (USD 1.5) and takes about half-an-hour to reach.
From the bus terminal, I took another bus to Probolinggo. There were lots of agents waiting there to guide you to the bus. This journey took about 3 hrs and costs IDR 25000 (USD 1.5). On the way, the bus picked up a lot of people and it got pretty packed too. Passengers smoke inside the bus, which makes it very annoying and uncomfortable.
From Probolinggo you continue your journey to Cemoro Lawang which is a town at the base of Mount Bromo.
There are two options to choose from:
By Taxi
 The easier but more expensive option (going by Indonesian standards) is to take a taxi/private car which can cost up to IDR 350,000 (USD 25) for a 1-hour journey. Try your best to bargain but chances are they won't budge. 
By Shared Van
If you are on a barebone budget or traveling solo like me, this might be a good option. Once you get off the bus at the Probolinggo bus terminal, just ask where the shared vans for Cemoro Lawang are and you will be guided outside the bus terminal on the left. 
Now, these vans will wait until every seat is occupied by tourists. I was the first one there and 15 minutes later four more joined me. The van is usually a 10 seater. We ended up waiting for 2 more hours before the next two tourists showed up. By then it was getting quite dark so we decided to split the cost of the rest of the seats amongst ourselves. Since the locals know we are at their mercy, they are not willing to negotiate the price one bit. Finally, we gave in and paid IDR 80000 (USD 5.5) which is still quite cheap and got going.
Once you get to your hotel/guesthouse get some rest as the trek begins at 3 am after a long day of travel. I hadn't booked any accommodation for Cemoro Lawang and ended up sharing a nameless guest house room with three other travelers I met in the minivan from Probolinggo. All of us paid IDR 75000 (USD 5) per bed in a room with no wifi or hot water.
If you are not on a budget, you could easily avoid all this hassle by taking a private taxi from Surabaya airport directly to Cemoro Lawang which would take about 4 hours. I wish I had just done that.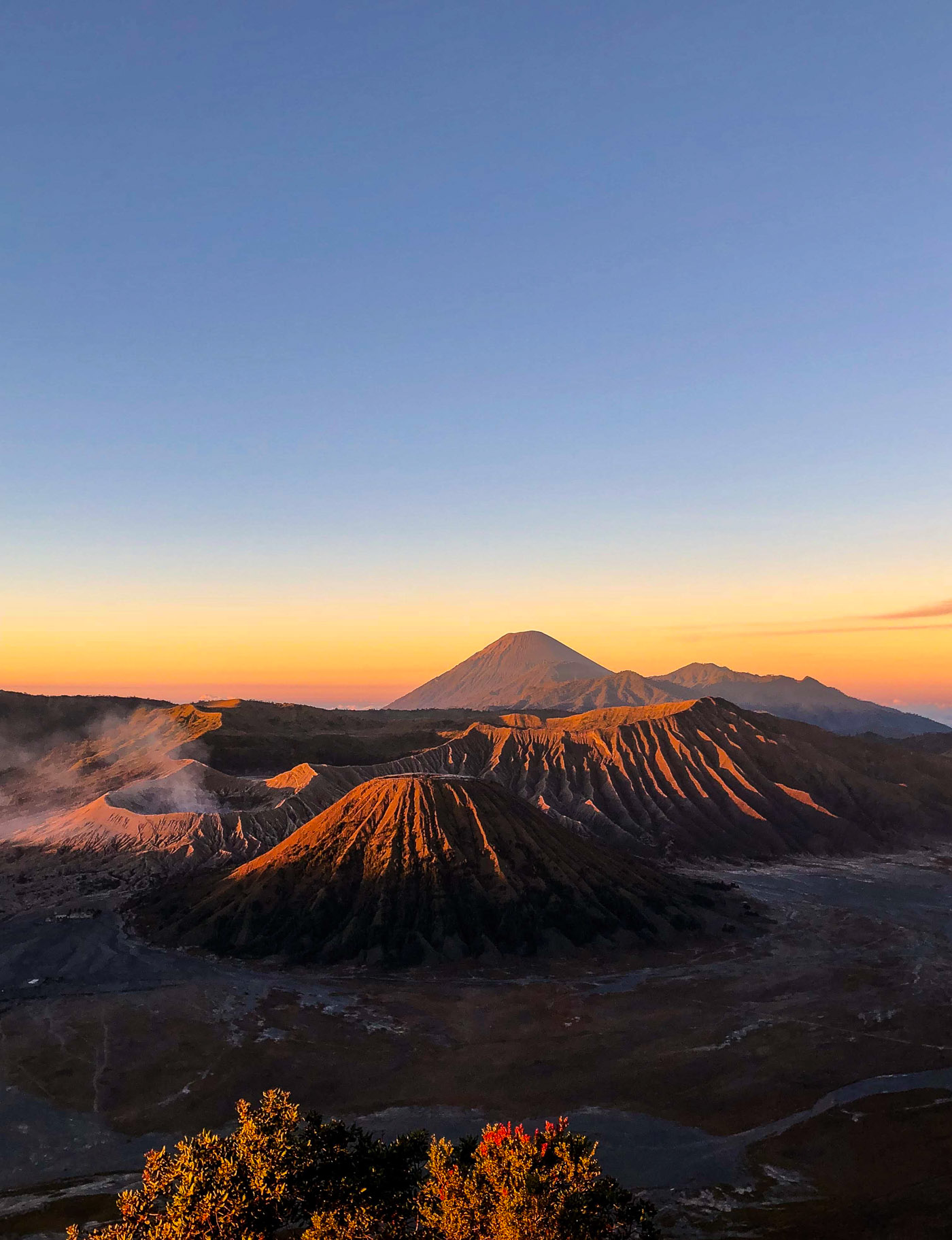 HIKE TO MOUNT BROMO
There are 2 hikes to be done that night/morning. One to the sunrise point that is opposite the crater like you see in the picture. And the other to the actual crater itself on the other side.
 This should be your rough schedule for Mount Bromo:
3:00 AM – Leave Cemoro Lawang for the Mount Bromo Sunrise (Hike 1)
5:00 AM – Arrive at the topmost viewing point
5:30 AM – Watch the Mount Bromo Sunrise
6:10 AM – Begin your decent
7:45 AM – Arrive at the base
8:00 AM – Freshen up and head to Bromo Crater
9:00 AM – Start the Mount Bromo hike to Bromo Crater (Hike 2)
10:00 AM – Arrive at Bromo Crater
10.30 AM– Begin your decent
11.45 AM – Back in Cemoro Lawang for breakfast
Here are two options:
OPTION 1
Walk all the way from town to the top of Penanjakan Hill. It will take a fit person about 2.5 hours from town to the highest sunrise viewing point on that hill. I suggest beginning your walk at around 2.30 am to be on the safer side as it is extremely crowded and could slow down your pace. Reaching up early also means you will get a better spot to set up your camera and enjoy the sunrise.
Believe me when I say it is totally worth it!
OPTION 2
You take a jeep or bike taxi to the gate which will cost about IDR 50000- 100000 (USD 3-7). At the gate you have an option of a pony ride will take you a few 100 meters further up but after that, you have to hike the rest of it. In my opinion, taking the jeep up might be a good idea as its biting cold in the morning and there is not much to see. But I beg you not to take the pony, they are so weak, malnourished and some even injured, it's really not worth it.
While doing my research I read there was an entrance fee to be paid at the gate but I saw no signs of it anywhere, maybe that could change with time.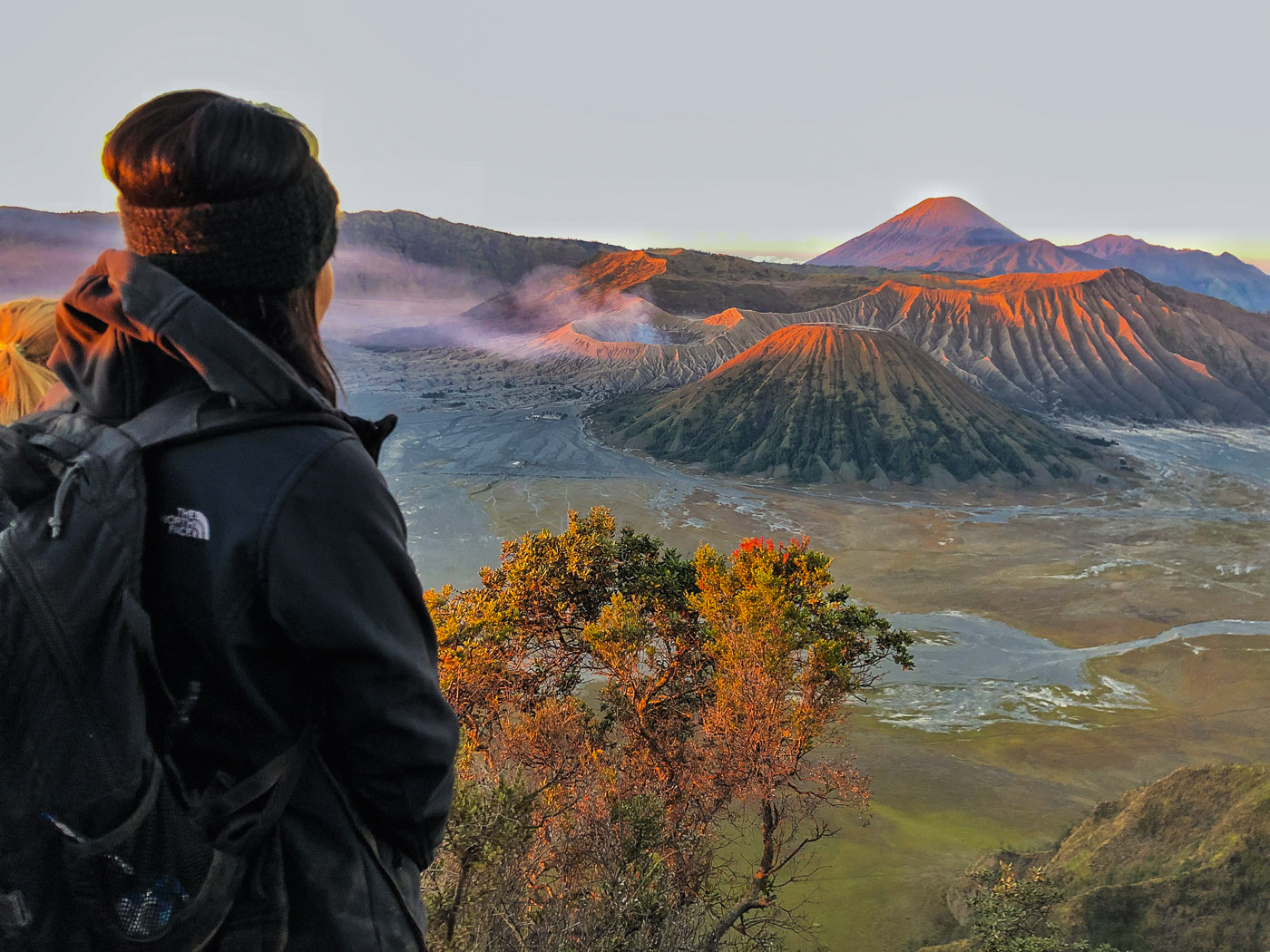 After witnessing one of the most surreal sunrises of your life, begin your descent at around 6 am, which will take approx. 1.5 hours as you will keep stopping for more photos. Now you can either stop for breakfast in Cemoro Lawang or head directly over to the other side to see the actual volcanic crater. I suggest going directly without a stop, as the later you go the hotter and harder it will get to climb up to the crater.
To get to the Bromo crater again you can either take a bike taxi for IDR 50,000-100000 (USD 3-7) which will take 15 minutes or walk. It is an hour-long walk to the base of Mt. Bromo from Cemoro Lawang across the 'sea of sand' that feels like a desert. It got so windy in some parts that I felt like I was back in the Sahara desert, except it was volcanic sand. I was lucky to meet a small group of local tourists who had hired a jeep and offered me a ride along with them to the Bromo crater.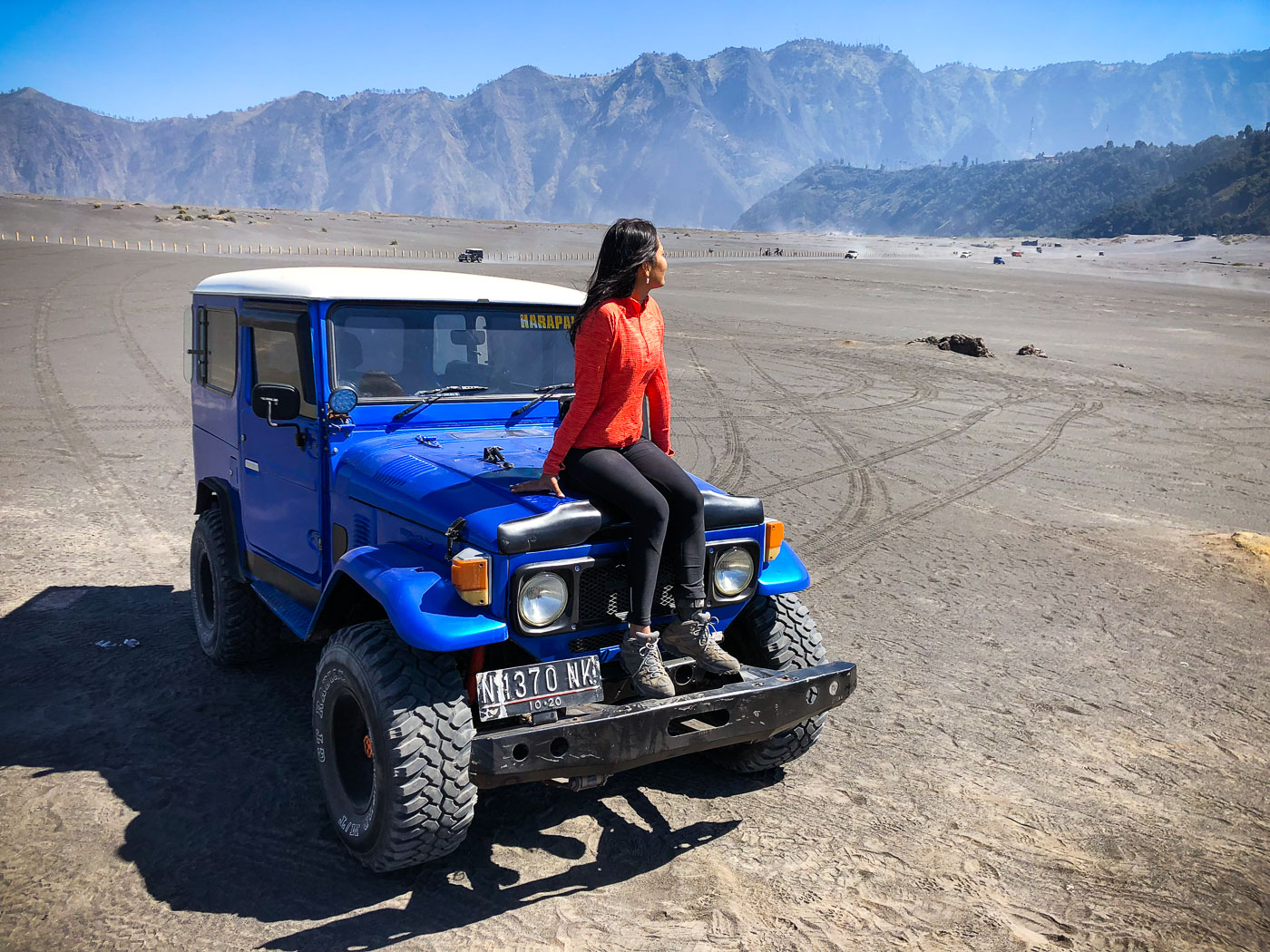 From the base to the top of Mount Bromo can take anywhere from 45 minutes to 2 hours depending on how busy and crowded it is. The distance isn't much but the stairs are narrow and steep.
Be very careful once you are at the top of Mount Bromo, the path around the rim is very narrow and there are way too many people up there. You will be so mesmerized by the sheer power and beauty of mother nature that you may forget what's happening around you. The decent will take about half-an-hour to 45 minutes and then you can drive back to Cemoro Lawang around noon latest.
Now if you have a day to spare you could either stay back in Cemoro Lawang and rest up or continue your journey to Kawah Ijen.
I chose to continue to Kawah Ijen.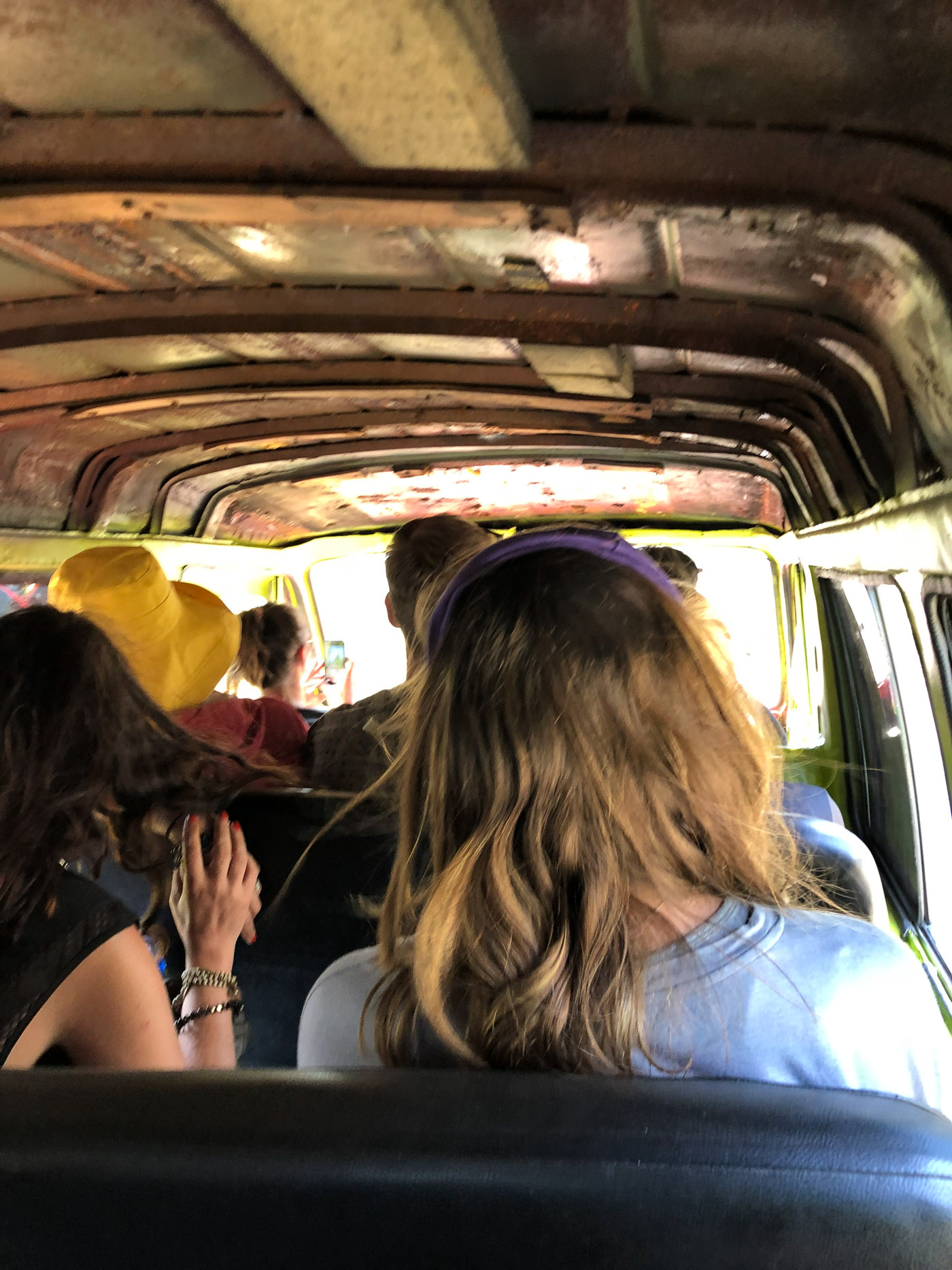 CONTINUING DAY 2
To continue, take the same minivan from Cemoro Lawang back to Probolinggo. There usually is one every hour from the center of town. The cost again will depend on how many tourists fill up the van, I paid IDR 40,000 (USD 3) this time.
From Probolinggo bus terminal take a bus to Bondowoso which takes 4 hrs and costs IDR 35000 (USD 2.5). This one was not air-conditioned and not the most comfortable either. Once you get to your hotel/guest house, get as much rest as you can as the night's journey starts at 10.30 p.m. The base of Kawah Ijen is 2.5 hrs away by a private taxi, book one with your hotel.
On the bus to Bondowoso, I met a Chinese girl who was also traveling solo and the two of us decided to hike up together, she spoke no English (thank God for Google translate). We paid IDR 471000 (USD 32) each for our evening stay and a private taxi to Kawah Ijen and then further to Banyuwangi after the hike. Unfortunately, this guest house didn't have a name either. We just walked around town and picked one that looked decent. So Brave!
HIKE TO KAWAH IJEN
For Kawah Ijen this should be your rough schedule: 
10.30 pm– Begin your car journey from Bondowoso
12.30 am– Reach Kawah Ijen base
1.30 am– Begin your hike
3.30 am– Reach the rim of the crater
3.30 am– Continue the descent down to the crater
4.30 am– Reach the volcanic crater
6.00 am– Begin your ascent to the rim of the crater
7.00 am– Continue your descent down to the base
8.30 am– Reach back to the base
Check out of your hotel/guesthouse at 10.30 pm and head to Kawah Ijen. You will get there by 12.30 am and after paying the park fees of IDR 150000 (USD 10) begin your hike up at around 1- 1.30 am. It is a two-hour trek up to the rim of the crater and then one hour down to the lake and crater itself. There will be a sea of people (not hundreds but thousands) hiking up and you might have to dodge your way through, for the most part.
The path is quite steep for the first half and then eases out to a flat walk up to the rim of the crater. The path down to the crater is also steep and extremely rocky. If you haven't been on a trek before I would suggest getting a guide who can help you around. Be sure to have good walking shoes on.
Make sure you reach down to the crater before dawn or else you will miss seeing the Blue Sulphuric flames as they can only be seen in the dark.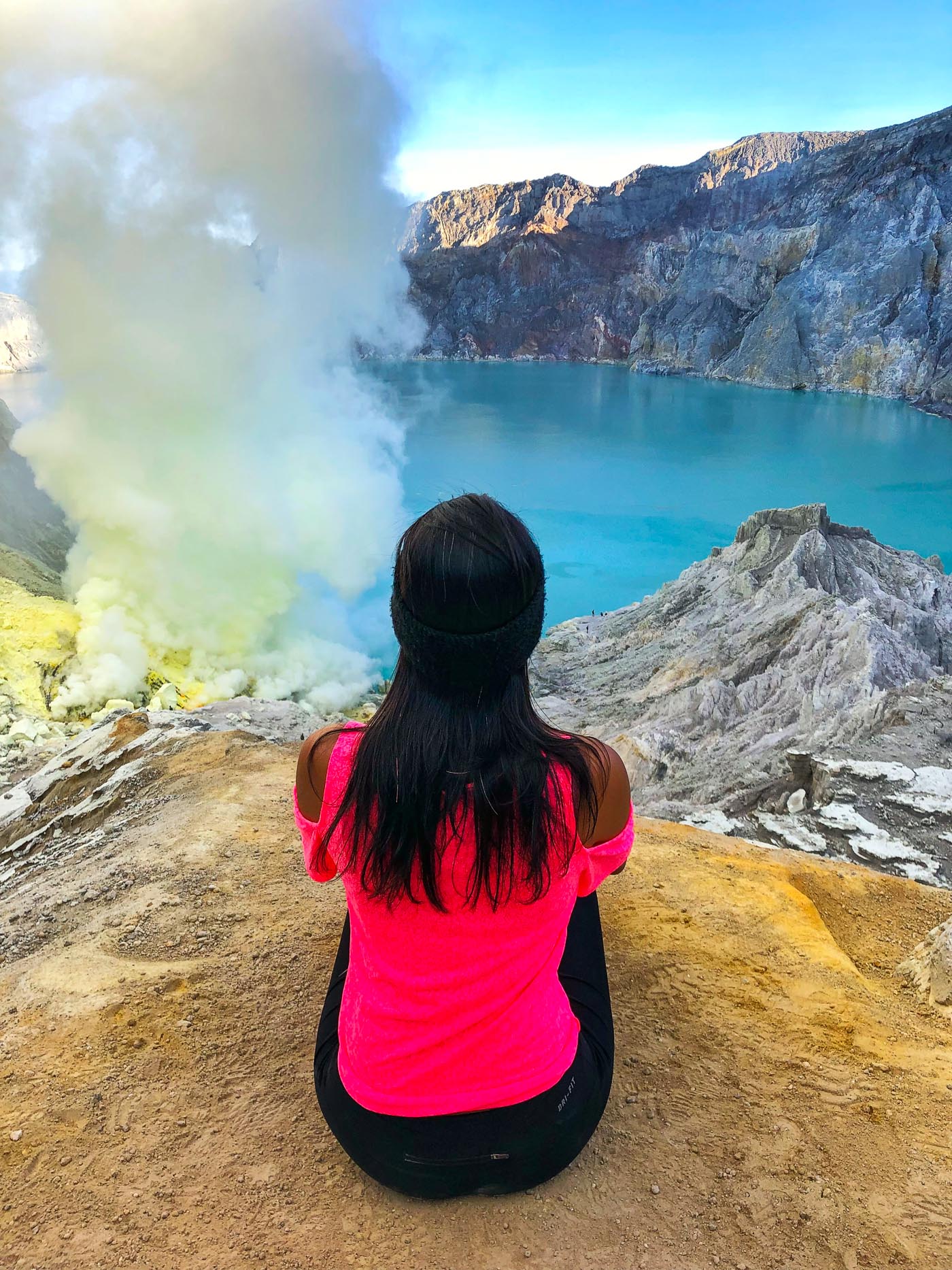 I recommend you stay till the sun rises and see how pretty the poisonous turquoise colored sulphuric lake looks. But stay away from the active volcano, the fumes are choking and too much of it can be hazardous to your health. Keep your mask on at all times.
Start your descent by 7 am so as to be back at the base by 9 am. Continue your journey to Banyuwangi. From there you can either take a ferry to Bali which takes 45 minutes or a train to Surabaya which takes 7 hours. Remember to book your train tickets in advance here as they sell out quickly especially on weekends. Since I was there on the weekend the train tickets were sold out and instead I took a shared taxi back to Probolinggo and then a bus to Surabaya. I paid IDR 170000 (USD 12) for this part of the journey.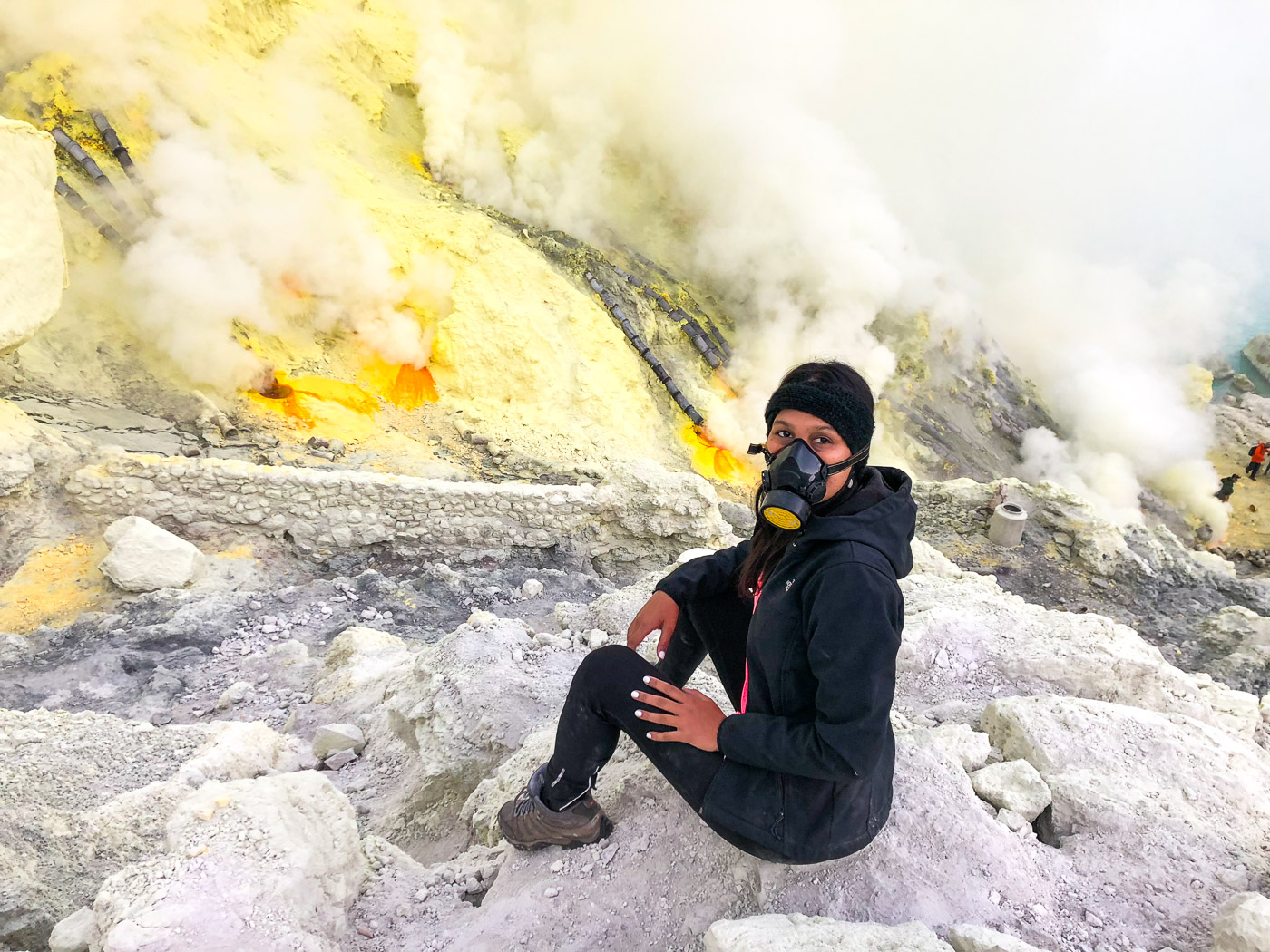 This was by far one of the most challenging weekends ever! Figuring it all out can be very exhausting and cramming all of it over two nights makes it even tougher! As much I didn't mind it, I would definitely not recommend doing this trip on your own. Booking an all-inclusive package from either Bali or Surabaya would not only ease all the discomfort of traveling by public transportation but also save you the hassle of figuring out where to stay, thereby giving you some more rest in-between your hikes.
Can't wait for more of you to visit these active volcanoes and I look forward to hearing about your own unique experience!
In case you have any more questions please feel free to email me or leave a comment below!
Read Next