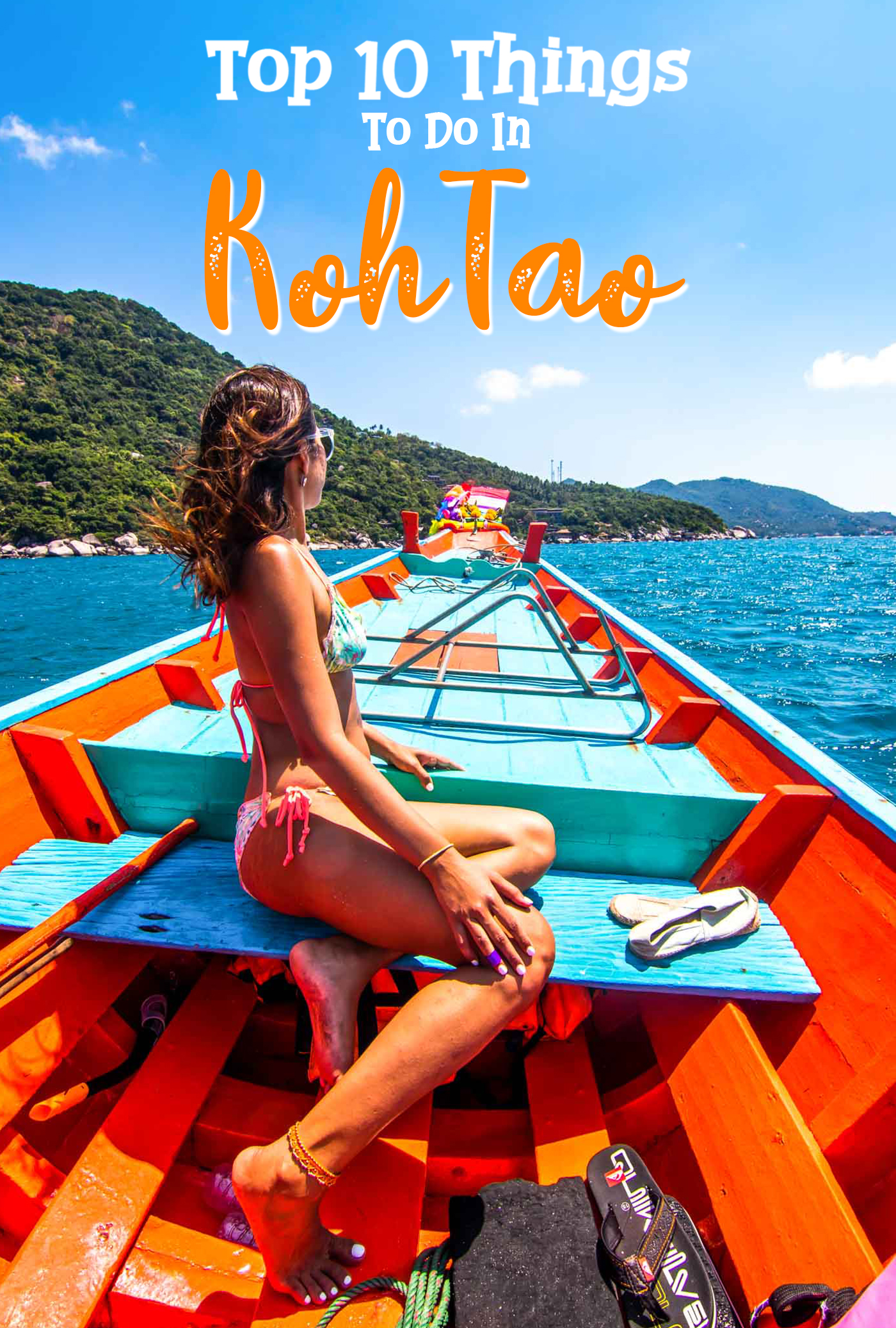 I've been solo tripping around the world for a few years now but somehow always only made it to Thailand to attend a Big Fat Indian Wedding. On my last trip, I was determined to explore more of Thailand and go off the tourist route. I wanted to see for myself why so many expats from around the world have made this country their home.
For starters, I decided to cover a bit of northern Thailand followed by a bit of island hopping down south as well. Koh Tao soon became a favorite and if I had to ever move to Thailand, I'd surely make Koh Tao my home. It has something to offer for everyone and keeps you engaged at all times of the day.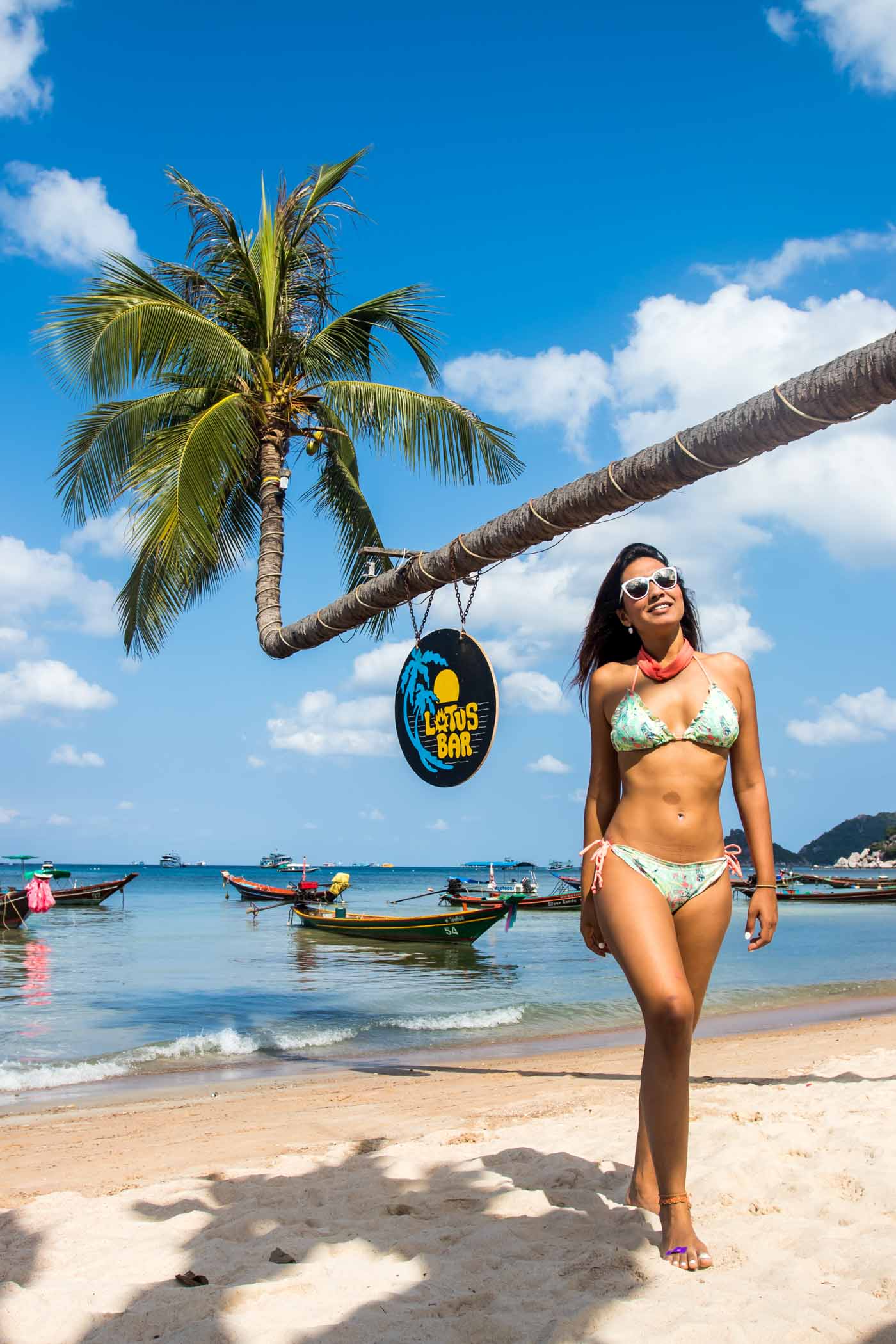 Here's a list of my favorite things to do in Koh Tao:
You'll need at least 4 days to cover it all without feeling rushed and still feel like you're on vacation while adventuring all though out.
1. GET SCUBA CERTIFIED
Koh Tao has the unique distinction of certifying the highest number of SCUBA divers in the world, and therefore it's no surprise that it is the number one reason to come to the island. If you still haven't, I highly recommend you get scuba certified on this island. It is the cheapest (less than $300 for the open water certification) and offers the best learning conditions for beginners. There are no less than a hundred dive centers on the island, making it very accessible to everyone. While doing my research, I found it quite difficult to pick one online, so I decided to just wing it and figure it out when I got there. I was looking for some fun dives and after visiting a few dive centers, I chose Big Blue Diving. They had the biggest dive boat I've been on but the dive groups were small and comfortable. Here, you can get certified in as less as one-and-a-half day with their one-to-one express course for a mere TBH 12,000 (USD 385)
View this post on Instagram
2. JOIN THE CIRCUS TRAPEZE SCHOOL
Being an aerialist, I'm always on the lookout for interesting aerial adventures and this was the first open-air trapeze school I found on any of my travels. Believe me, when I say this, it is for EVERYONE, for all ages, and all fitness levels to try out and you don't need any prior experience!
I signed up for a sunset session which cost THB 1000 (USD 32) with Flying Trapeze Adventures and cannot recommend their team enough. Tom and the crew made sure I felt 100% safe at all times and made the 2-hour session such a fun and memorable one. I cannot wait to go back! I urge you all to experience this at least once while you're in Koh  Tao.
3. SIGN UP FOR A MUAY THAI SESSION
I always wanted to watch a Muay Thai fight in Thailand, but when I reached Koh Tao I found out that I could also learn the martial art form as well. And of course, I signed up for it!  The Monsoon Gym and Fight Club offers a one-and-a-half hour session for TBH 300 (USD 10). The feeling of just standing inside a boxing ring with gloves on made me feel so powerful, let alone the actual fight. The session was a great fitness reality check and I felt proud at the end of it. It's a definite must do when in Koh Tao. Again, it is open to all ages and fitness levels. Don't miss this one!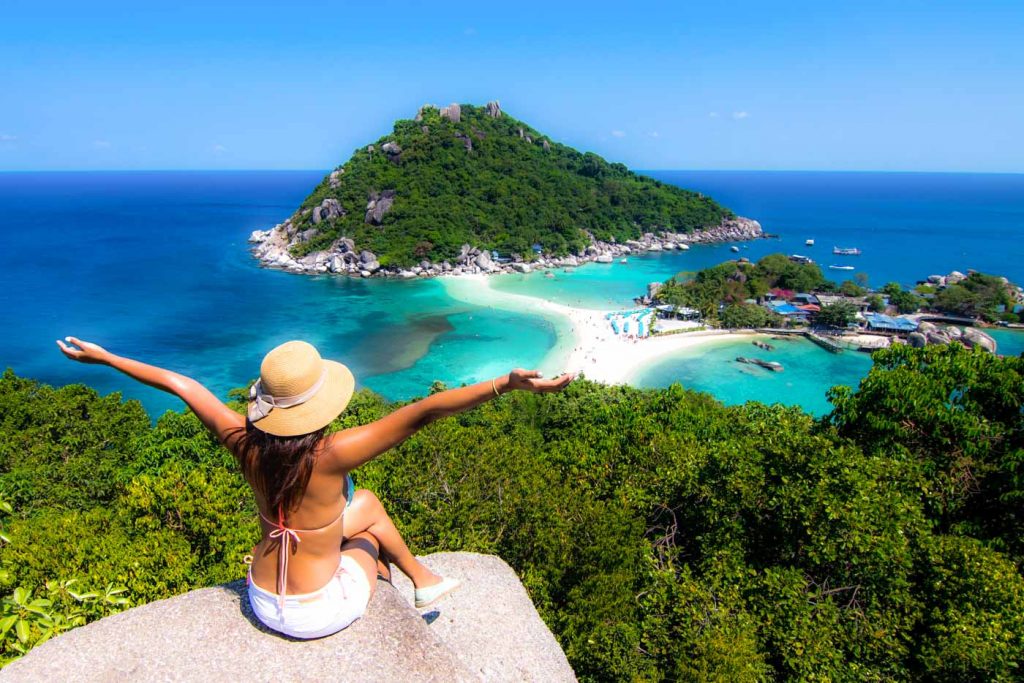 4. VISIT KOH NANG YUN
Koh Nang Yuan is one of the most Instagrammed spots of Thailand and totally worth a visit. It is a small neighboring island of Koh Tao and lies just a few kilometers off its northwest coast.
The island is open for day visitors between 10 am and 5 pm only. I suggest you take a water taxi (long tail boat) from Sairee beach at 9.45 am and be the first to enter the island. The taxi cost TBH 250 (USD 8) per person for a return journey, but if you are a group you might be able to negotiate a better deal.  The entry fee to the island is TBH 100 (USD 3) per person.
Once you arrive, go straight up to the viewpoint. It is about a 15 min easy hike to the top. It's basically just two boulders on the top and there isn't place for more than 10 people at a time. If you go any later than 10.30-11 am you will have to queue up and will barely get a minute or two to take your photos and enjoy the view. So go early! After the hike, you can cool off on the beach and snorkel around the reefs there.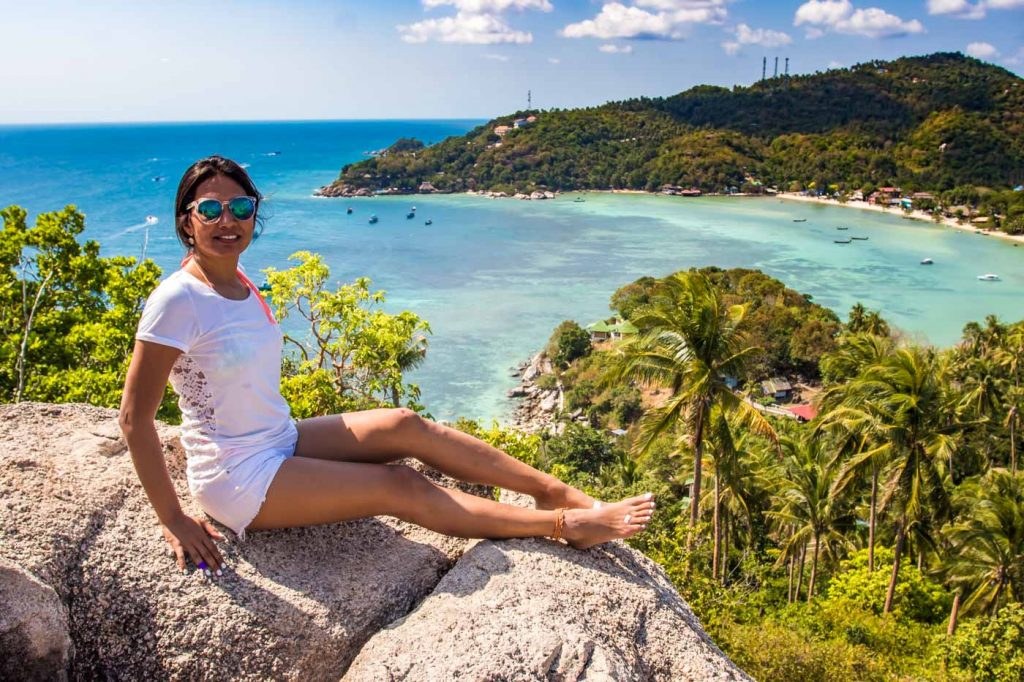 5. HIKE TO JOHN SUVAN VIEWPOINT TO ENJOY THE BEST VIEWS OF KOH TAO
What I love most about Koh Tao is that it has mountains and beautiful shorelines. While it's tempting to procrastinate the hikes and just relax on the whitewashed beaches, I definitely recommend hiking to at least one of the viewpoints to get an aerial view of Koh Tao. John Suvan viewpoint is one of them in the southern part of Koh Tao. There is a small TBH 50 (USD 1.5 ) entrance fee and the hike up will take you no more than 20 minutes. At the base of this viewpoint is Freedom beach, which is the perfect spot to cool off after the hike.
If you have more time you and/or are feeling more adventurous, you could also go to Mango Viewpoint in the northeast. It is really scenic with a view overlooking the west side of Koh Tao and Sairee Beach. This one has an entry fee of BHT 100 (USD 3 ). On the eastern side of Koh Tao is the Love Koh Tao Viewpoint, which overlooks the Tanote Bay. There is a cute cafe there and if you get a drink, the viewpoint is free. Otherwise, an entrance fee of  BHT 20 (USD 0.5) will be charged.
6. GORGE ON THE YUMMY VEGAN FOOD KOH TAO HAS TO OFFER
It was so easy to find vegan/vegetarian food in all of Thailand, but especially in Koh Tao. Do not miss going to VegetaBowl & Coconut Monkey even if you aren't a vegetarian, the food was yummy and so healthy.
7. PARTY THE NIGHT OUT WITH KOH TAO PUB CRAWL
If you're up for a crazy party no matter how old you feel, you should definitely join the famous Koh Tao pub crawl. It happens every Monday, Wednesday, Friday, and Sunday starting from Choppers Bar and hops around different bars around Sairee Beach. It is pretty trashy, and it's almost certain you'll be shitfaced, but you will definitely make a lot of new friends. I highly recommend it, especially if you're traveling solo. Imagine a party with 50-100 crazy travelers from all around the world! It's definitely going to be a wild one! The Koh Tao pub crawl ends in a different bar every night, and these are also the main bars to go to on the island. Therefore, if you do the pub crawl once, you'll also pretty much cover the best party spots on the island.
View this post on Instagram
8. WATCH THE MAGICAL SUNSET AT SAIREE BEACH
One of my favorite sunsets was here, on Sairee beach! The sky was magically painted in shades of pink, purple and orange and the water was calm and warm for a perfect sunset-swim with cocktails flowing on the beach. This one cannot be missed.
9. RENT A BIKE AND GO BEACH HOPPING
There is no better way to explore Koh Tao than on a bike (moped). Taxis on the island are quite expensive and some of the spots are only accessible by a bike or on foot. If you don't know how to ride one, find someone who does and buddy up with them for the day – that's what I did. 🙂 Just make sure you rent one from a reliable place and don't forget to click pictures/videos of the bike in the condition you received it in, to avoid any potential drama later on.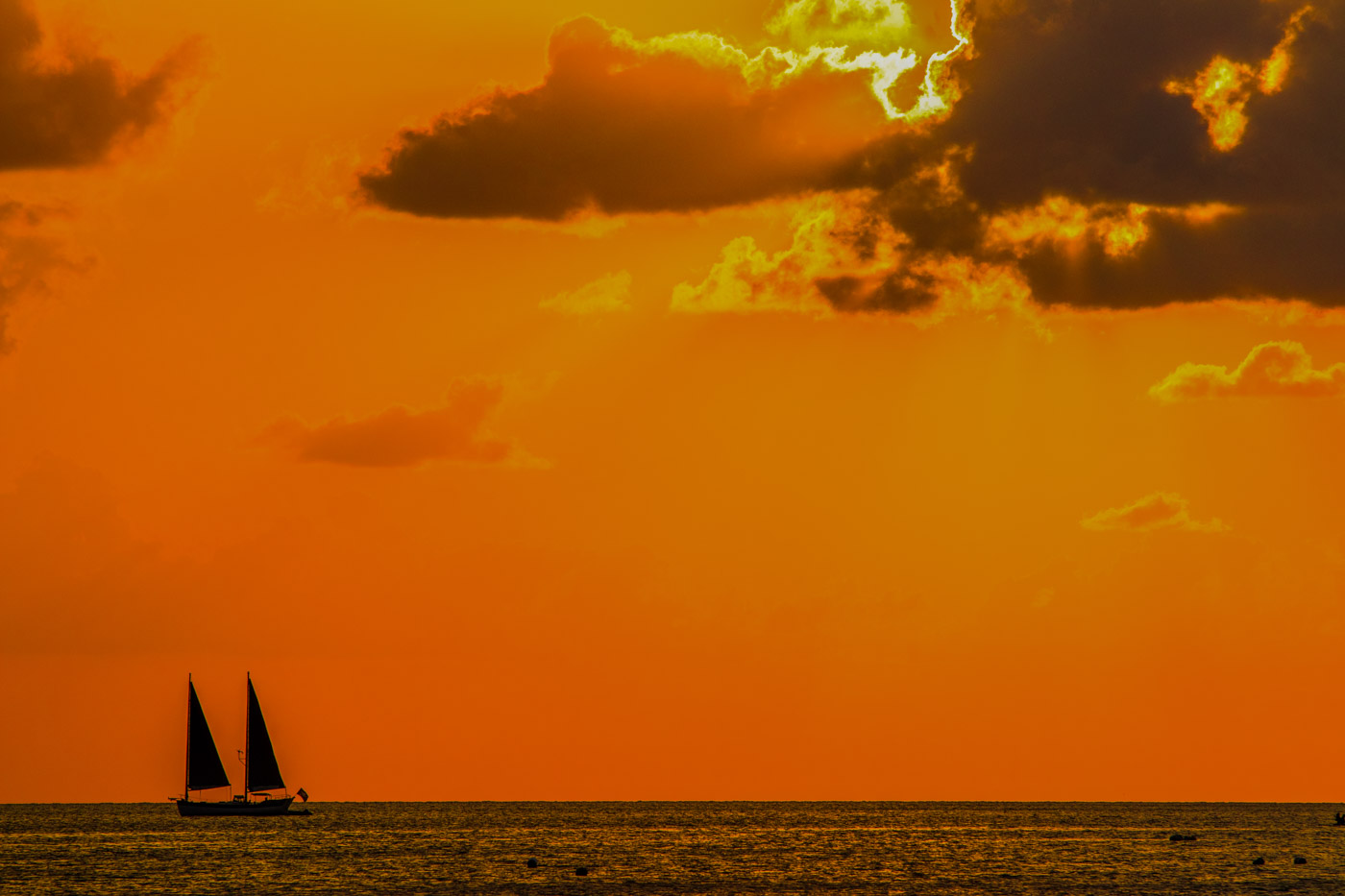 10. TREAT YOURSELF TO A TRADITIONAL THAI MASSAGE
Nowhere in the world will you get an excellent full body oil massage with the mindblowing views of the ocean for a mere BHT 400 (USD 12). There are several massage parlors strewn on the fringes of Sairee beach that are open till 11 pm. I loved ending each of my action-packed days here with a relaxing massage to soothe those tired muscles.
Have you been to Thailand? What's your favorite island activity?