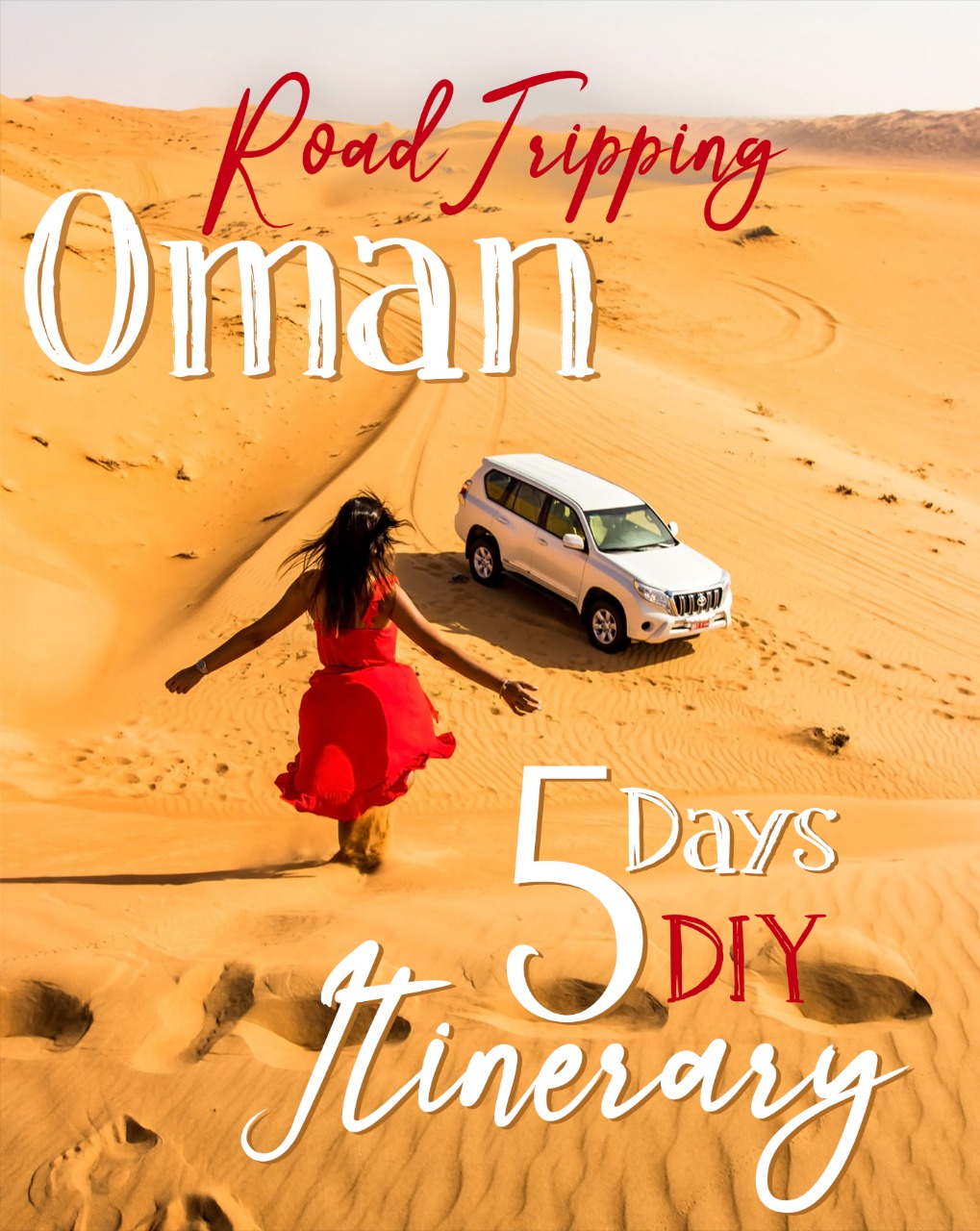 Oman as a destination wasn't really on my radar until this opportunity arose and I began doing some research. I, initially, assumed I wouldn't need more than a week, but I eventually ended up spending 2 weeks there, and that too wasn't enough.
Ideally, I recommend spending at least 8-10 days to truly explore and experience the beauty and adventure this untouched and underrated country has to offer. In this blog, however, I've created an itinerary highlighting only the best things to see, which would be helpful if you were short on time.
After my trip, I'm convinced the only way to explore Oman is to hire a 4 x 4, which I rented from Budget car rental and self-drove all around the country. Oman has great infrastructure and the road networks are super smooth to navigate through, though a little bit of driving experience in the mountains will definitely help.
The following is my suggested 5-days itinerary covering the best highlights of Oman:
DAY BY DAY OMAN ITINERARY
DAY 1: Muscat
DAY 2: Wadi Shab – Bimmah Sinkhole-Sur
DAY 3: Turtle Beach – Wahiba Sands Desert
DAY 4: Option 1:  Al Sawadee ( Scuba Diving)
Option 2: Nizwa – Jebel Akhdar (Trekking/Rappeling)
DAY 5: Muscat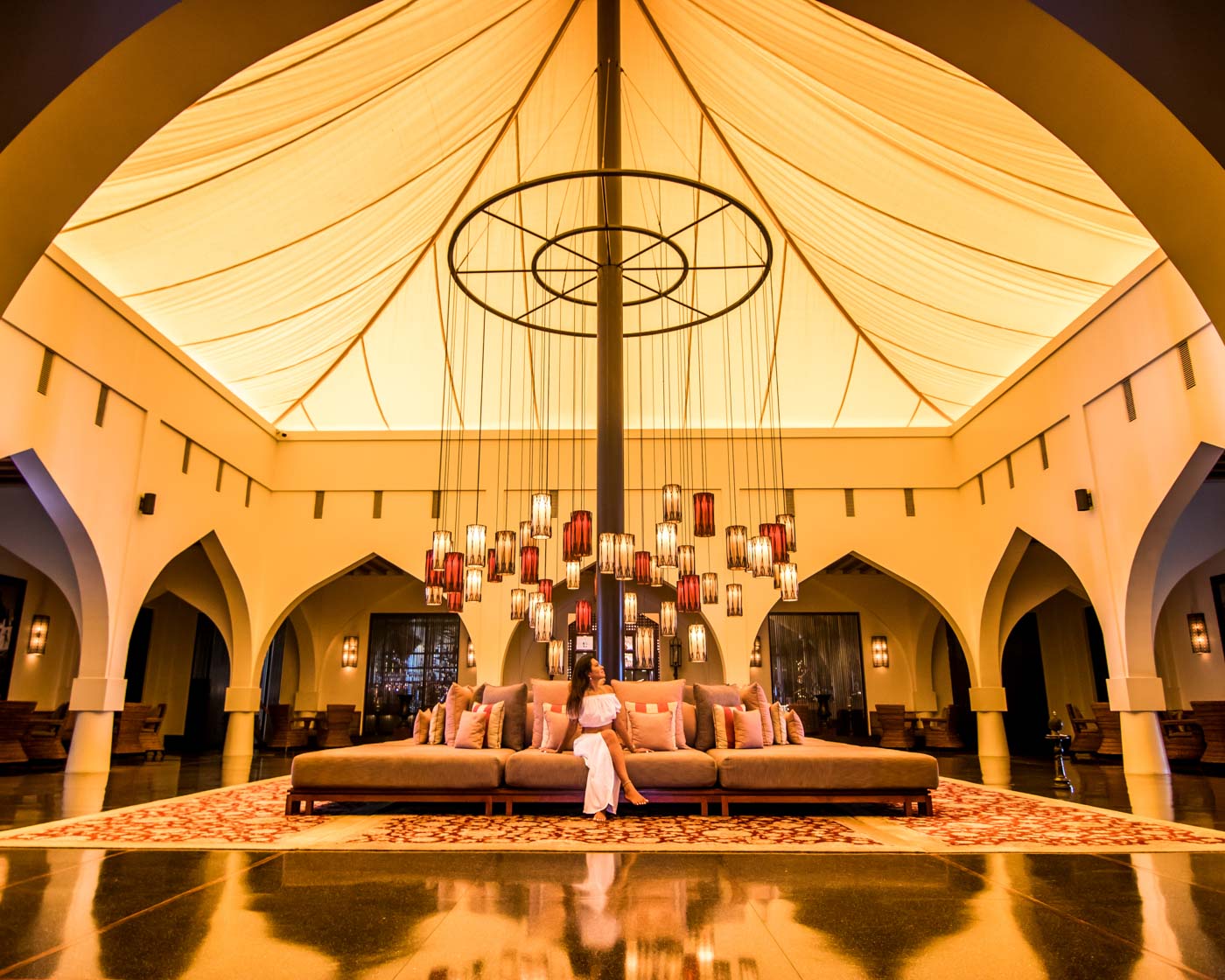 DAY 1
Pick up your car from the airport, then either check into a luxury hotel on the coastline of Muscat and spend the day relaxing or go out and explore the capital city of Oman. I checked into The Chedi Muscat and indulged myself in all they had to offer.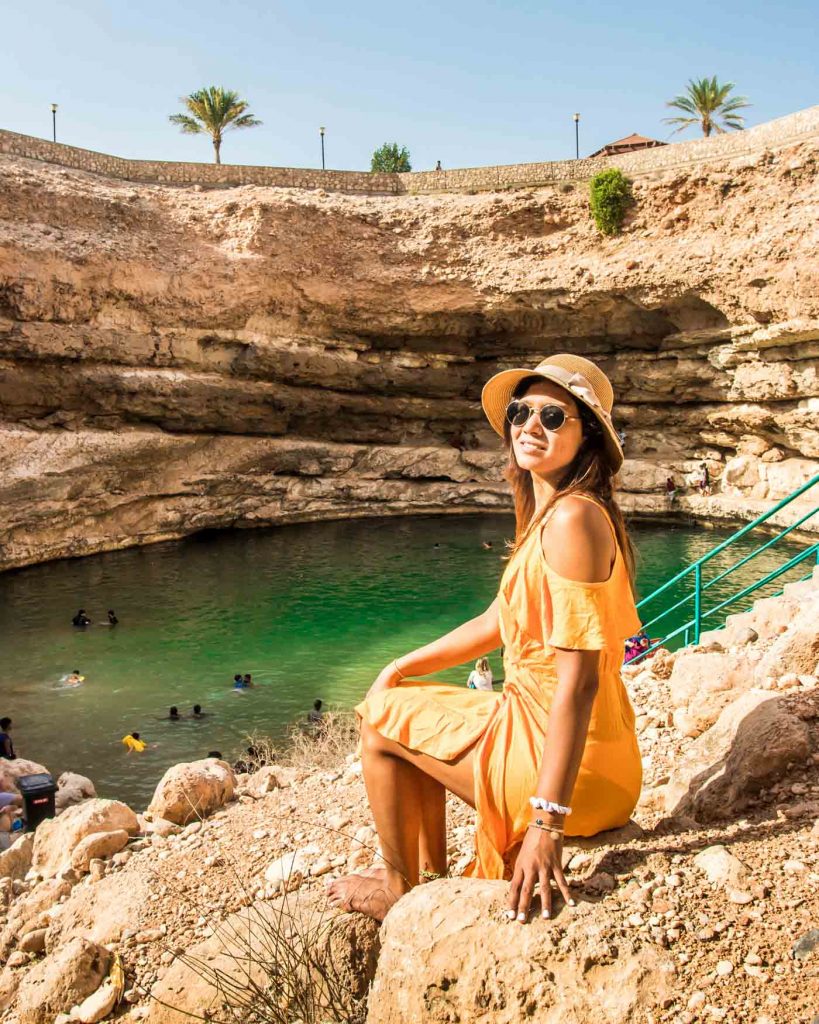 DAY 2
Wake up early and get on the highway to drive south-east for about 120 km to the Bimmah Sinkhole. It's a two-hour drive and getting there early has two advantages: 1) avoiding the crowds 2) avoiding the mid-day heat. Bimmah is a massive sinkhole which is believed to be created by a huge meteor that fell there. Take a peek here, get your photos, and save the swimming for Wadi Shab.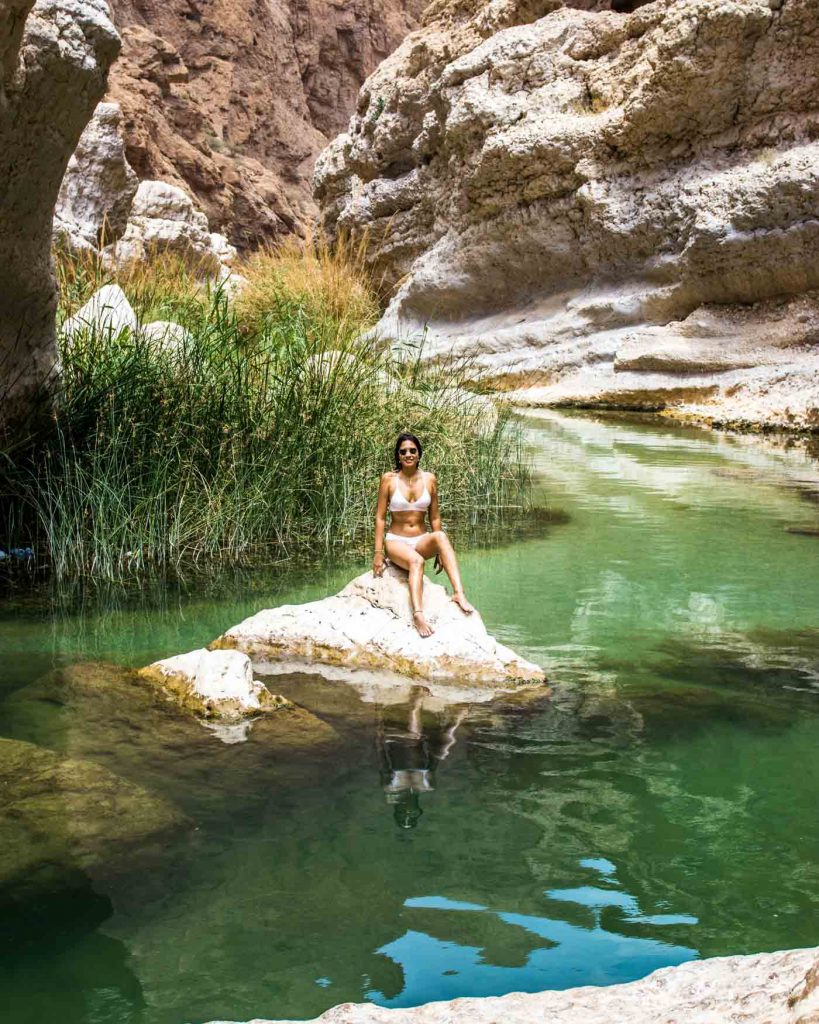 Next, drive to Wadi Shab which is 31 km from there. This is where you'll thank me for suggested to leave early from Muscat. Exploring Wadi Shab will take about 4-5 hours to explore it fully, assuming you go to the waterfall at the end, which I highly recommend. From the parking lot, you need to take a 2-minute boat across the deep river, which will cost OMR 1 (USD 2.5). After that, it's an easy trek for an hour or so and then a 15-20 min swim to the end of the Wadi to the waterfall. I suggest carrying some munchies and water as you will get hungry after the trek and there are limited food options, especially for vegetarians.
Continue driving for another 50 km towards Sur, a coastal city when you can spend the night. We stayed at Alafeeh Corniche Hotel Apartments a basic one-bedroom apartment that got the job done and was great value for money, we paid OMR 10 (USD 26) for the night. While you are in Sur, I highly recommend a local restaurant by the name of Zahrat Bilad Al Sham Restaurant Don't judge the place by its looks, the food is very good, even for vegetarians.
DAY 3
Wake up super early at around 4 am and head to the Ras-Al-Jinz beach to see the endangered green turtles that come to lay their eggs there. You can spend a good two hours here and then grab some breakfast in Sur again. Rest up, if you want, and then start driving to the Wahiba Sands, which is a long drive of about 170 km that should take about 4 hours. If you are self-driving in the desert you cannot go without a 4 x 4. Make sure you top up your fuel tank, carry adequate drinking water and all 4 car tires should behalf-deflated. Carry a paper map or download offline google maps as you will definitely lose network.
I chose to go glamping at Thousand Nights Camp and cannot recommend them enough to you too. However, if you are feeling much more adventurous, and/or are on a budget, you can go wild-camping in the desert as well. In that case, I'd recommend to plan in advance and carry enough supplies for dinner and breakfast for the next morning. You will not get anything in the desert. Plan your day in a way to reach the desert by 3-4 pm so that you are in time for the stunning sunset session on the dunes.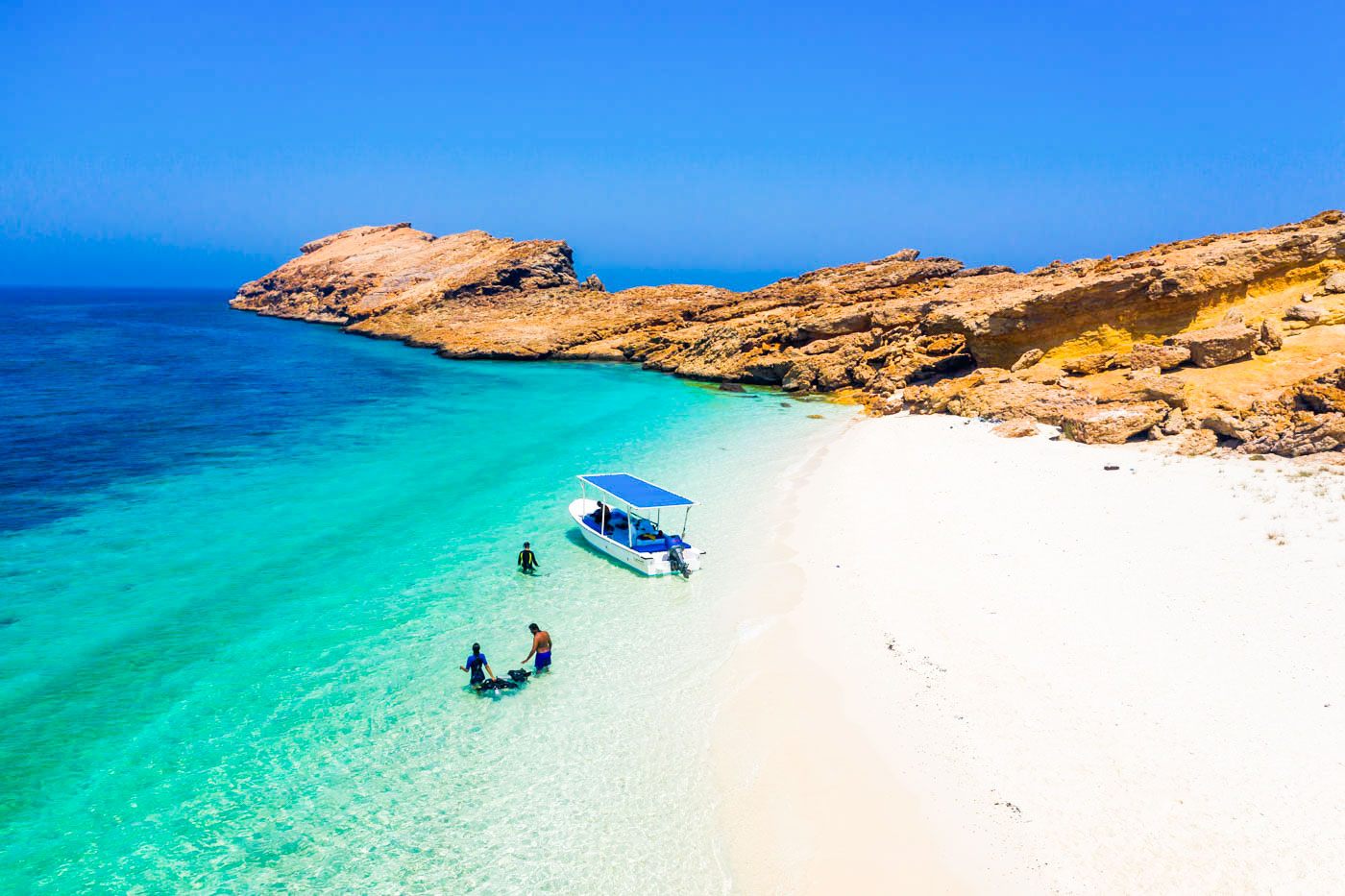 DAY 4
You have 2 options here:
OPTION 1
Check out by around 9 am and drive down to Al Sawadi to go diving in the Daymaniyat islands, which is about 250 km and will take you about 3 hours since its mostly all highways. Don't forget to reinflate your car tires at the gas station once you leave the desert, it will cost OMR 1.5 (USD 3.8). You will arrive latest by 1 pm, in time for the afternoon and night dives. I hear the night dives in this area are spectacular.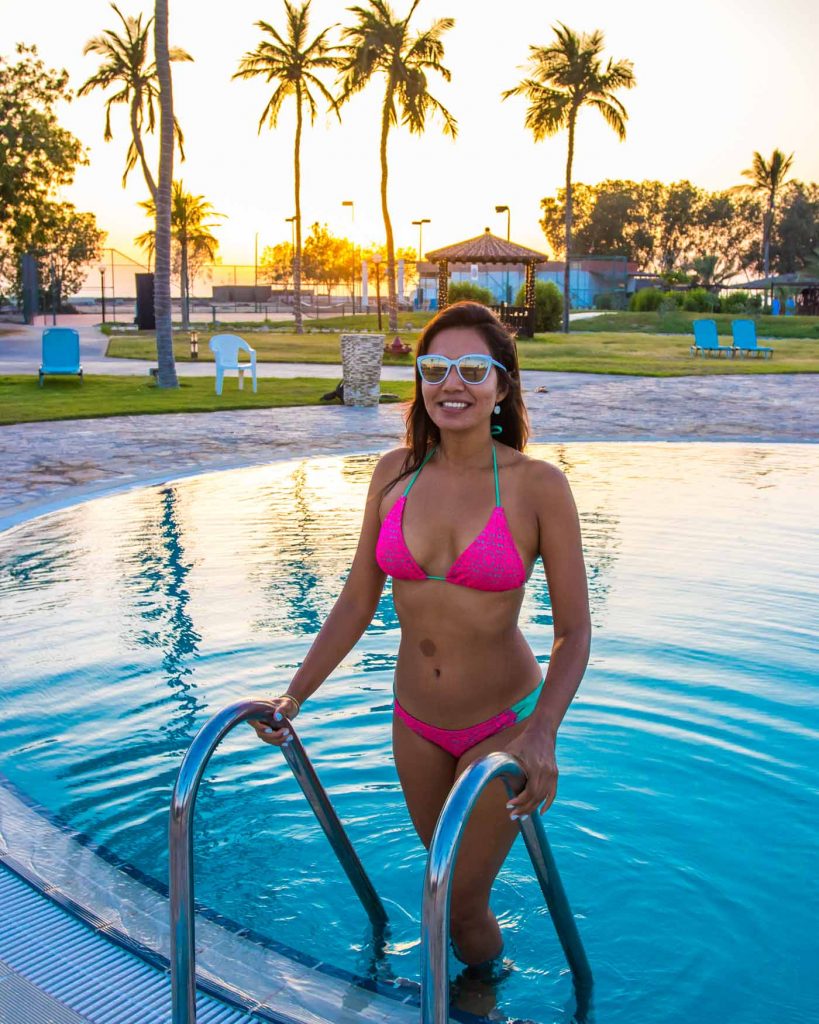 I chose to dive with Al Sawadi Beach Resort & Spa, which is also the only dive resort in the area closest to the Daymaniyat Island, the ultimate paradise for water babies like me.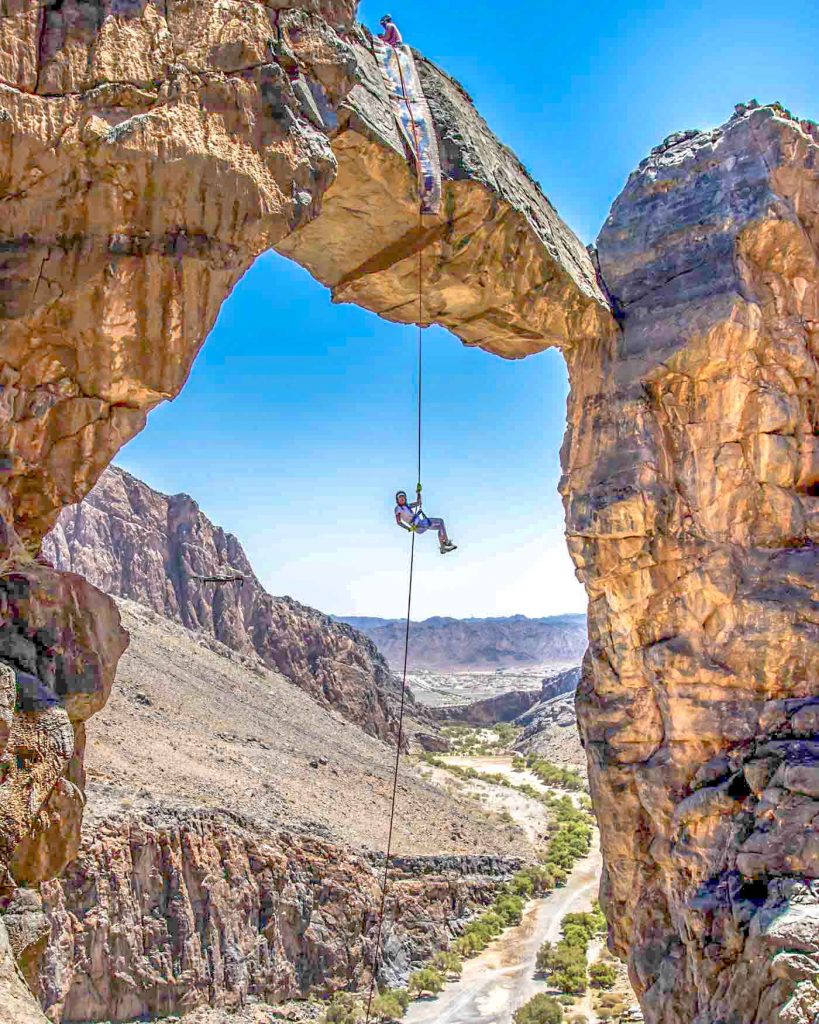 OPTION 2
Check out at around 9 am and drive down 190 km to Nizwa which will take you about 2.5 hours and explore the oldest castle and souq in Oman. Nizwa was once the capital of Oman during the 6th and 7th century. The entry fee for Nizwa fort is OMR 5 (USD 13) per person, a bit pricy for sure. After that, you can head to Wadi Tanuf to go rappeling down the arch as seen in my photo. For this activity, the only person you need to contact is Ahmed who is based in Nizwa, make sure you do so well in advance as this is not his full-time profession and hence needs some advance planning. It takes about an hour or so to hike up to the arch and then rappelling down 35 mt. takes just a couple of minutes. I really recommend this adventure, it was really exhilarating and adrenalin pumping. You will need at least 2-3 hours for this adventure, plan accordingly.
I stayed in an Airbnb in Nizwa and was very happy. Feel free to book the same.
DAY 5
Leave from Nizwa or Al Sawad in time to get to Muscat by 10 am. From Al Sawadi it will take you about an hour (90 km) and from Nizwa it will take you 2 hours (165 km).
The Sultan Qaboos Grand Mosque in Muscat is open for non-Muslim visitors from 8 am- 11 am on all days except Friday and no trip to Oman can be complete without a visit here. Remember both men and women need to be fully covered, long sleeves up to the wrist and long pants up to your ankle, women must cover their head with a scarf.
Next, I highly recommend you head to Kargeen Cafe for one meal at least. It was my best dining experience in all of Oman. The restaurant is open from 8 am to 1 am and hence you can literally go at any hour. I loved it so much I went back for dinner. Make sure you make a reservation in advance (especially for dinner) and ask for a table on the outside.
If you have any more time before leaving, you can visit the Muttrah Souq, although, tbh I wasn't impressed much.
BUDGET FOR THE ROAD TRIP
The biggest cost of this trip is car rental. A 4×4 Toyota Land Cruiser or equivalent for 5 days can approximately cost USD 600, depending on the season. Your accommodation is where you have the complete liberty to save or splurge, you can camp for free each night or splurge on fancy five stars. I mixed it up and indulged myself in the best of both worlds. Meals could cost you anywhere between USD 10-USD 60  and upwards depending on what you choose. Activities costs will vary depending on the package you take and the timing of your trip. On the whole, Oman isn't a budget-friendly destination and definitely should not be done solo. For a 5-day road trip around Oman, I suggest a minimum budget of USD 900 for 2 people.
Hope this blog helps you plan your trip, although a bit pricy, Oman offers great value for money experiences and you definitely will want to go back for more.
Have you been on to Oman before? What was your experience?
Read Next